Photographer Jim Reed's business is severe weather, and this year business has been good.
I spoke this week with Reed, one of the country's premier severe-weather photographers, to get his take on the record-breaking abundance of tornadoes that have ripped across the country this spring, from the so-called Super Outbreak in April that brought tornadoes to the Midwest and South, to the devastating tornado that hit Joplin, Missouri on May 22. According to the website of the National Oceanic and Atmospheric Administration, April 2011 ranked as the most active tornado month on record, with 875 tornadoes resulting in 361 fatalities. (The previous record was set in April 1974 with 267 tornadoes.) The death toll from the Joplin tornado -- the deadliest single tornado since modern record keeping began in 1950, according to NOAA -- reached 155 with the recent death of an elderly man who was injured during the storm.
"It's been an extremely explosive year," Reed confirmed when I telephoned him. "We've been looking at extremely large, long-track tornadoes all across the country."
Reed's photo of tornado grinding across a farm road in western Kansas on May 8, 2008.
Reed lives in Wichita, Kansas, in the heart of tornado alley, which is a good place to be if you make your living taking pictures of ridiculous storms, but he travels all over to shoot storms and the destruction they leave in their wake. He documented what remained of Smithville, Mississippi ("not much," he said), after a tornado essentially wiped it out on April 27, and he had just returned from photographing and interviewing survivors in Joplin. He's a careful observer, and careful about weather science. "My desk is covered with evidence that weather is getting more dangerous," he said. But when I asked him if he thought the storms of 2011 pointed to climate change, he said forthrightly that he didn't know.
He was adamantly certain of one thing, however: People aren't giving weather the respect it is due. In fact, he said, there is an increasing disregard for the danger of powerful storms. "Recently," he said, "we had some severe weather here in Wichita, and a colleague called me and said, 'You aren't going to believe this, but there are 60 or 70 cars pulled off to watch and photograph it all. They're families -- dads with kids on their shoulders pointing up at the sky. And there is lighting all around us.'"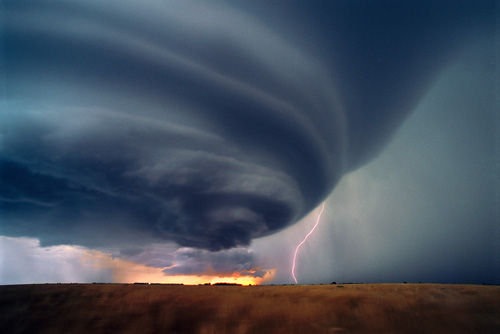 An isolated supercell thunderstorm, by Reed: Appalling beauty.
Reed's observations fit it with the facts on the ground. Weather is now more than just something to talk about. It's become entertainment -- for some, a thrilling amusement park ride; for many, just another version of reality television. When killer storms hit, cable news channels load up on footage that is shown around the clock. (Regular viewers of the Weather Channel don't need big storms as an excuse to watch 24/7, but ratings rise when things get extreme.) Tornado footage goes viral on YouTube minutes after storms hit. We can follow the adventures of real-life storm chasers on the Discovery Channel, and when it isn't enough to experience tornadoes as voyeurs we can sign up for storm chaser tours with any of a number of adventure-travel companies. According to a study conducted by the University of Missouri, this form of "risk recreation" is on the rise.
Dangerous weather has probably always held some sort of irrational allure for humans -- perhaps the appalling beauty of threatening clouds or the fierce uncontrollable energy of a tornado annihilates the ego in some satisfyingly apocalyptic way; or, conversely, such sights may simply present themselves to us as an irresistible challenge. But our modern relationship with weather is of a different nature, I think. The turning point may have been the 1996 movie Twister, which mainstreamed what had been a dangerous hobby for a relatively small group of extreme weather watchers. "As storm chasing boomed," wrote Jeff Wise on Psychology Today's "Extreme Fear" blog in May, "it took on the trappings of other extreme sports, including the potential for fame and fortune, with clear video footage able to garner national attention." Wise went as far as to question the morality of storm chasing. "The emotional reality is that storm chasers enjoying immersing themselves in a force of nature that takes lives," he writes.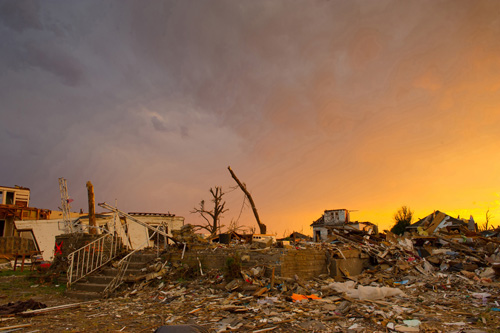 The aftermath of the Joplin EF-5 tornado at sunset, June 14, 2011, by Jim Reed
All this represents a dilemma for Reed, who views himself as a safety researcher and educator as much as a journalist or artist. (He tries to avoid the term "storm chaser" but has come to accept the term as an inevitability.) Lately he's begun to wonder whether his photographs -- and the surfeit of other video and still imagery we've seen in the past few months -- are simply inuring people to the reality of severe whether. "I can only think there's some kind of psychological disconnect going on," he says.
When I asked him what he hoped people would think about when they see his pictures, he said, "I want them to thing about going out to buy a NOAA radio, to put batteries in it, and listen for storm warnings. And if some Saturday morning they hear that there is a tornado watch in effect for their area, I hope they will cancel the trip to the mall that they might have planned for that afternoon and instead stay very close to wherever it is they would want to take shelter in case the worse happened."
SUBSCRIBE TO & FOLLOW THE MORNING EMAIL
The Morning Email helps you start your workday with everything you need to know: breaking news, entertainment and a dash of fun. Learn more