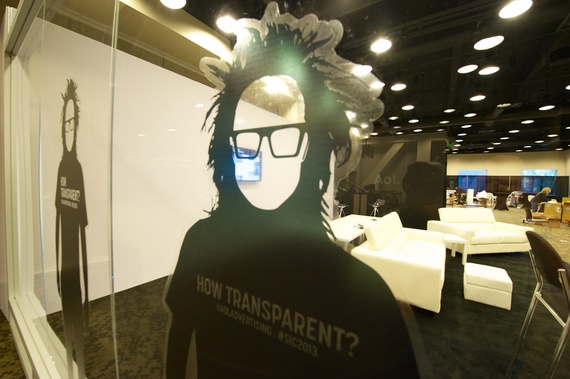 This past week I went from Australia, back to New York, and then flew to Toronto, then to Chicago, then to Atlanta, then to Istanbul, and finally am here in Seattle for the 3rd annual Seattle Interactive Conference. Insane.
This year, SIC is all about transparency, and the industry's foremost entrepreneurs, technologists, brands, creative leaders, robot inventors, hackers, and informed consumers are gathering together to talk all things creative and digital. My keynote, Are We All Clear?, dove into the ever-shifting digital landscape, the need for marketers and brands to embrace a more humanized experience, measured by engagement, not clicks.
AOL is also doing cool stuff at SIC. We have an open space, with a transparent "Wonder Woman" wall, sporting a cut-out of my mug, hair included, where you lot can take photos and share via social.
At this year's conference, I will also be celebrating my one-year Shingerview anniversary. Last year's SIC hosted the first collection of Shingerviews, and we've now traveled to Cannes, SXSW, and Advertising Week talking to the industry's leading executives, creatives, dreamers, and designers.
Over the next two days I will sit down with Tim Keck, founder of The Onion and The Stranger; Musician Jack Conte; Alex Wheeler, VP of Global Digital Marketing at Starbucks; Rand Fishkin, CEO of MOZ; Jeff Lanctot, CEO of Mixpo; Callie Schweitzer, Director of Digital Innovation at TIME; Megan Tweed, VP of Media at Razorfish; Michelle Goldberg, Partner at Ignition; Rebecca Kaden, Principal at Maveron; Jonathan Woods, Senior Editor of Photo and Interactive at TIME; and Pablos Holman, Inventor and Hacker. We may even shoot some mosquitoes with lasers.
Stay tuned for my newest Shingerviews over the course of the next few days, and stay creative!