Over the past year, I had the pleasure of taking a walk down my very own personal "event-planning-memory-lane" while creating a monograph of our event design work, David Stark Design (2010, The Monacelli Press).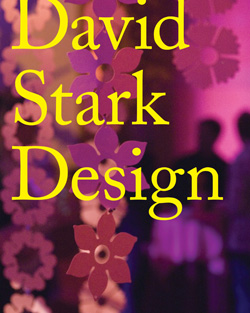 While working to present an evocative collection of visionary events that the team from my namesake firm, David Stark Design and Production, has artfully accomplished over the years, I was able to stand back and really see into our "tool box" with some perspective. I realized that our strategy of lassoing some of the most unlikely "tools" or materials conceptually links the décor of an occasion with the purpose and intention for our clients.
I relish in transforming the mundane and common into something sublimely stylish; concepts that beckon guests to not only appreciate the décor upon first glance, but with closer inspection elicit the recognition of materials used and trigger an (aha!) moment. While the years have yielded many artistic accomplishments, I am excited to share a few of my favorites.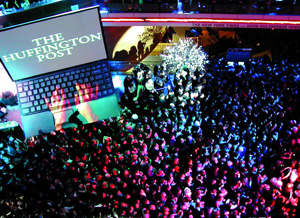 To honor the inauguration of President Obama, and to aptly capture this momentous window in time, for the Huffington Post Pre-Inaugural Ball at Washington D.C.'s Newseum, we used the computer as our muse, creating what appeared to be GIANT laptops with hands gracefully dancing across the "keyboards." However, these "computers" were an illusion. Simple video projection screens were positioned in "L" shapes to mimic an open laptop while the video imagery projected onto their surfaces were created to mimic both the keyboard and the screen content.
Behind the scenes ingenious technology masterminded by Keira Alexandra of Employee Number 1, allowed for photos taken at the event, live twitter feeds, live blogging, and thousands of photos and video clips filtered by the Huffpost to find their way on to our giant "laptops" in an ever-changing kaleidoscope of content options. Thus, this event was as interactive as the Huffpost site is. I am most proud of the fact that by being so, the décor shouts from the rooftops that the Huffington Post is an innovator and ingenious leader in technology and community building. The materials used to create this effect were an optical illusion, a transformation of the everyday. But it was conceptual thinking juxtaposed with the Huffpost's worldly outlook that invited the magic.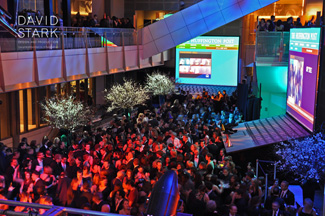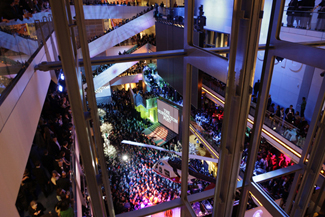 For the annual Robin Hood fundraiser in 2008 we wanted to keep their primary cause intact, so what better way to cut financial corners than sculpt donations into décor? The decorations themselves became the great work of the charity. Everything utilized as décor, installed so as to keep the items in mint condition, were also items that at the end of the event were packed, folded, and re-assembled so that they could be donated for Robin Hood's esteemed charity. Donated laptop computers destined for educations outreach were placed on each dining table displaying beautiful slideshows of centerpiece florals. (Below)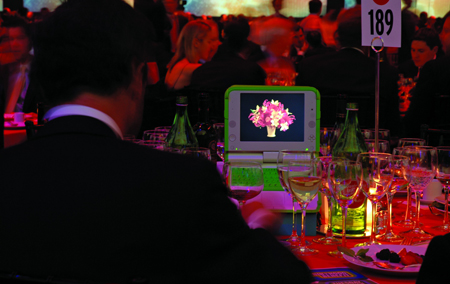 5,000 pairs of donated Nike sneakers were tied together to encompass a massive swirling tornado. (Below)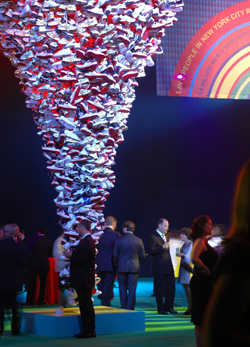 Thousands of water bottles donated by Mountain Valley Spring Water were cleverly clipped together to create a giant chair. I'm all for being big on style and presentation, but also small on waste. (Below)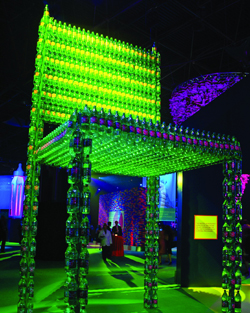 Upon devising a design scheme, I often think about whom it is my guests are and what kind of audience I am creating for. I see events as an art installation that just so happen to be an event. Often times my work speaks directly to the attendees. For the Tate Museum's first fundraiser in the United States in May of 2007 my critics were primarily art connoisseurs themselves, so why not use materials that speak to and amuse an eclectic guest list of outstanding artists, patrons, and benefactors alike? I took the single charm of a paint chip and built upon this handheld eye candy by creating a magnificent curtain of blue-green cascading paint chips assembled in dramatic rows that subtly identified with and explored the Tate's branding colors. The monochromatic color palette stemmed from not only a visually stunning concept, but one that was embedded with meaning and subtly gestured the museum's identity. (Below)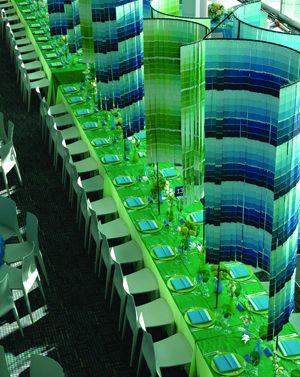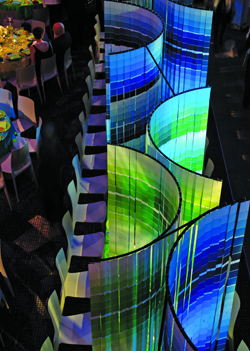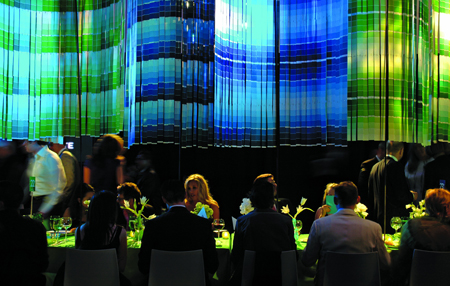 Each event within the book showcases a vivid palette of colors and the history of how we've embraced many tools within the world's toolbox. Within David Stark Design you will discover an insider look at the behind-the-scenes ideation for each event and the mastery and dedication that went into it. Unlike a painting, which freezes a moment in time on canvas, I believe a party is ephemeral. This book demonstrates my love for art that masquerades as a party, colors the poignant moments of our lives, brings magic to the hearts of people, and paints bright smiles upon their faces.
PS: Since we're traveling down memory lane, why not also take a little hop, skip, and a jump into the future? A fun glimpse inside what-could-be included in a potential '2nd volume of David Stark Design! Here's a special sneak-peak at the 2010 American Friends of the Tate Museum Fundraiser that exemplifies how we continue to transform everyday materials into conceptually charged décor, in this case vivid colored pencils. And the beauty of it all? After the party, 16,000 colored pencils went directly to school art programs.
Art is life and life is art, it's also a celebration, so why not celebrate in style? And waste not, want not while doing it!