I got to renew a familiar connection during my summer hiatus from the weekly column THE MEDIA BEAT.
I recorded an interview for PBS with former UK Prime Minister Tony Blair. We taped in London, where he's still a very divisive figure, mainly because of the Iraq War -- and much more so, it's clear, than many Americans realize.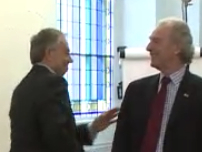 The TV show isn't ready yet (broadcast is planned for next month) but American public radio got a sneak preview when morning show hosts Marshall Miles and Jill Goodman of WHDD -- in Connecticut's media-savvy northwest corner -- quizzed me on that elusive concept ... "the real Tony Blair."
You can also catch the WHDD discussion at iTunes - click here
FOLLOW HUFFPOST