With the primaries behind us, attention is quickly turning to the possibility of a map-changing election in November. The long, intense primary created a formidable Democratic machine. Notably, the Obama campaign now has local presence even in Republican strongholds. Dean has invested heavily in operations in all 50 states, and the Obama campaign will be the first in a generation to deploy and maintain staff in every single one of them. The money is certainly there. Obama has already broken fundraising records, and Democratic fundraisers are projecting that Obama may raise another $100 million in June.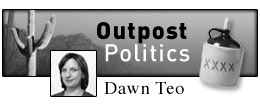 Obama's widespread grassroots movement will have a significant effect on many down-ticket races. This year, analysts are scrambling to revamp turnout models to accommodate new voters and increased participation. Nicholas Beaudrot analyzed Obama's performance on a district-by-district basis and predicts that anywhere Obama gets at least 45 percent of the vote, a strong local [Democratic] challenger has a shot at winning the district, especially if it's an open seat.
As president, Obama would need a strong Democratic majority in Congress to undo eight years of George Bush policies. The Democratic Party has already picked up three Congressional seats in special elections this year (Illinois CD-14, Louisiana CD-6, and Mississippi CD-1), each previously considered a safe Republican seat.
In the West in 2004, Bush won with the exception of the three coastal states (Washington, Oregon, and California). This year, however, Obama's volunteer army extends deep behind enemy lines. By most estimates, Obama will win at least some of the western states that Kerry lost, despite the fact that McCain is a popular politician in the west, and the combination of Obama's ground operations and the Party's get-out-the-vote efforts will likely turn some currently Republican Congressional seats blue. Obama is determined to compete in red states as a matter of strategy, forcing McCain to spend money and resources on his own turf. Although Obama's strategy to campaign in Republican strongholds like Idaho and Utah likely will not bear fruit in November, he and Dean are aiming to change the electoral map -- not just for presidential races but for down-ticket races as well. While focused on 2008, Obama and Dean also each have an eye on 2010, 2012, and beyond.
2008: The Western Roundup
ALASKA
Pete Rouse, the Chief of Staff in Obama's Senate office previously lived in Alaska, and Obama has promised to visit Alaska this fall. Obama is currently 9 points behind McCain in Alaska.
Senate seat. Senator Ted "Intertoobs" Stevens (R) is facing a challenge by popular Anchorage Mayor Mark Begich this year. With Stevens under suspicion in a bribery corruption scandal and Begich winning in the polls, expect this race to be competitive.
Alaska At Large Rep. Don Young (R), also under a cloud of suspicion for corruption, is facing not just a challenge in the general election from former State Senate Leader Ethan Berkowitz (D) -- who has already raised more money than Young -- he also faces a tough primary challenge.
ARIZONA
No one is under the impression that Obama will win here in Arizona, but Obama is bringing the fight to McCain's doorstep. McCain has only an 11-point lead over Obama in Arizona in the most recent poll, which screams trouble nationally for our "maverick" senator. McCain cannot afford to take even his home state for granted. Governor Napolitano is also on Obama's short list for VP and Attorney General.
CD-1. With incumbent Rick Renzi battling charges of corruption, this was one of the earliest watched seats. Expect this to be a pickup by Ann Kirkpatrick (D), who will be running against Sydney Hay (R).
CD-3. Rep. John Shadegg's (R) chances at re-election were looking so grim that he had planned to retire until the RNC begged him to run just one more time. In fact, he told the Wall Street Journal, "Since the 2006 elections, Republicans have done absolutely nothing to redefine themselves. We can't even get behind an earmark moratorium bill." Expect this to be a competitive race with Bob Lord (D) as a tough challenger. According to Swing State Project, Lord has already raised more money than the incumbent.
CD-5. Rep. Harry Mitchell (D) won in the upset of the last election. The Republicans are expected to mount a serious challenge to regain this seat, but Mitchell is expected to prevail. Three state and local Republican politicians are competing in the GOP primary on September 2.
CD-6. Okay, so this is a safe Republican seat, but I am including it here because I am so impressed with challenger Chris Gramazio, who is mounting a fierce campaign against incumbent Jeff Flake (R) to put the spotlight on our do-nothing Congressional representative and to raise awareness of progressive issues in what is probably the reddest district in Arizona (also my district). Jeff Flake is the guy who said, "We tend to blame lobbyists too much."
AZ CD-8. Freshman Rep. Gabrielle Giffords (D) (wife of currently orbiting astronaut Mark Kelley) is facing a tough challenge by President of the Arizona Senate Tim Bee. This will be a tough race, but Giffords is expected to hold onto her seat.
CALIFORNIA
Obama is a sure bet for the presidential race. His popularity in Northern California will help Democratic Congressional candidates in CD-3, CD-4, CD-11, CD-26, CD-46, and CD-50, with the possible exception of CD-26, where Clinton fared much better in the primary. District 25 is not as clear. Obama did well in the northern part of the district, while Clinton performed very well in the larger southern part of the district.
CD-3. Bill Durston (D) is challenging incumbent Dan Lungren (R). Durston is the underdog in this race, but he does have a decent chance if he can mount a strong GOTV effort and continue his impressive fundraising.
CD-4. Charlie Brown (D) lost in 2006 by only 3 points to incumbent John Doolittle (R), whose ties to uber-lobbyist Jack Ambramoff created an open seat for 2008. Tom McClintock, an ideologically driven strong conservative (in a moderately conservative district), is broke after his primary win, but this is expected to be a close race, leaning Republican. Good grief, Charlie Brown needs your help.
CD-11. Incumbent Jerry McNerney (D) is being challenged by Dean Andal, and this race is being touted as one of the most competitive in the country.
CD-25. Julie Bornstein (D) is running on a platform of economic justice against incumbent Mary Bono Mack (R). Bornstein's campaign is also expected to launch an aggressive voter registration drive over the summer, which will dovetail well with Obama's Vote for Change summer registration efforts. Mack has the advantage, but Bornstein could pull an upset.
CD-26. Russ Warner (D) has mounted a competitive challenge to incumbent David Dreier (R).
CD-46. Huntington Beach Mayor Debbie Cook (D) is running against incumbent Dana Rohrabacher (R) in the long shot race of the season. Some locals are predicting an upset. Cook is popular in the area, and her opponent has made some not-so-minor-mistakes, but she's going to have to build a GOTV operation, and she will need to plant herself squarely on Obama's coattails to win this one. Interestingly, Cook has raised more money than the incumbent.
CD-50. Incumbent Brian Bilbray (R) is being challenged by Nick Leibham. Bilbray has the advantage, but I'm keeping my eye on this one.
For the best analysis of California congressional races, the California Progressive Report has a much more detailed report.
COLORADO
Bush won Colorado in 2004 by only 5 points, and the population has been changing there. The suburbs have grown, many Californians have moved to Colorado, and the Hispanic population has grown. Obama has a slight lead in the polls over McCain today. Colorado will be a nail biter.
Senate Seat Mark Udall (D) faces off against Bob Schaffer (R), another Republican caught up in the Ambramoff scandal, both hoping to replace retiring Senator Wayne Allard (R). Expect Udall to pick up this seat for the Democrats.
CD-4. Incumbent Marilyn Musgrave (R) is being challenged by Betsy Markey (D). Both the incumbent and the challenger are campaigning on a message of change. Markey is an experienced DC insider who has served as a Congressional aid and knows how to campaign and raise money. This is going to be a close one.
IDAHO
Obama drew 14,000 to his Boise rally where he famously said, "They told me there weren't any Democrats in Idaho." The Chair of the Idaho Democratic Party had publicly complained that if Clinton were at the top of the ticket, it would hurt other down ticket candidates. Obama is not expected to win this one (or even come close), but he's not expected to hurt down-ticket candidates either. Obama is expected, however, to make Republicans spend money and resources in Idaho, a state that they normally would consider safe enough to ignore.
CD-1. Incumbent Bill Sali (R) is being challenged by a surprisingly formidable Wal Minnick (D). The incumbent faced challenges in the primary, only winning 52 percent of the vote in his home county. This is one of the races targeted by the DCCC, and Minnick has had strong fundraising right out of the gate, raising more money than incumbent Bill Sali. This is a very conservative district, but Minnick has the potential to bring a November surprise, especially if he is able to tap into the ground operations that Obama and Dean are bringing to this red state.
KANSAS
Kansas could be the surprise of 2008 if Obama is able to turn it blue with a little help from his friend, Governor Kathleen Sebelius (also on his short list for VP). Obama's mother was from Kansas, giving him roots there, too.
CD-2. In 2006 Nancy Boyda (D) ousted incumbent Jim Ryun (R). He will fight hard to get this seat back, and he has already raised more money than Boyda.This district leans conservative, but Boyda hopes that moderates can help her hold onto her seat. Boyda could definitely benefit from Obama's ground game but his coattails will help her only if Obama maintains a centrist image in this district.
NEVADA
While Kerry struggled and lost in New Mexico and Nevada, Obama has a good chance of winning all three with a little help from newly registered voters and Bob Barr (many western voters have libertarian leanings). Nevada Democrats also have a 52,000 voter registration advantage, which will likely increase with Obama's summer voter registration programs. The Culinary Union has also built a strong political machine. McCain also came out against sports betting (popular in Nevada, as you can imagine) and in favor of nuclear waste storage at Yucca Mountain (not so popular, as you can imagine). This state should favor Obama, but Latino support and turnout will likely determine the winner.
NV CD-2. Incumbent Dean Heller (R) is being challenged by Jill Derby (D). Derby has money and name recognition. My best guess says that it's a long shot but not impossible for Derby to unseat Heller.
NV CD-3. Nevada State Senate Minority Leader Dina Titus (D) is hoping to unseat incumbent John Porter (R) who held onto his seat by only 4,000 votes in 2006. With new voter registrations and a strong get out the vote effort, combined with Obama coattails, this seat has a possibility of turning blue in November.
NEW MEXICO
In 2000, George Bush lost New Mexico to Gore, and then in 2004 he won this state by only 6,000 votes. This year, New Mexico is once again shaping up to be a dead heat. Governor Richardson, a popular figure in New Mexico, is on Obama's short list for VP and Secretary of State. Albuquerque has also suffered one of the highest foreclosure rates in the country. If Obama hones his populist message here and courts the Latino community, he can win New Mexico. A strong economic message and active ground campaign could also help down ticket candidates.
Senate seat. Thanks to the retirement of scandal-ridden Pete Domenici and a bitter primary, Rep. Tom Udall (D) is starting out in much better shape than staunch conservative Rep. Steve Pearce (R). Anticipating the Obama coattails, Pearce is already distancing himself from both McCain and Bush. This is expected to be a tight race, leaning Democratic.
CD-1. Incumbent Heather Wilson (R) gave up this seat to run in the Republican primary for the open Senate seat (above). Now, Bernalillo County Sheriff Darren White (R) is running against Albuquerque City Councilman Martin Heinrich (D). This district leans heavily Democratic and voted for Kerry in 2004, but White (R) is a very popular figure in the area. Heinrich is positioning himself as a newcomer and an agent of change, while White is positioning himself as an experienced politician (sound familiar?). This race may hinge on turnout and new voter registration, particularly within the Latino community.
CD-2. Harry Teague (D) and Ed Tinsley (R) are both vying for the seat vacated by Steve Pearce (R), who is running for an open senate seat (above). This district is moderately conservative. Both candidates are inexperienced campaigners but wealthy enough to put considerable sums of money into their campaigns. This will be a tough race.
CD-3. Incumbent Tom Udall (D) gave up this seat to run for the Senate seat vacated by Pete Domenici (R). Ben Lujan (D) will now face off against Don East (R).
OREGON
Oregon has voted for the democratic candidate in the last five presidential elections. Kerry carried Oregon by only 4 points in 2004, but Obama had a ten point lead over McCain in Oregon as the primaries ended. Obama held his largest rally in Portland, drawing 75,000 people. Candidates like Obama with strong ground operations do well in Oregon's mail-in ballot elections, which will also help down-ticket Democrats there.
Senate seat. Senator Gordon Smith (R) is being challenged by Oregon House Speaker Jeff Merkley, who is busy tying Smith to Bush. (Smith has already tethered himself to McCain.) Smith has very low approval ratings, but Smith defies expectations every six years. Oregon has been growing more Democratic, and turnout is expected to be much higher -- depending on the strength of Obama's coattails, this could be the year.
CD-5. With Darlene Hooley (D) retiring, this district has an open seat. Kurt Schrader (D) should be a sure thing with newcomer Mike Erickson already being dogged by multiple scandals, one even dating back to his college stint as Study Body President and another that has pro-life groups asking him to withdraw from the race. Democrats will likely keep this seat.
TEXAS
Obama is unlikely to turn this red state blue, but he has already launched impressive ground operations to register new voters in Texas. The Texans for Obama Coordinator left the Obama campaign to manage voter registration drives for the Travis County (Austin) Democratic Party, which they see as part of a long-term effort to turn Texas blue in 2010 and beyond.
Senate seat. John Cornyn (R) is being challenged by Lt. Col. Rick Noriega (D). Normally, a newcomer to politics like Noriega would not stand a chance, but he is a well-known and popular figure within the netroots community, and he has been campaigning hard and raising money in the state. According to polling by the Swing State Project, Cornyn is ahead by only 10 points. I'm a blogger, not an analyst, but I'm impressed. I'll even put my money where my mouth is and make a donation.
CD-7. Okay, wind power executive Michael Skelly (D) is a bit of a long shot against incumbent John Culberson (R), but I like this guy. He's got the right kind of tenacity. He's down by 18 points, but he's also brand new to politics with very little name recognition. He's recently made news by raising more money than the incumbent. I don't know if this one will turn out to be close, but with high youth turnout and some self-funding from his self-made millions, Skelly has possibility.
CD-10. Rep. Michael McCaul (R) is being challenged by Larry Joe Doherty (D), former television star of the show Texas Justice. Polling last week shows McCaul with only a 5.4 percent lead. The outcome of this election will likely be determined by whether or not Doherty can turnout African American and Latino voters and get swing voters on board who live along the highway that connects Austin and Houston.
CD-22. Nick Lampson (D) picked up Tom DeLay's old seat in 2006 against a write-in candidate (Republicans were unable to get DeLay's name off of the ballot). If the Republicans pick up a seat this year, this could be it, and they are targeting this seat. Texans, are you listening? Lampson needs your support.
WASHINGTON
Kerry carried Washington by a slim margin, and this state has not voted for a Republican presidential candidate since 1984. The eastern half of the state is more conservative than the western, coastal areas, and the coastal areas have increased in population. Obama is expected to win
CD-8. Incumbent Dave Reichert held on by only 7,300 votes in 2006 against Darcy Burner (D) who was a newcomer with little name recognition. Darcy is demanding a rematch this November, and it looks like a toss-up. While Burner, who is not a superdelegate, did not make an endorsement of either Obama or Clinton, her husband is a Clinton delegate. This district voted for Kerry in 2004 and for Obama in this year's primaries, which bodes well for Burner.
SUBSCRIBE TO & FOLLOW THE MORNING EMAIL
Start your workday the right way with the news that matters most. Learn more