Judith Collins spends her spare time volunteering, answering phones and doing whatever needs to be done, in one of the Obama campaign offices in Virginia. Far before the pundits predicted an Obama nomination, Judith says she knew Obama would win. She was so excited about Obama that she and two fellow volunteers bought plane tickets and made hotel reservations in early January so that they could be in Denver to watch Obama accept the nomination.
Judith, Vashti, and Toni began immediately trying to get on a list for tickets. They filled out online forms, sent emails, and made phone calls. In the beginning, they thought the speech would be in the convention center and that space would be limited. Not willing to let limited space thwart their plans, they continued asking everyone they could if they could get tickets to the nomination acceptance speech.
When the news came that the speech was moved to Invesco Field, they were sure that they could get tickets: the venue holds 75,000. Not willing to take a chance, they continued their quest for tickets, but to no avail. No tickets were forthcoming. Later, the news came that 60,000 of the tickets would be given to Coloradans.
To their chagrin, Judith, Vashti, and Toni were denied tickets, but they came to Denver despite their disappointment. When asked if they would regret the trip if they were unable to see the speech on Thursday, they said they would have no regrets. They were determined to come to Denver to show their enthusiastic support for Obama.
Judith says that in spite of all of the work she has put in as a volunteer, she does not feel she is owed a ticket. She desperately wants one, but she stated that she understands that Colorado is a swing state. She is still working as hard as she can, asking nearly everyone she meets, "Can you help me get tickets to Invesco?" but she states with sad, determined eyes that if giving up her seat to a Coloradan helps Obama win this swing state, it will be worth having missed her dream of watching him accept the nomination.
----
For more Huffington Post coverage from the Democratic National Convention, visit our Politics @ the DNC page, our Democratic Convention Big News Page, and our HuffPost bloggers' Twitter feed, live from Denver.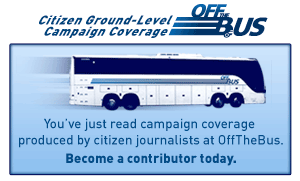 SUBSCRIBE TO & FOLLOW THE MORNING EMAIL
Start your workday the right way with the news that matters most. Learn more