PHOENIX -- According to the most recent Zogby poll, Obama now leads by 3 points in McCain's home state of Arizona. Among independent voters in the state (almost one third of all voters here), Obama is ahead by 13 percent, 51 to 38.
The McCain campaign has struggled in Arizona. His campaign was embarrassed recently by being forced to move a fundraiser from a reception hall to a private home due to lack of interest. McCain had little grassroots support here before his campaign office opened, and when it did finally open, there were nearly as many protesters outside as attendees inside.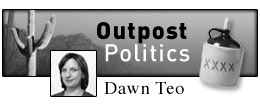 Last month, after polls showed McCain up by only 9 points statewide and only 5 points in his home district, he acknowledged that he could lose Arizona -- a state that George Bush won by 10 points in 2004.
Zogby shows Bob Barr garnering 7 percent of Arizona voters, and in a very serious sign of McCain's lack of appeal to the conservative base, Barr has the support of 16 percent of "very conservative" voters.
Republicans currently have a 3 point lead over Democrats in voter registration statewide, but voter registrations have been trending poorly for the Republicans in 2007 and 2008. While the most significant gains in voter registration have been independents, Democrats have also added significant numbers to the rolls. Republican voter registration has been relatively flat.
Zogby's prediction for McCain's home state in November? Too close to call.
UPDATE: The author initially misread the poll to say that Obama trailed by 3 points. In fact Obama leads by 3 and the margin of error is +/- 3 points. The lead and headline has been rewritten to reflect the correction.