PHOENIX -- With no official campaign presence in his home state of Arizona and a nearly imperceptible level of grassroots support here, McCain was forced to acknowledge in mid June that he might lose Arizona in November. After conceding Arizona as a swing state, the McCain campaign finally opened an office in the Madison Square office complex in downtown Phoenix, the same building that houses his swanky senate office.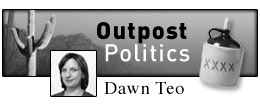 During the grand opening on Friday, a couple of hundred McCain supporters crowded into the new office to listen to speeches by Senator Jon Kyl, who appeared in person, and by the McCains, who delivered theirs via video conference. Meanwhile, outside, approximately 100 protesters endured 110 degree heat to protest a range of McCain policies, from the Iraq war to immigration.
According to the McCain campaign, this new campaign office will serve as an operations hub for the Southwest. Planned operations include canvassing, sending out mailers, phone banking, and organizing trips to three nearby battleground states: Colorado, New Mexico, and Nevada.
John McCain's national campaign headquarters is located in the heart of the DC beltway, just minutes across the Potomac from Washington, DC, in Arlington, Virginia.
SUBSCRIBE AND FOLLOW
Get top stories and blog posts emailed to me each day. Newsletters may offer personalized content or advertisements.
Learn more