Last week, at an Obama fundraiser, attendees were ooh'ing and aah'ing over a custom Barack Obama collectible wristwatch. The words "It's time for change" printed on the face, along with a photo of Obama. It had been given to one of the attendees by a friend whose watches, including three Obama watches, have been accepted into the permanent collection of the Smithsonian's National Museum of American History.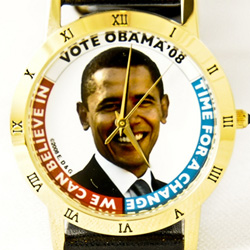 This year, when Jack Goldberg heard Obama speak, it reminded him of John Kennedy's inaugural speech. Goldberg said he knew at that moment that Obama was a special candidate, appearing at a time when this country needs change. After eight years of George Bush, the "Vote for Change" slogan of the Obama campaign seemed too timely. Thus, the idea was born, "time for change" timepieces.
Three friends, Jack Goldenberg, Kevin Beck, and Kevin Glennon made the first three Obama watches for themselves to use as icebreakers, hoping to start conversations with friends, relatives, coworkers, and even strangers to convince them to support Barack Obama for president. Every time someone asked for the time of day, he would respond while holding up his wristwatch, "It's time for change!"
Their watches were so popular among their friends and families that they decided to make them available to the public on the web.
Kevin Beck, the watch designer, designed four more models, and they contracted a watchmaker to produce them. They are donating proceeds from the sale of the "Love Your Mama, Vote Obama" model to Hire Heroes USA, which helps disabled veterans find new careers.
It is no wonder the watches are selling so fast. Goldberg and Glennon are professional marketers. Goldberg is a creative director in the marketing field who was experienced in viral campaigning before anyone called it viral campaigning. According to his resume, as a creative director, he managed the product launches of Pop Rocks, Cabbage Patch Kids, and the first McDonalds Happy Meal. He's even done public relations work for Rachel Ray. He says he is happy to put his expertise to work for the Obama campaign in this unofficial capacity.
So far, they are selling the Obama watches as fast as they can have them manufactured, sometimes faster. When asked why it can sometimes take a couple of weeks to ship a watch, Goldberg responds, "I'm sure if you ordered a John McCain for President watch, you could probably get it the same day."
When asked if they will ever sell John McCain watches, the answer is an emphatic and absolute "No."
Goldberg has a litany of catch phrases he uses whenever someone asks him about the watch.
"This watch is guaranteed to be more accurate than George W. Bush."

"This watch is more trustworthy than Dick Cheney."

"These watches are younger than John McCain."

"These watches are 3 trillion times cheaper than the Iraqi war."

"If you take the battery out, they'll still be accurate twice as often as George W. Bush every day."
They are asking everyone who supports Obama, (whether they buy or wear their Obama watch or not), to "share a positive message about Obama every time someone asks them for the time." They have a list of 44 reasons to support Obama. Number one is "It's time for change!" and number 44 is simply "John McCain."
The phrase he uses most often, though, is "It's time for a change!"
Follow Dawn Teo on Twitter: www.twitter.com/dawnteo