It's easy enough to understand the reasons most politicians give for not wanting to endorse their party's nominee. It's not very easy, though, to understand reasons tied to the kind of ignorance that would lead state officials to publicly repeat rumors about their party nominee's alleged ties to terrorists:
"I'm not sure we know enough about him. He's got some bad connections, and he may be terrorist connected for all I can tell. It sounds kind of like he may be."
That's what Fred Hobbs, a Tennessee Democratic Party Executive Committee member, told the City Paper when asked about the reluctance of Congressman Lincoln Davis to endorse Obama.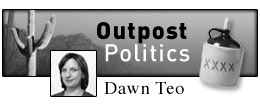 According to the article, Hobbs then added that he was skeptical of Obama himself and said that he does not approve of some of the things Obama stands for.
The City Paper reporter, John Rodgers, says Davis was unavailable for comment. When I called Davis's congressional office this morning, his staff said that he had not yet spoken with them regarding the matter. They were unable to make any statement or comment. According to the congressman's McMinnville office in Warren County, Davis is presently on the road doing "county visits."
Davis Chief of Staff Beecher Frasier attempted to clear up the matter but only added fuel to the fire. City Paper's Rodgers asked point blank whether he, Beecher Frasier, believed Obama had ties to terrorists. Frasier responded saying that he "didn't know for sure" whether Obama was "terrorist connected" but that he assumed not.
Tennessee Democratic Party Communications Director Wade Munday issued an official response, blaming the statements and the sentiments behind them on Republican efforts "to turn internet smears and highly offensive gossip into the [Republican] message against Senator Barack Obama." Munday's release assures readers that the Democratic Party of Tennessee is united behind the party nominee. The Democratic Party office told me that Fred Hobbs had apologized and would be voting for Obama.
Clint Brewer, the editor of City Paper, was nevertheless clearly vexed that Davis would not issue a formal response on the comments made by Chief of Staff Frasier. After all, three ranking figures in local Democratic politics had given voice to concerns widespread in the area.
Today, as this story is being published, Beecher Frasier has issued a formal statement for the press: "No one in their right mind, including me, believes Senator Obama has ties to terrorism. It is truly ridiculous for anyone to try to make hay out of these comments."
But City Paper reporter Rodgers and editor Brewer are adamant. Brewer said he and Rodgers "stand by this story," certain that the tone of Frasier's comments was portrayed accurately.
While Obama won the primary vote in the well-educated, affluent Williamson County area, he lost terribly in the rural surrounding areas of Tennessee. In rural Hickman County, for instance, he received only 14 percent of the primary vote.
Email campaigns voicing such allegations are well-known in that part of Tennessee. Some of the emails allude to Manchurian conspiracies while others repeat allegations that have long been debunked by mainstream media. It has been difficult even to keep up with much less refute the online campaigns being waged against Obama in the region.
The City Paper article appeared, in fact, the day after the Obama campaign released a new website, Fight the Smears, designed to combat allegations such as these and the suspicions they have given rise to.
Rep Davis (D) faces a Republican challenger this November in this very conservative district. He also plans to run for governor in 2010. Beecher Frasier is a former adviser to Harold Ford Jr. He was a strategy consultant in Ford's losing bid for Bill Frist's Senate Seat against Bob Corker. Some Democrats have accused Frasier of throwing the liberal wing of the party under the bus.
Tennessee is called the Volunteer State because of its large number of volunteers for the War of 1812 and the Mexican War, and the state still boasts some of the highest numbers of military recruits in the country. Davis's district borders the Fort Campbell area, a major military base and launching pad for troops being sent overseas. Many families in the area have a personal stake in the war in Iraq and Afghanistan and hold some of the most conservative positions on foreign policy.