Remember the box where you were supposed to put your sex questions for an embarrassed teacher to answer? Or how about that doctor's visit where the pediatrician asks, "You're not having sex yet, are you?" Or your parent, who, if you were lucky, handed you a condom and told you to remember to use it without showing you how?
The survey found that when asked for the best way to learn about sexual and reproductive health, about 20 percent of respondents cited high school or college health education programs. Eighteen percent of women mentioned family as a source, as compared to only 11 percent of men. On another interesting note, approximately 12 percent of youth who took the survey noted online searching (even though, in the same survey, 45 percent had searched for sensitive health information online!).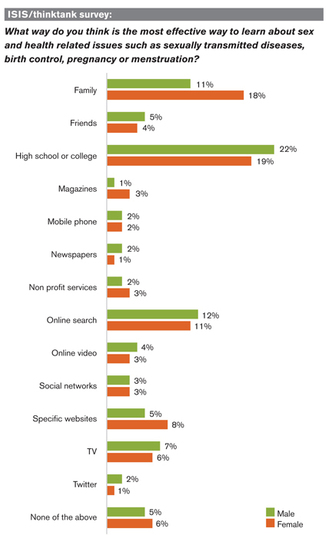 These findings were reiterated in focus groups conducted by ISIS, Inc. in Oakland, California and Chicago, Illinois with urban youth of color. However, young people in the groups agreed that all these ways of learning (family, friends, school, magazines, mobile phones, newspapers, non-profit organizations, online searching, online video, social networks, websites, TV and Twitter) were only moderately successful in providing "real education" about sexual and reproductive health. As one focus group participant told us: "Kids know about it [sex], but they aren't educated about it."
Youth know that having sex without a condom is stupid. That's the easy part. What they don't know, and what we don't teach, are the complexities of the physical and emotional environment in which they are operating as adolescents. I'm not talking charts and graphs; I am talking engaging digital learning that makes sense in the context of their teenaged lives.
Would you rather have a lecturer with a flip chart showing you a male and female body? Or can you imagine using something like Google Body -- 3-D renderings of the male and female bodies -- to peel back the layers and uncover what happens to your body as you become attracted and aroused? Then, contrast with how alcohol and substance use affects the usual hormonal and physical arousal process -- from the skin to the liver.
In talking to youth, we also found that the arousal side of sex is what dominates young men's interest. Whether they are searching online, flipping through a magazine or talking to a trusted adult, what captures their attention is what's sexy and explicit. Young women are more concerned about the health and emotional side of sex and relationships; things like how to keep your boyfriend interested and sated. Gender stereotypical? Yes. Something to ignore? No.
Different content is needed to engage young people in their own sexual health, and in more forms. Take a classroom discussion using the newest and coolest technology, add a reality TV show and a talk with a trusted family member, all supported by accurate medical advice in-person and online, and we're sure to be much more than moderately successful in leading our young people to healthy adulthood.
SUBSCRIBE TO & FOLLOW LIFESTYLE
HuffPost Lifestyle is a daily newsletter that will make you happier and healthier — one email at a time. Learn more