When the terrible earthquake struck Haiti, followed by a flood of media attention and global concern, RNs in America knew one thing: nurses would be in Haiti long after the TV cameras left.
And this is exactly what has come to be. A team of registered nurse volunteers with National Nurses United, from California, Illinois, Massachusetts, and Texas were the latest, departing for Haiti last Friday to serve a nine-day deployment at Hopital Sacre Coeur. The deployments are expected to continue for several months, reflecting the commitment of nurses to these patients.
Hopital Sacre Coeur (HSC), a 73-bed facility, is the largest private hospital in the north of Haiti, located 80 miles north of Port-au-Prince in the town of Milot. Before the earthquake, the hospital typically had 56,000 patients a year and people would often travel miles to receive care. After the disaster, tent hospitals were set up for the many additional patients as well as for discharged patients who had no housing. [http://www.nationalnursesunited.org/heroes/ Earlier groups of nurses from NNU's Registered Nurse Response Network (RNRN) worked onboard the USNS Comfort, the critical Navy relief effort that cared for the most seriously injured in the first weeks following the disaster.]
Collected below are some thoughts and photos these nurses texted back while working, including the story of one patient who has touched them all, Jovanie Pierre. Please note that Jovani is an orphan, and no one knows how to contact her family--if anyone has information on them, please let us know.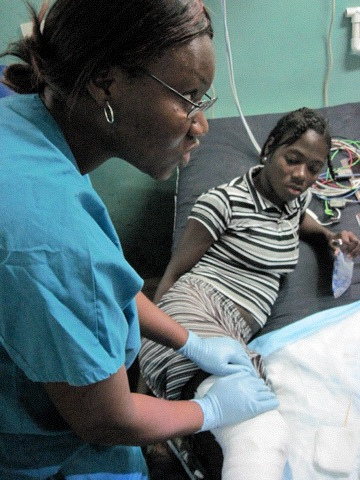 On our fourth day in Haiti, both joy and sadness. Entered the intensive care unit yesterday afternoon to see Jovanie Pierre, the girl in the corner bed surrounded by docs and our Peds ER nurse Kelly. The girl was suffering; an earthquake survivor who was now barely doing that, still struggling
with the aftermath of injuries that had gone neglected in the confusion post-earthquake. The plate screwed into her leg to hold her bone together broke off when she tried to walk too early and when the wound became infected her vitals plummeted. Everyone thought she was lost: there was a frenzy of activity around her bed with our Kelly, adorer-of-children, holding her hand saying "you're doing
great, you're doing great!" as she rallied. In the end she survives to fight another day without parents, without any place to go. Both parents were lost in the quake and no other relative can be found.
For days there has been a sad plaintive dog, deathly ill, dying on the back porch where Deborah, Kelly and I decided to sleep on that first day surrounded by tropical jungle instead of sequestered under a slow-turning ceiling fan. We have called him our dog and have been kind to him and so he stayed. But in just the few days he went from bad to worse. After much begging on my part that someone put him out of his misery, a kind anesthesiologist and his wife staying here who work with rescue dogs, put him down. Deborah witnessed, assuring me the dog's demise was peaceful. More
kindness, perhaps, than he has been shown in a great while.
In the joy category, as much to tell. Grace from Texas is deeply bonding with nurses here and sharing stories. They have mostly been frustrated by the influx of know-it-all Americans during the earthquake seige, but Grace has made substantial inroads. At end of shift, her co-worker put her hand on Grace's shoulder and said, "I liked working with you. I hope we'll work together tomorrow."
Also joyful: our Haitian-born RN, Clelie miraculously found the relative of a friend here in one if the tents. Clelie's friend back home had heard she was alive, but had no way to verify. She is in good
health but has lost a limb. Clelie said the reunion was tearful, and took pics for people in the U.S. to view the evidence and celebrate!
After heavy rains another sun rises in Haiti over our little porch. The tree trunks are golden in the light, their limbs reaching skyward like arms outstretched to heaven. The lizards skitter across their
trunks in pursuit of a benevolence of bugs. Forget the truth and we could be tourists in paradise.
But I am among nurses, sworn by their vocation to witness and remember everything. And so we embrace it all.
Sometime around the third day you begin to wonder how you can take people home with you. You think crazy things, ridiculous things, as if they're doable. Maybe, you think, I could say she's my long lost sister, or my friend, or an American who just somehow got stuck in Haiti. Maybe she'd fit in my luggage. Crazy things that could only take place in a cartoon world where frying pans and earthquakes do not maim or kill.You succumb, and, tough as they like to be, the nurses succumb, too.
Everyone has fallen quite in love with Jovani. After her near- miss yesterday she has stabilized. Volunteers visit her in the ICU to hold her hand or touch her head. There is something sacred about the way she has been lost, and how she will likely be lost again.

Everyone wants to arrest time to keep her from going backward to remember the earthquake, her lost parents, or the rape she endured sometime in the past. And keep her from going forward as well, to an inevitable discharge to Port Au Prince's nothingness.
In the middle of the day our Deborah says that she feels bad for not understanding that the ICU's interpreter thinks of Jovani as a niece, now. He has decided to look out for her while she is in the hospital. "That's what people do here," she says. "We could learn from it."
And Aida, one of our RNs tells me that Jovani is just like Haiti; slow to rise again but give her time.
Not so far from the ICU in tent four, cots of survivors line both sides of the massive interior. Inside, the music has begun. A makeshift band of three ; one guitar and two mariachis, plays "Where have all the flowers gone?" RN Grace from Texas joins in singing, skipping past the man strumming a black guitar. Outside on the patio, the physical therapists spend their second day getting the patients to do a kind of two-step to strengthen their legs.
Later on our porch the rain swells the ground around our patio and beats it into mud. Two crows fight on a branch above us. A water main to the living quarters breaks and we read or sleep or talk to twist our mind away from the need to shower or pee while workers fix the line.
And Kelly, who spent the day with Jovani until she had to pull away, and cry, and call her family, sits on the cot next to me and says, "Make sure whoever comes time understands."
"This," she says, "Is hard.
SUBSCRIBE TO & FOLLOW TRUMP'S FIRST 100 DAYS
How will Donald Trump's first 100 days impact YOU? Subscribe, choose the community that you most identify with or want to learn more about and we'll send you the news that matters most once a week throughout Trump's first 100 days in office. Learn more