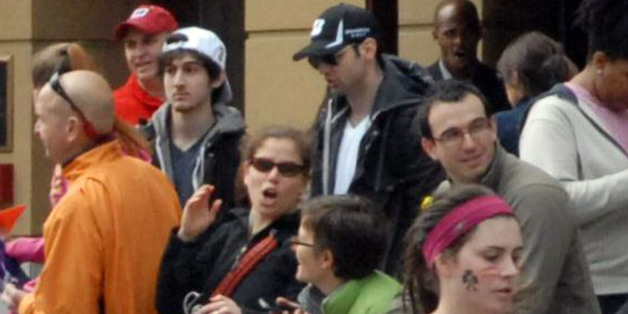 Imagine if millions of people were poring over a page from Where's Waldo? and, in this instance, no one really knows what Waldo looks like or where he is, except Waldo himself and he's not going to say anything because he's got a bomb to set off. That's what it feels like looking at the panoramic photo Lauren Crabbe snapped of the Boston Marathon on her iPhone. Of course, instead of Waldo we're scanning the photo for Tamerlan and Dzhokhar Tsarnaev. Tamerlan is now dead and Dzhokhar is in the hospital unable to do the thing we all want him to do most: tell us what happened. Did he and his brother set off bombs at the finish line at the Boston Marathon, killing three people and injuring almost 200? If so, why? Are they terrorists? Are they Muslim extremists? Did they act alone or are they part of a terrorist cell? But Dzhokhar sustained injuries to his throat and can't speak.
If we think of an investigation as uncovering and pulling together the pieces of a narrative, then the investigation into the Boston bombing has a multiplicity of voices, perspectives and, in this case, images. Crabbe's photo is just one of thousands that authorities analyzed in putting together the story of the bombing and identifying suspects.
In working the case, agents put out a call for photos and videos from the public. Then they set to analyzing what they had in front of them and finding clues to lead them to the guilty parties. Spencer Ackerman of Wired reported, "In an unusual move, the team of local, state and federal authorities investigating the crime openly called for spectators to provide any images or video they might have, all of which could potentially provide leads or evidence in the case." By crowdsourcing this part of the investigation, agents were able to build a mosaic of the events just before and after the bombing and identify individuals moving or behaving in a way different from the normal flow of the crowd. Within just a couple of days, they began focusing on two men in the crowd. We now know these men are the Tsanraev brothers.
After hearing about the call for public photos and videos to assist in the investigation in Boston, I went back to a recent piece I wrote about a speech given by Jon Fisher, CEO of CrowdOptic at the Silicon Valley Bank Annual Summit to take another look at the technology Fisher and his team have created. According to COO Jim Kovach, the algorithm CrowdOptic has developed can be used to "identify, tag and curate an object of common interest or news event by focusing not where the people are, but what they're looking at." At the time, no one knew they were possibly looking at suspects in a bombing case as they stood snapping photos at the marathon finish line.
Through triangulation with GPS and sight lines, CrowdOptic can organize the metadata that's created with photo sharing. In a recent Washington Post piece, David Montgomery points to federal and local authorities sifting through an "ocean of evidence" as a "story of advanced technology and old-fashioned citizen cooperation." He touches on the challenge in separating the "meaningful from the noise in a world awash with information." Advances by companies by like CrowdOptic may allow authorities to accumulate and organize crime scene information more quickly and efficiently.
The Washington Post piece also highlighted the story of Jeff Bauman, who was severely injured in the bombing. Still groggy after undergoing amputation surgery, Bauman wrote a note that was quickly passed on to FBI agents. Bauman's message was simple: "Bag. Saw the guy, looked right at me." This became a critical piece of the story. Combining this information along with where Bauman was standing and what direction he was facing, it seems possible that agents may be able to use technology like CrowdOptic's organizing features to zero in quickly on what thousands of others saw at the same place and time. Exact GPS location and date/timestamp would allow authorities to pull up multiple angles of the same subject.
I was riveted to the news the day the chase was on to capture Dzhokhar and impressed that the authorities were able to identify suspects so quickly. The intersection of a strong investigation and cooperation from the public along with the use of technology and social media weaves a fascinating story. Any law enforcement officer will tell you that witnesses to crime scenes are notoriously unreliable, in many cases due to the stress of the situation. Today's witness may have viewed the crime and the time surrounding the event through the filter of a smartphone and has likely recorded it. These photos and videos are part of a narrative that unfolds one piece at a time and with painstaking attention to detail can lead to the most basic rewards a story provides -- the triumph of the hero and of good over bad.