"Falling is not my specialty," quipped Philippe Petit to "extreme" choreographer Elizabeth Streb during a verbal jousting match between the two at the Hammer Museum's Billy Wilder Theater last week. Streb was describing how dance "must be extreme or no one will notice it as action."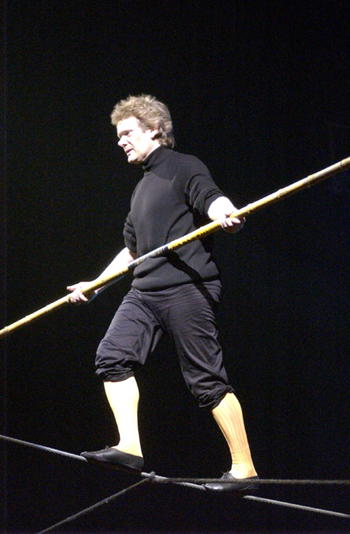 In amazingly fluent English, Petit rejoined, "I never take risks. I'm very tired of those words: Risk-taker. Dare-devil. I take a long walk on a high path in the sky. That poetry is not extreme -- it's exquisite, enigmatic."
Both artists push limits but in very different ways. Streb's choreography is charged with tension and danger. The MacArthur "genius" fellow admits to having been an "action specialist all through my childhood, from downhill skiing, riding my Honda 350, playing baseball and basketball." In 1972 Streb graduated with a dance degree from SUNY Brockport ( "much to the dismay of my dance department"), and headed out to San Francisco where she grew "obsessed with motion."
Petit, an amazingly facile speaker in his non-mother tongue, says: "My life is in the sky. It's unattainable; you look up, I'm a dot up there. The sky is a continent we have to explore."
Streb, whose dream it is to "smash into a barrel and go over Niagara Falls," says that the desire to fly and "fall up" is inexplicably missing in the modern dance world. "How fast can the body move before it disappears? Danger is involved in what I do."
The Frenchman's art concerns not physical danger, but instead the intellectual risk and rule-breaking of an artist's life, which he calls, "tumultuous, ridiculous, a grand mess."
Preparation is paramount: "I'm a craftsman. What I do takes months and months to prepare. When I finally grab the pole, I am not thinking about the last step. I am a prisoner of my passion. I am trying to show my world. That is the way to inspire. If I am sincere, you will find a wonderful performance."
Streb: "I want to get out of my comfort zone."
Petit: "I am not chancing my life by walking the wire. I am carrying my life across the wire."
SUBSCRIBE TO & FOLLOW CULTURE SHIFT
Every Friday, HuffPost's Culture Shift newsletter helps you figure out which books you should read, art you should check out, movies you should watch and music should listen to. Learn more