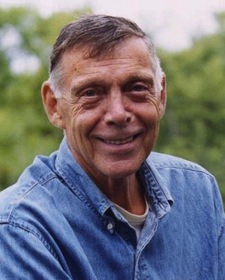 A joyous event for modern dance takes place at Lincoln Center next Tuesday evening, March 13, when the Paul Taylor Dance Company will plant its collective bare foot onto the hallowed stage of the David H. Koch Theater. A massive roll-out, over the ensuing three weeks, consisting of 22 'Taylor-made' repertory dances dating back to 1956 will follow that proud moment.
It's the first-ever season by a modern-dance troupe at Lincoln Center, the traditional "uptown" showcase for classical ballet. The Koch, a classy mid-century structure formerly known as the New York State Theater, was designed by architect Phillip Johnson in tandem with choreographer George Balanchine, in 1964, as the resident house of the New York City Ballet. A great viewing hall for dance, the theater's fifth tier "nose-bleed" section is home to dance diehards, and it's expected that a lot of people new to Taylor will join in the fun.
Downstairs, amid the red-velvet orchestra section, will sit the artistic director, Paul Taylor, no doubt feeling sweet satisfaction. The highly lauded American choreographer still toils at age 81; indeed he's offering the public three new dances this season. A modest and low-key gentleman whose biting sense of humor chimes through in his work, Taylor, born in Pittsburgh, raised in Washington D.C., is the sole remaining member of American modern dance's third generation. His artistic lineage extends back through Martha Graham, in whose troupe he performed, to the pioneering Denishawn group; his peers, Merce Cunningham and Alvin Ailey, have both departed.
It's a mere 10-city-block trek northward for the Taylor-ites from City Center, where the company has danced its spring season annually since 1977. But calculated by cachet, yes, prestige, and access to a new and broader audience -- it's a lurch to another level. The move was precipitated by the withdrawal of a key Koch Theater tenant, the New York City Opera, creating a vacuum that Taylor and his team lost no time in filling.
A cool advertising campaign, shot by renegade dance photographer Jordan Matter, captures the dancers' ballsy uptown foray. Eight of the PTDC's 16 dancers chatted with HuffPost Arts about the photo shoot, and why the move matters. Read the captions in the slide show below.
[story continues after slide show]
Jordan Matter photographs Paul Taylor Dance Company's move to Lincoln Center
"Yeah, it was really fun. They wanted to have a shot with someone, in white, jumping over that sign. I was excited because I knew I had this great white dress from the duet that concludes "White Roses." "It was high traffic area and he wanted me to do it over and over and over and get right over the sign. Usually he doesn't use trampolines, [but] it's an intense rehearsal period and I didn't want to get injured, so we used the trampoline. And it saved my life, probably. "It's kind of scary, it wasn't that big of a a trampoline, and you have to line up over it. I'm used to doing a jeté and getting the line I want on it. But when you're moving forward to get that line, versus, when you are jumping up, it's a different coordination. The front arm, in a slight 'vee' up, is a Taylor arm." -- Eran Bugge, with PTDC since 2005

"I had shot in the rain, but that wasn't used, because I had no Taylor costume. They asked me if I would shoot again, jumping out of the bus in the costume of "Esplanade." "Paul's original idea [for "Esplanade"] came from watching a woman chasing after a bus. The jump I am doing, we don't actually do that specific leap in "Esplanade," but that is a very Taylor-esque jump with the 'vee' arms. Usually it is done through space, so you get a more extended line. "So many busses passed by, we pleaded with them to stay. The woman in the background, that was just her honest reaction; she was getting off the bus. A lot of bystanders were watching. It was chilly, around ten in the morning, and the sun was just peeking over the tall buildings near [Central] Park. We shot it right in front of Lincoln Center, at 64th and Broadway." -- Parisa Khobdeh, with PTDC since 2003

"Don't we love the illusion of photography, that trick of the eye? I am jumping up. It's not Photoshopped. "They hailed the taxi, they paid the driver to park a few minutes. We set up a trampoline, mostly because it was concrete. We did that a bunch of times, to get the angle so it would look like my foot was coming out of the car. "We were right in the middle of Lincoln Center, in the street. It was really exhilarating to be out in the public, on a public plaza, with everyday people going by. "It's difficult to capture the essence of the dynamic energy, the flight, of Paul Taylor's sense of movement -- and Jordan was able to capture it. "Knowing the history of the dance that has been presented at Lincoln Center, to be a part of that history, and to become part of the legacy that is that theater is a huge opportunity for the company." -- Michael Trusnovec, with Paul Taylor Dance Company in 1998, now its most senior member

"There was talk of doing Photoshop work with certain jumps and poses. We decided to go for the real thing. "I was in the subway for about an hour. We had to wait for trains to come and go. Luckily there was an announcement when the train was coming in. So we could prepare, and the train would come, and the photographer would say okay, "GO!" and I would jump ten times in the row. I was in one place, not running at all. I was jumping [straight] up and down. Needless to say the next day I had very sore muscles in my legs and shins but I was fine. I would go until he got a shot with the cape sprawled in the air indicating movement. People stopped and watched. They were gawking at me in my red velour costume and hat and thinking I was a crazy person. And then it was fun. "We'll do anything for art." -- James Samson, with PTDC since 2001, costumed for Taylor's "Troilus and Cressida (reduced)"

"I had my scooter with me that day. It was such a beautiful day out they decided to use it in the picture. I had heels on initially. We tried it with different costumes, and they remembered that I had this dress on, and that's what was shot with the scooter. "They enjoyed the dress, the color; it popped, it was a beautiful day. "I love that scooter. The company got it for me for my birthday. We all pitch in for everyone's birthday; and that was my birthday gift, I was extremely happy. I ride it around the city, the street, the sidewalks. "I would have to push off it [to leap in the air]; it rolled a little bit while I was jumping. "I am very excited to be performing at Lincoln Center. I am a native NYer, growing up here and passing by it all the time, wishing to be there, and now we are there. It may sound corny, but I always think of that scene from "The Turning Point" with the fight in the plaza. And oh my gosh, all of the great companies who have danced there. "I will cherish each moment on that stage." -- Michelle Fleet, with Paul Taylor Dance Company since 2002

"First – there were no wires. "I am actually jumping off the back of the bike. We set up about four or five different angles to figure out the best for the shot. The profile turned out to be the best. "We tried a bunch of different techniques, one using a pad that I would jump off of, another would be a trampoline, but me just jumping on my own seemed to give the best result. "The engine was not on. I had to balance it a little bit. The wheel should be turned [to secure the bike], but the wheel is in a straight line, which made it much more difficult – and that is a heavy bike. I was standing beside the bike, I had to push my body over the top of the bike for the shot, and then land on the side of the bike – all while balancing the bike. "The photographer had a friend with a custom-made Harley. I have never been a fan of motorcycles, but when I sat on that thing I had a midlife crisis -- because I wanted one so bad. "All of a sudden the machismo that you suppress as a male dancer came out full throttle. "That shot took about fifteen [tries] totally. We also used a bit of hair gel to get the illusion of the wind. But first and foremost they made sure I was safe, I was very well taken care of. So I was in no danger, which is really important in photo shoots." -- Sean Mahoney, PTDC member since 2004

"We did not use Photoshop, we did it for real. "The arms? Two scoops. We call it 'scooped shape.' Just a generic shape we use in a lot of dances. By the time we did that shot we had tried quite a few others, they decided to jump in that location. It was right where people were walking on the sidewalk, I was coming sideways. The hardest part was the bottom foot – I wanted to get a nice shape on the bottom foot, so my body kept having a little reaction. If on a normal floor, you would slide to take off and try to get that shape up, and get a quick release of that bottom foot. "I'm excited [about the Lincoln Center season]. I am always excited to dance in New York, I went to the Juilliard School, so it is a familiar neighborhood to be performing at the Koch Theater. I never thought I would be dancing there." -- Amy Young, with Taylor since 2000, the most senior female member of the company

Company members Laura Halzack and Michael Trusnovec spin & whirl in the Koch Theater's generous mezzanine.

"It was very impromptu. It had just finished a torrential downpour of rain, it was 8:30 at night. It hadn't rained the whole summer, and we were shooting, and it was still raining. They said to me, 'Are you ready? Let's do it. Go put some tights on.' "I put on red tights, came down out of the Koch Theater, and he [Jordan Matter, photographer] decided to put me in front of the fountain. 'Do whatever,' were my instructions, 'Just be in the rain.' He didn't have anything particular in mind. I started jumping, it was raining on me. It was really incredible. You know you are in an epic shot, the lighting design of Lincoln Center is so magnificent, we were trying to time the jump so when I was in the air, the fountain was shooting up, so there would be up and down. "You can't really tell that it's raining [in the photo], it just looks like I'm shiny. I have never felt such a rush in a photo shoot before, dancing with the elements, and there's a huge crowd watching this crazy person jumping up and down in the rain." -- Francisco Graciano, joined the company in 2004

"It was actually not so bad. It was fun. There were people around, and the lighting had gotten darker, we had taken some shots with the sun going down, with a beautiful purple sky. "I was jumping off a step down to concrete. I felt it the next day. It really turned out great. I was excited about it. This jump is a very iconic jump; it is in quite a few dances, but mainly from "Arden Court." "City Center has its charms, it's very intimate. We will miss it. And Lincoln Center is such a ballet place. To have a modern season there will be great for the art form and for our company. "Change is frightening, but it's an incredible opportunity to dance at such a great house, I am excited about opening a new dance fan base to Paul Taylor." -- Robert Kleinendorst, with PTDC since 2000
On offer at Lincoln Center is a crash course in Paul Taylor repertory gems; beyond the premieres, many classics. The jewel in the crown, Aureole (1962), a lyrical Taylor masterpiece set to Handel, celebrates its 50th anniversary this year. To commemorate, a midtown restaurant of the same name, Aureole, has launched a special prix-fixe "Paul Taylor Dance Menu." Tickets for the opening-night performance on March 13, priced at 1962 rates ($3.50) when Aureole had its premiere, sold out in ninety minutes. Entry to the gala dinner two nights later, on March 15, will set you back $750.
The repertory includes the company's signature work, Esplanade, a post-modern masterpiece pitting basic movement, beat-for-beat, with great emotional synchronicity, to the music of Bach; Beloved Renegade set to Poulenc and inspired by Walt Whitman's "Leaves of Grass"; Promethean Fire, Taylor's response to the events of 9/11 set to Bach; Mercuric Tidings, to Schubert; the hyperactive Syzygy; the social satire of early works Cloven Kingdom and Big Bertha; and the comic 3 Epitaphs, with Robert Rauschenberg's kooky hooded costumes, the earliest creation still in the Taylor active repertory, set to New Orleans jazz.
There's risk for the company. It's dicey trying to fill 2,586 seats per night over 21 performances in an economic recession; whether the move will prove a sure-footed one remains to be seen. In the meantime, native New Yorkers, and visitors to the city, can revel in an annual pleasure: the Paul Taylor Dance Company's spring season - only this time, great American barefooted dancing in a house built for ballet.
Jordan Matter photos courtesy of the Paul Taylor Dance Company.


Debra Levine is a Los Angeles-based arts journalist blogging about dance, film, music and urban culture on arts•meme.
Follow Debra Levine on Twitter: www.twitter.com/artsmeme