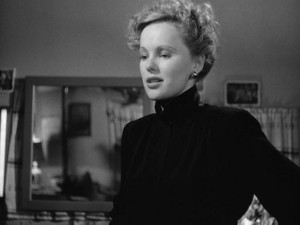 It was wild watching Gun Crazy (1950) projected on the humongous screen of the Egyptian Theatre as I did on April 14 at TCM Fest.
Screenwriter Dalton Trumbo's pulpy film noir concerns a couple of newly weds; played by John Dall and Peggy Cummins, they're just doin' what newly weds do. They're livin', lovin', and workin'... and they're shootin'. It's a match made in hell -- just a couple of good old-fashioned American gun nuts. Teaming up, they detach with ease from the conventional path. Soon they're on the lam. They rob banks and payroll departments; in the process, they pop a few unlucky losers who get in their way (he regrets this, she can justify it). Then they screech their way across rural America in stolen getaway cars.
(Sound familiar? Yes, a clear precursor to Arthur Penn's Bonnie and Clyde.)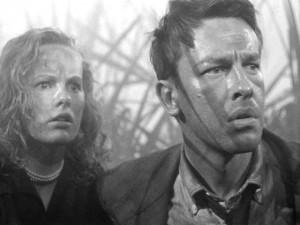 I watched Gun Crazy from the relative safe haven of the Egyptian Theatre balcony; descending the staircase after the film, I felt queasy, messed up... freaked out.
Gun Crazy's violent tour swings through the nation's middle swathe and ends up -- where else -- on the Santa Monica pier. Then comes a desperate foot chase in the wilds of northern California. Argh, it's a hard-boiled finish. California basically does them in.
Ramping up the film's heat is a hugely visceral and instinctual performance by the then-18-year-old Peggy Cummins, a British actress first brought to Hollywood by Daryl Zanuck in 1945. Cummins was in person at TCM Fest yesterday. That alone is a miracle.
Film noir expert and curator of TCM's film noir department, Eddie Muller, interviewed the actress. Calling Gun Crazy "hugely influential," Muller noted that neither Godard's Breathless nor Penn's Bonnie and Clyde would have existed without it. Muller (who knows his stuff) called Cummins's performance in the film "the signature female performance in a film noir," then, going further, "the most ferocious female performance in American cinema."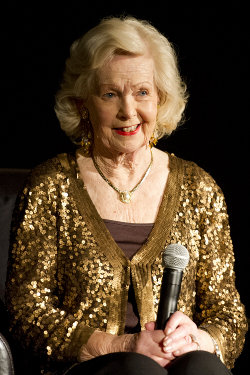 High praise. Explained Cummins:
"I came to America, it was 1945. I left in 1950, and haven't been back since. It's lovely to be here.
"It was all such a long time ago. Darryl Zanuck gave me a contract with Fox. I came to play in "Forever Amber." But I didn't. They didn't think I was sexy enough.
"I have made films with Ronald Coleman, Edward G. Robinson, Victor Mature, Vincent Price, and yet this, Gun Crazy is the one that stood out.
"Fox made a big splash for me when I came over. I weighed 98 pounds and had an 18-inch waist.
"I went to Zanuck's party [at his home]. All these people were there, Lubitsch, Tyrone Power, Joan Crawford. I said 'Hello,' as though I knew them. It was awesome. They were stars; I was an actress."
"The tendency, if you were a bit short, blonde and rather pretty, was for a conventional role, but this was quite a meaty part. An actor wants to play against type."
Cummins recalled the iconic bank robbery sequence, the footage for which filmed by a crew, cinema verité style, in the back seat of the getaway car, all in one take, with improvised dialogue.
"They [director Lewis, the D.P., and sound man] designed a car, I was driving the car. Behind me was the camera, the crew, the sound, they were breathing down my neck. They told me, You've got to park the car, John Dall gets out and make up your own dialogue. A policeman walked up. I get out of the car, saying, hello, I'm just waiting for somebody. That's a nice gun you've got, he says to me, and then all hell breaks loose. John Dall gets out of the bank and he jumps in the car. It was all in a single take, about four minutes long. It was quite something."
Photo courtesy Turner Classic Movies. Peggy Cummins discussing "Gun Crazy" on Saturday at the 2012 TCM Classic Film Festival in Hollywood, California. 4/14/12 Photographer: Jason Merritt
Debra Levine is a Los Angeles-based arts journalist blogging about dance, film, music and urban culture on arts•meme.
SUBSCRIBE TO & FOLLOW CULTURE SHIFT
Every Friday, HuffPost's Culture Shift newsletter helps you figure out which books you should read, art you should check out, movies you should watch and music should listen to. Learn more