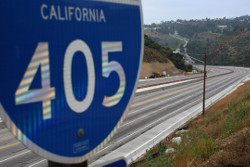 Despite best efforts, California authorities (the people who brought you Ronald "Tear down this wall, Mr. Gorbachev!" Reagan) could not put the kibosh on American Ballet Theatre's The Bright Stream, choreographed by their new in-house guy, Alexei Ratmansky. Clearly controlled by Soviet agents, ABT foisted a clever piece of communist propaganda on our sunny climes. Drat! Just when we thought the Cold War was over!
Even the three-day closure of the mighty 405 freeway proved ineffectual against the strong-arm of ABT. A huge, ballet-besotted audience showed up anyway. Filing into the indoctrination chamber (aka the Dorothy Chandler Pavilion, named for the capitalist roader), they were submerged in a tale about happy peasants living communally -- on a collective farm. Bright Stream goes on to portray how a troupe of visiting dancers engages their agrarian comrades in that most subversive of Marxist tactics -- state-funded art.
[above left, Carmageddon; below right, Asaf & Sulamif Messerer in The Bright Stream, 1935]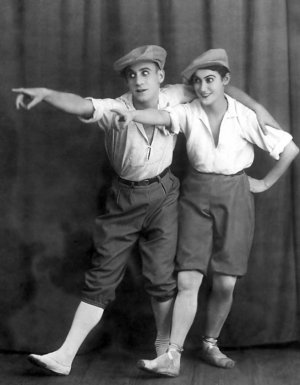 Two hours later, the dazed viewers exited the theater, marching in lock step and clutching, in raised fists, dance writer Joan Acocella's New Yorker essay on Ratmansky ("the most sought-after man in ballet").
"He is the new Balanchine. Ratmansky is the new Balanchine," they intoned, transfixed. They then swapped their BMWs for tractors, Calvin Kleins for aprons, fascinators for babushkas, IPods for pitchforks.
In the glare of Los Angeles's blinding sunlight, they pondered what they'd seen.
A new story ballet, well, kind of new. The restaging of a 1935 socialist realist ballet with a sad political history, a rare item, a ballet with blood on its hands, if not blood, then the ruined careers of three artists. Uncle Joe (Stalin), you see, didn't fancy it. And you thought Alastair Macaulay was a terror! Here's Acocella:
Shostakovich never wrote another ballet score; Fyodor Lopokov, the choreographer, lost his job; and Adrian Piotrovsky, the librettist, was sent to the Gulag, where he died.
This painful pageant our friends at ABT delivered, with little or no context, as a cheerful spectacle of peasants, pirouettes and pique turns. And our audience (we live in paradise), who can barely discern Stalin from Lady Gaga, or a collective farm from the Santa Monica Promenade, gobbled it up. It was all long ago and far away.
The Bright Stream must hold deep meaning for the Russians and for them it's a noble reexamination. But niggler that I am for history, even the Russians restaging Bright Stream strikes me as complicated. I wish I had seen the Bolshoi dance the work in Orange County in 2005, because revisiting Stalin's failed experiment in collectivism (where millions died) seems like their business, and not ours. It is ABT's picking up of this project that leaves me so ambivalent.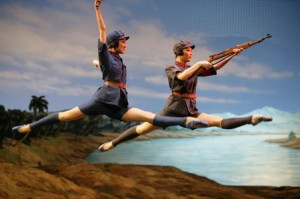 The dance market, weary of contemporary European ballet abstraction, is clamoring for old-fashioned, readable, full-evening story ballets. No one, it seems, but Ratmansky, is up to the task. Lucky guy, he's flavor of the month; there's been a bidding war for his services across Lincoln Center; and ABT got him. New York critics have proclaimed him king, the heir to Balanchine's throne, and it's smooth sailing from there.
[photo at left: Up next for ABT?: "The Red Detachment of Women"]
Acocella even states that the reason Ratmansky is a great choreographer is that he eschews the (weird) dance inventions of the past two decades; he's reverted to glissade-assemblé... the nuts and bolts of the classical vocabulary. There are layers upon layers of cultural revisionism going on here!
I'm wondering what this Stalin-era relic, rendered toothless by Ratmansky, has to do with America, or American Ballet Theatre. Is it camp? "Real" Russian ballet? ABT's new Nutcracker? Most importantly, can it exist outside its history, an assumption implicit in ABT's championing it?
I was seated Thursday night next to George Chakiris, the star of Robbins' West Side Story, yes, based on Shakespeare, but brilliantly reconstituted in an American milieu. I felt a tinge of embarrassment watching Bright Stream next to him, like, why is ABT doing this? I keep musing that Balanchine came to the U.S. and made Stars and Stripes and Western Symphony. He choreographed to Gershwin and wore cowboy shirts. He worked, like a zealot, on Broadway and in Hollywood.
It's startling how far afield ballet has strayed in this country. My beef is not with Ratmansky, although in the face of his serviceable, but not art-dappled choreography, I'm unconvinced. It's with ABT.
---
Thank you Ismene Brown of TheArtsDesk for the historic photo.
Los Angeles-based arts journalist Debra Levine blogs about dance, film, music and urban culture on arts•meme.
Follow Debra Levine on Twitter: www.twitter.com/artsmeme