In May, Debra Messing went to Zambia on a trip with PSI and Alere, the largest manufacturer of HIV testing technology. While there, she met with families, communities, health ministers, and doctors to learn about what HIV interventions are producing results on the ground -- and what gaps need to be filled. This week, Debra is in Washington, D.C., to participate in the 2012 International AIDS Conference. Below is the second in a series of three personal journal entries that she wrote while in Zambia. Read Part 1 here.
Monday, May 21: HIV post-test site in Bouleni
Today I discovered that compassion, love, determination, and hope are tools that need to be part of the "fight HIV" toolbox. The stories I heard this morning at a support group for people who recently tested positive broke my heart. Now I see why fighting the stigma and discrimination around HIV is so important to prevention. It's one of the main reasons that people wait so long to get tested -- and run the risk of spreading the virus to the people about whom they care most.
I wasn't sure what to expect when we drove up a dusty road to a Catholic church. I knew this was the fourth in a series of meetings to provide information and support for those newly diagnosed with HIV. Before entering, I stopped outside to play with some kids who were kicking a soccer ball and just goofing around. After a few minutes I entered a big, bright room and took my seat in the middle of a group of about 25 people: men, women, old and young, some with their children.
I greeted the group through Rogers, one of the many amazing staff from SFH. Rogers manages support sites like the one I visited. At first the group was shy, so I decided I would start, and I shared how I became involved in HIV/AIDS work: My favorite acting teacher, for whom my son is named, died of AIDS complications. It destroyed me. I vowed I would do what I could to prevent more loss as a result of HIV, and also change how people with HIV/AIDS were treated.
When I finished, a woman named Irene stood up in the front row and introduced herself. She had a strong face but looked as though she had the weight of the world on her shoulders. She had a baby on her back and another child at her feet.
She slowly began to share her story. Some time ago she started to develop sores on her hands and over her body. She didn't understand why. She was in so much pain that it was difficult for her to simply move.
But the physical pain wasn't the worst part. Irene was a greeter at her church, which was something she loved to do. But when she started getting visibly sick, people would not go near her. They told her flat out that she had AIDS, and that she was going to die.
She began to believe them. A friend insisted she get an HIV test, and, as suspected, Irene tested positive. When she shared the news with her son, instead of offering support, he spat on her and told her she was as good as dead.
Her husband had died some time ago, and everyone she cared about was abandoning her. I try to imagine the pain and isolation she must have felt. It's overwhelming to think about.
I listened intently as she spoke, and I was surprised to see a wave of relief come across her face. The fact that she was able to share her story of pain, loss, and betrayal seemed to somehow lessen her pain. Clearly she needed to be heard, and like all of us, she needed compassion. She came to the support center to learn how to live again. And thanks to the volunteers and other members, she's learning how to thrive.
Healthier, again providing for her family, she has forgiven her son and is taking control of her life. Irene's a fighter. She's like Connie -- as are so many of the people I have met in today's group. I am struck by their resilience and openness.
When I think about Irene, I think about the many ways she and people like her might have been spared a positive diagnosis: What if more men wore condoms? What if boys and men were routinely circumcised? What if more people stayed faithful to their partners? What if stigma and discrimination didn't keep people from learning the truth about HIV?
After hearing her story and the stories of others, I stood to get ready to leave. I walked over to Irene and hugged her. We held each other for some time, and then she smiled. She introduced me to her daughter, and we laughed. It started a chain reaction of hugs that turned into the most beautiful singing, which then turned into dancing -- a joyous healing in a universal language.
The women and men who had shared so much pain were now sharing pure joy. It was dignified, beautiful, and totally life-affirming. I got in the car, and as we pulled away, I wept.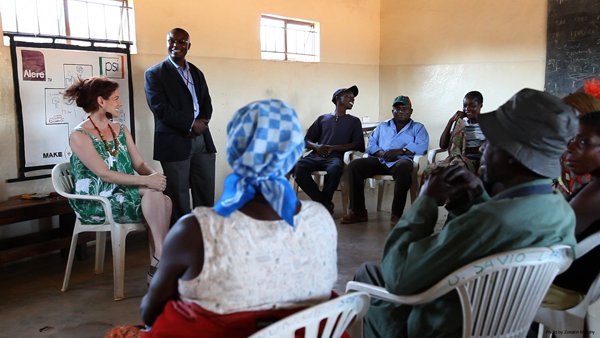 Visiting with people living with HIV at an HIV support center (photo by Zoeann Murphy)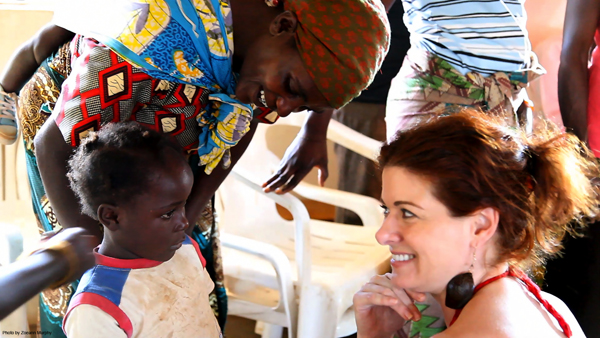 Meeting Irene, who is living with HIV, and her children (photo by Zoeann Murphy)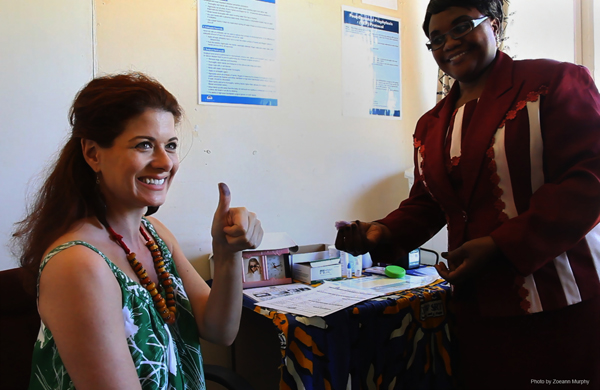 Getting tested for HIV (photo by Zoeann Murphy)
SUBSCRIBE TO & FOLLOW TRUMP'S FIRST 100 DAYS
How will Donald Trump's first 100 days impact YOU? Subscribe, choose the community that you most identify with or want to learn more about and we'll send you the news that matters most once a week throughout Trump's first 100 days in office. Learn more