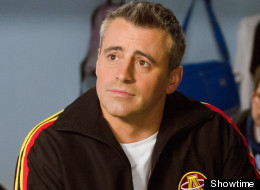 For most of the year, Monday nights in my home are busy ones. No, not volleyball games or dance classes or soccer practice. I'm talking about television. On a normal Monday, in the fall or midseason, there are at least eight shows being watched or recorded. Off the top of my head: "Castle," "Dancing With the Stars," "How I Met Your Mother," "Mike & Molly," "Hawaii Five-0," "The Voice," "Smash," Top Chef Canada" and "WWE Raw" (hubby, not me) are the ones to watch in our house. During the summer, however, the only things that get my attention are "Teen Wolf" and "America's Got Talent," if I remember to watch it.
So needless to say, I need another Monday show, something to unwind with after a long day. And thankfully, "Episodes" finally made its long-awaited return. It's been over a year (16 months, to be exact) since the Matt LeBlanc laffer aired, and is it just me, or did it get funnier? Maybe it's because we left off on quite a dour note, what with the epic fight between Sean (Stephen Mangan) and Matt, and then Sean and Beverly (Tamsin Greig) learning that they were stuck in L.A. after the pilot of "Pucks!" tested shockingly well. But where would we be in Season 2? Four months later, as luck would have it.
Like its pilot, the "Pucks!"' premiere was a hit, despite dismal reviews from The New York Post ("'Pucks!' sucks"), Entertainment Weekly ("LeBlanc shoots a le blank") and even The Huffington Post ("I was totally prepared to hate tonight's new comedy, 'Pucks!'. Well the good news is, I was prepared.") And even though Carol (Kathleen Rose Perkins) tried to reassure Sean, telling him "no one cares about TV reviews," I will continue to type (though my pride was a tad hurt).
"Episodes," in comparison to "Pucks!", is a hit in its own right. It may not be up to, say, the standards of an NBC sitcom that lasted for 10 must-see seasons, but it's equally amusing. Sure, it's done on a much smaller scale, but it being a British series with the freedom of airing on a cable network makes it one of the funniest scripted comedy shows around.
If Sean's review roundup or Carol (Kathleen Rose Perkins) complaining about helping Merc (John Pankow) buy his blind wife, Jamie (Genevieve O'Reilly) a beautiful ring ("The woman is blind, how will she know? Give her one of her old ones.") wasn't funny enough, the hilarity continues in next week's second episode as -- spoiler alert, if you have the premiere PVR-ed or TiVo-ed -- Sean and Matt's relationship is resolved (sort of), Matt and Jamie play with fire and "Pucks!" gets its butt kicked by a talking dog.
OK, it doesn't sound like the most scintillating stuff, but "Episodes" doesn't just bring the funny. The show has loads of heart and, at times, it can be quite bleak. With Sean and Beverly no longer living together, the two manage to continue a great working relationship, which makes it a little hard to believe they haven't been able to work things out. LeBlanc may seem like the centre of the series, but it's Mangan and Greig who give us the show's main rooting factor because they so clearly belong together. Matt's desperate attempts at getting his friend back (despite his douchey behaviour) is a close second, a testament to how charming and lovable Matt the character is. Really, LeBlanc is great at getting the most out of the fantastic words his character gets to say, whether he's begging Sean to be his pal again, or getting it on with his boss' blind wife.
The writing continues to be flawless and sharp as a tack, and the actors are among the best at delivering their lines and eye rolls. Throw in the way creators/co-executive producers/writers David Crane and Jeffrey Klarik showcase the behind-the-scenes action of a big-budget network show (from both the creative and network aspects) and Showtime truly has another bona fide hit on its hands. The first season of "Episodes" was promising, but I think we all know that sometimes promising isn't good enough. The comedy has actually found itself in its sophomore season, making it a thoroughly entertaining, captivating and, yes, must-see half-hour.
10 Behind The Scenes Shows You Must See
Hey now! A peerless satire of the egos that populate late-night TV, "Larry Sanders" is one of the gold standards of the behind-the-scenes genre. The show didn't just lampoon the characters' grandiosity and feuds, it took the time to show us their insecurities and the tangled histories of their fractured relationships as well. The parade of famous faces who guested as themselves helped create a realistic vibe, and cast members Garry Shandling, Jeffrey Tambor, Janeane Garofalo, Rip Torn, Mary Lynn Rajskub, Penny Johnson and Jeremy Piven did some of the best work of their careers on this consistently excellent show. It's available on DVD and Netflix Instant.

An absurd, amusing trip through the backstage of a late-night comedy program, "30 Rock" still manages to find humor in the confident arrogance of Jack Donaghy, the insecurity and tenacity of Liz Lemon and the straight-up but somehow lovable crazy of Tracy Morgan. The show's not necessarily a model of consistency and the characters don't really deepen over time, but "30 Rock" supplies a steady stream of knowing one-liners, subversive media criticism and pop-culture-infused comedy. If nothing else, we can thank the show for reminding us to never go with a hippie to a second location and to live every week like it's Shark Week.

What is there to say about this classic? Except that if you haven't seen the writers for the fictional "Alan Brady Show" at work, then you're missing out on an essential part of American television history. A snappy pace, erudite humor, surreal excursions, smart dialogue and a gifted ensemble -- this Carl Reiner creation had everything you'd want in a backstage comedy. And as comedy writer/director Ken Levine once observed, "People think of 'The Dick Van Dyke Show' as a sophisticated comedy and it certainly was. But the show also featured plenty of inspired slapstick. For all his many gifts, Dick Van Dyke is a truly brilliant physical comedian. And Mary Tyler Moore ain't bad either." And the show's not hard to find: It's on Hulu, Netflix Instant and YouTube.

There was a late-'70s coolness to this show, a laid-back yet mildly rebellious vibe that would be impossible to replicate now. This fine comedy followed the staff of a radio station in the title city, and it's a testament to the versatile cast that I remember Venus Flytrap, Andy Travis, Dr. Johnny Fever, Herb Tarleck, Jennifer Marlowe and the inimitable Les Nessman as well as I do today. "WKRP" captured the rock 'n' roll feel of the '70s and still had a little whiff of '60s-style bohemianism, and I'm betting if you're of a certain age, you can still hum the theme tune. Thanks to music licensing issues, only Season 1 is out on DVD (but the good news is, that entire season is available on Hulu as well).

Before Aaron Sorkin came along, Canadian Ken Finkleman created this dry comedy, which poked knowing fun at a network news program, its perks-obsessed executive producer and its pompous, self-absorbed anchor. As I wrote when it aired on some PBS stations several years ago, "Being in the news industry helps one appreciate 'The Newsroom's' merciless take on the narcissism and ineptitude of some journalists, but it's not necessary. An appreciation for bone-dry satire will suffice." "Newsroom" DVDs are available via Netflix, and you can also find full episodes on YouTube.

This show would have been groundbreaking simply for its subject matter -- a single woman committed to her career at a time when such characters were rare on television -- but the show's depiction of the goofball ad hoc family at at a Minneapolis news station is what puts it firmly in the "classic" category. "The Mary Tyler Moore Show" is peerless character-driven comedy, it's simple as that. Not only did Mary Richards' fellow tenants (Phyllis Lindstrom and Rhoda Morganstern, who launched her own spinoff) make the home front memorable, her co-workers -- Lou Grant, Sue Ann Nivens, Murray Slaughter and the blowhard anchor Ted Baxter, among others -- are some of the most indelible TV characters of all time. It's out on DVD, but many episodes have also been posted on YouTube.

Set among television journalists trying to create one of the U.K.'s first serious news broadcasts, "The Hour" is stylish, atmospheric and smart, if occasionally a little too ambitious for its own good (the first season's spy plot got a bit convoluted). But it's well worth watching and not just because Dominic West (who plays the plummy anchor Hector Madden) looks pretty damned swell in a retro suit. The entire ensemble is excellent, and like the great U.K. miniseries "State of Play," this drama actually gives you a good idea of how much fun it can be to work with other bright, ambitious newshounds. Season 1 is worth tracking down on DVD, and Season 2 arrives on BBC America later this year.

"Slings" follows a theater troupe attempting to stage Shakespearean classics, along with more commercial fare, and if there's a little too much about the relationship between wild-man director Geoffrey Tennant (Paul Gross) and actress Ellen Fanshaw (Martha Burns), that's easy to forgive, given how many other priceless characters and stories "Slings" offers. Cast members Gross, Don McKellar (as an uber-pretentious director) and Mark McKinney from "Kids in the Hall" are among the sensational players in the core cast, and Rachel McAdams, Colm Feore, Sarah Polley and the awe-inspiring Shakespearean actor William Hutt rotate in for terrific seasonal runs. This show is not only witty and knowing, it helps you understand why these people give their hearts and everything else to the theater, and Hutt as Lear will make you weep. It's on YouTube and Netflix Instant. Correction: This slide previously misidentified William Hutt as "Richard Hutt."

The first season of this show was more or less Ricky Gervais prevailing upon famous fans of the U.K. "Office" to do an episode of his subsequent show, which followed the cramped life of an extra who dreamed of big-time showbiz success. The second season of "Extras" was something else altogether; a much more substantial show that was filled with pathos, rage and razor-sharp humor as Andy Millman (Gervais) actually achieved his dreams, possibly at the cost of his humanity. Also, this awards-ceremony scene has me laugh until I cried more than once.

One of the most underrated comedies of its era (or any era), this NBC show had a terrific cast and a wonderfully askew vibe; the best seasons of "The Office" and "Parks and Recreation" owe this show a great deal. NBC always treated the show badly, but, if anything, the show's reputation has only grown over time. Speaking of time, there's no better use of yours than heading over to Hulu to watch complete episodes. And if you are able watch Jimmy James read from his autobiography in this clip without laughing, I don't want to know you.
Follow Denette Wilford on Twitter: www.twitter.com/DenetteWilford