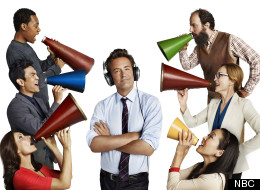 It's easy to make a decision on whether or not you're going to watch a new series. The premise, the previews, the cast and crew, their reputations, all play a part on viewers choosing to invest their precious time on yet another new show (on top of what they're already watching).
So, leave it to me to save you a half-hour here or an hour there on a handful of comedies and dramas that you're unsure of. (You're welcome.) I'm here to tell you that some shows truly are worth your time -- or, at the very least, your PVR/TiVo minutes -- even though at first glance, you're thinking "meh." They may not seem like must-see fare, but these five shows are worth a gander.
"Go On"
Airs: Tuesdays at 9 p.m. ET on Global/NBC (but moves to Wednesdays at 9 p.m. ET on Global beginning Sept. 26)
Matthew Perry's latest comedy actually began last week, so my pleas for you to give it a go may be falling on deaf ears (though, if you do want to play catch-up, you can catch the debut on Global and NBC). While Perry has proven he can be more than just Chandler Bing (ahem, could his turn as Mike Kresteva on "The Good Wife" be any more evil?), I am one of the few who actually doesn't mind seeing Chandler revisit my television (to this day, I can still re-enact any scene from "Friends"). Fortunately for Perry, "Go On" is better than "Mr. Sunshine" and what "Studio 60 on the Sunset Strip" morphed into. It's charming, it's sweet, and it's got some laugh-out-loud moments, and once the sitcom-ness of it is peeled away, there's also some heart.
"Guys With Kids"
Airs: Wednesdays at 8:30 p.m. ET on Global/NBC (but moves to 9:30 p.m. ET on Global beginning Sept. 26)
Don't get me wrong, this is by no means Emmy material, but even with the laugh track and all of Anthony Anderson's yelling, I laughed ... a little more than I care to admit. Zach Cregger's Nick might be one of my favourite new characters (the actor's lucky to have scored all the best lines), and with Jimmy Fallon producing and the potential for adorable antics from the kiddies (last week's pilot focused more on the dudes and their respective baby mamas), the guys out there will enjoy it. Oh, and it's fairly safe to watch with your own kids. (It's a much better option than "Bob's Burgers," which, I, er, definitely do, uh, not watch with my six-year-old.)
"666 Park Avenue"
Debuts: Sunday Sept. 23 at 10 p.m. ET on Citytv/ABC
I'm a wimp (though I do religiously watch "The Walking Dead," only because it's more about slow-moving conflict than gore), so "American Horror Story" will never, ever be part of my viewing schedule. I just can't. An asylum, pervy priests and creepy nuns? No, thank you. For the brave, "666" is "AHS"-lite -- but me? I watched a lot of it from behind a cushion. The supernatural aspect (is it the building, is it Terry O'Quinn's Gavin, or something else entirely?) is thrilling, nail-biting stuff, though it could stand to be a little less serious and more campy. Once it figures out its tone, however, ABC couldn't have hand-picked a better show to end its Sunday nights (from "Once Upon a Time" to "Revenge" to "666"). "GCB" who?
"Chicago Fire"
Debuts: Wednesday, Oct. 10 at 10 p.m. ET on Global/NBC
I was quite enthralled by "Chicago Fire," which reminded me of an old fave, "Third Watch," and I was also pleasantly surprised that the action-drama was executive-produced by Dick Wolf because it was very un-"Law & Order"-like. It has a huge cast, and throughout the first hour, I was referring to the characters as "that guy from 'House'" (Jesse Spencer), "Lady Gaga's boyfriend" (Taylor Kinney), "the girl I liked from 'Hawaii Five-0'" (Lauren German), "that chick from 'The Good Wife' and 'Lie to Me'" (Monica Raymund, easily "Chicago Fire'"s standout), "the guy from 'Sex and the City'" (David Eigenberg), and "the guy from 'Oz'" (Eamonn Walker) -- but it's definitely worth your time, from the tension-filled blazes to the emotionally charged character-driven scenes. The only problem? Its timeslot, since its competition is "CSI" (which has resurged, thanks to the likes of Ted Danson and Elisabeth Shue) and the very-good "Nashville."
"Beauty and the Beast"
Debuts: Thursday, Oct. 11 at 9 p.m. ET on Showcase/The CW
If you love "Nikita" (guilty), you'll like "Beauty and the Beast" (no, I don't love it -- yet -- but I enjoyed the pilot quite a bit). It's a decent update to the original Linda Hamilton/Ron Perlman series (of which I was a fan), and I quite like the new version's government experiment/conspiracy-gone-wrong aspect. Despite her small stature, Kristin Kreuk ("Smallville") is convincing as police detective Catherine Chandler, and I loved that two strong women were partners. I'm also thoroughly intrigued by the back story of Vincent Keller (Jay Ryan), whose beastly qualities are more than just a face scratch; we just haven't seen him at his scary core in the poorly lit (on purpose) scenes. Once the update can kick up the romance a notch, then the show will be in business.
* Shows I Really Wanted To Like, But Couldn't
* Ten Must-See Shows This Fall
After a hilarious stint on HBO's "Girls" (which he'll also return to for Season 2), we're thrilled that Rannells ended his Tony-nominated run starring in "The Book of Mormon" on Broadway to play one-half of Ryan Murphy's new comedic leading gay couple on "The New Normal." His scene-stealing skills are still very much intact -- he goes head-to-head with co-stars NeNe Leakes and Ellen Barkin and still manages to get the last laugh.

Yes, "Nashville's" big draw is the rivalry between Connie Britton's one-time queen of country music and Hayden Panettiere's up-and-coming starlet; but the real gem here is Bowen's Scarlett O'Connor, a sweet girl with an even sweeter singing voice. This Australian native might not be a big name in the States just yet, but it's only a matter of time.

British actor Weeks plays Jeremy Reed, the devilish doctor who tempts Mindy Kaling's title character to the dark side on "The Mindy Project." This is his first US TV role, and we're already expecting great things.

We only caught a glimpse of katana-wielding Michonne in the "Walking Dead" Season 2 finale, but it was enough to get fans excited for more. As our survivors seek shelter in the prison and meet The Governor (David Morrissey), they're gonna need someone who knows how to wrangle up zombies right, and Michonne's their girl.

Now that Puck (Mark Salling) has graduated from McKinley, there's a new generation of Puckerman in town -- Artist is signed on to play Jake, Noah Puckerman's half-brother, in Season 4. If he's even half as talented, sweet and prone to causing trouble, we'll happily have a slushie or two waiting in the wings with his name on it.

Benanti was a bright spot in NBC's drama flop "The Playboy Club" last season, but while the Broadway vet got to sing and shake her tail feather (literally), we didn't get to see her show off her comedy chops there or on her "Law & Order: SVU" stint. Now playing opposite Matthew Perry, there's great comedic potential and some sexual tension to mine.

Evans, a male model (and current Mr. Tyra Banks), is stepping into some pretty big shoes to judge "ANTM" this season, and we have high hopes that he can pull it off. He's got the looks to keep us watching and the pedigree to critique this cycle's contestants ... we'll still miss Nigel Barker, Jay Manuel and J. Alexander, but this is a nice refresh.

Montgomery made the final season reboot of Fox's "Human Target" bearable, popped up on "Entourage" and even danced around the company in "Black Swan," but this starring role is her true US TV breakout, and her convincing Jersey accent and go-get-'em attitude will make you forget she's actually a Brit.

There aren't many Oscar winners that could come to TV without fanfare ... but that's the case with Faxon, who brings all his funny sidekick experience up a notch to take on one of the lead roles (he's Ben) in this quirky family comedy. He's been around for a while, is a Groundlings member and, yes, even took home an Academy Award for Best Adapted Screenplay for George Clooney's "The Descendants" last year, which he co-wrote with director Alexander Payne and his writing partner Jim Rash, a.k.a. "Community's" Dean Pelton. TV is lucky to have him.

Spiridakos has done TV guest spots here and there (including a stint on Syfy's "Being Human" last season), but this is the show that should make her a star. "Revolution" has its issues, for sure, but even surrounded by more established stars, Spiridakos shines playing an emotional and gun-toting badass.

Camilla Luddington is on call at Seattle Grace Mercy West hospital. The "Californication" and "True Blood" alum will don scrubs on "Grey's Anatomy" this fall to play a (sexy) new doc, with the option to sign on as a series regular next season. Start placing bets now about who she'll hook up with first!

Amell's most memorable TV role to date might be as Jason, the rival male prostitute on the last season of HBO's "Hung," but his new superpowers really suit him. As Oliver Queen, aka The Green Arrow, Amell has some big leather hoodies to slip into ... but we guarantee no one will complain about the way he fills them out.

Swedish-born Masöhn was a bright spot on Fox's ill-fated "Bones" spinoff "The Finder" -- and she's got quite the sense of humor -- but we're loving her in this darker role as one of the residents of a very haunted building. Cast alongside Terry O'Quinn, Vanessa Williams, Dave Annable and Rachael Taylor, she still manages to stand out as a Park Ave. resident to watch.
Follow Denette Wilford on Twitter: www.twitter.com/DenetteWilford