Pennsylvania Voters at Springsteen's "Vote for Change" Concert
October 4, Philadelphia -- On this spectacular, sunny autumn afternoon, more than 50,000 people gathered on the tree-lined Benjamin Franklin Parkway to hear America's troubadour, Bruce Springsteen, at his "Vote for Change Concert." Americans came, not only from Pennsylvania, but from the nearby solid blue states of New York, New Jersey, Delaware, Maryland and Washington, DC, too, to hear Springsteen and to volunteer and register voters for the Obama-Biden ticket in this crucial battleground state. Senator Robert Casey and Governor Edward Rendell addressed the crowd before Springsteen, appearing solo, took the stage. "We tried this four years ago," Springsteen told the cheering crowd that filled the Parkway, "this time, we'll win." The event drew Obama supporters, volunteers, undecided voters and even some who came only to enjoy the free concert, although everyone had to sign up with the campaign in order to receive a ticket. According to recent polls, Obama enjoys between a seven and ten point lead in the Keystone State, but no one is taking Pennsylvania for granted.
According to campaign spokesperson, Zach Friend, the Obama campaign, now called Pennsylvania for Change, has eighty offices in Pennsylvania, a record for the state. "Since McCain has pulled out of Michigan, Pennsylvania is the most important swing state for us to win," he explained. "We are competing in every county, which has never been done before." Through the campaign's well organized and executed voter registration effort, he said, they have flipped two counties --Montgomery and Bucks. In both, Republican registered voters have traditionally outnumbered Democrats. This year that has changed. When I asked Friend how they plan to get out the vote, he said the campaign has 650 neighborhood teams across the state. In keeping with Obama's philosophy of working from the bottom up, these localized neighborhood teams will work block by block to get voters to the polls. In contrast, "McCain's Pennsylvania headquarters," Friend pointed out, "is based in Ohio... With our network in Pennsylvania, we will match and exceed McCain efforts in this state."
I spoke with several concert-goers on the Parkway, and they offered a diverse sampling of how Pennsylvanian voters are thinking:
Beth Moore, 40, of Wallingford, Delaware County, a traditionally Republican Philadelphia suburb, has been an Obama supporter from the beginning of the primary season. "I like his health care plan," she said, "and I like the way he has conducted his campaign. He focuses on the issues." Moore added, unsolicited, "And Sarah Palin! She scares me. There are so many intelligent Republican women, to think that McCain came up with her..."
Moore was with a friend, Maria Mollerstern, 39, also of Delaware County. Mollerstern who came to the United States twelve years ago and--now a citizen--is voting for the first time was a Hillary Clinton supporter, but had no conflict in transferring her support to Obama. "Barack Obama is a new voice," she said, "a new voice of hope." Both Moore and Mollerstern are volunteering for Obama-Biden.
Lancaster County, in central Pennsylvania, is famous as the home of the Amish -- Americans who live and dress much as their German ancestors did in the 19th century. Like counties across the nation, Lancaster has been hit hard by the economic downturn. One of the blue collar Pennsylvanians the pundits like to talk about, Darryl Roseberry, 42, a Lancaster resident, came to the "Vote for Change Concert" to show his support for Obama. A construction worker, Roseberry has been unemployed for more than a year. He described how business in the construction industry began to change about eighteen months ago when even renovation projects began to disappear. "Any change from Bush is better," he told me, "with Bush the economy has collapsed, no jobs, no heath care, nothing." Roseberry described how he went to Florida looking for work only to be disappointed there, as well, "It's worse in Florida than in Pennsylvania," he said, "even immigrants are leaving Florida because there's no work. I'm telling you, under Bush it has been total collapse. I hope Obama wins this thing"
Joanne McDade, who's in her forties, and her husband came to the concert from Wilkes-Barre, a small city in Luzerne County in northeastern Pennsylvania, about seventeen miles from Scranton, which thanks to Hillary Clinton and Joe Biden has become symbolic of working class white America. Wilkes-Barre dates back to the American colonial period when it was founded by settlers from Connecticut, including an African American who was later killed in a Revolutionary War battle defending a northeastern Pennsylvania settlement. Although Hillary carried Luzerne County by a 3:1 margin, McDade has supported Obama throughout the campaign. "He's talking about all the issues that touch me," she said, "We have oil heat and I'm thinking about the cost this winter. We have two kids who just graduated and one still in high school and I'm thinking about their futures. On our street, there are homes for sale on both sides." As we stood talking under the trees along the Parkway, McDade described why she is impressed with Obama, "I think he can help solve these problems and I like his call for unity, the way he has brought people together," she said. "I like the way he's used technology so that you can communicate with him -- it's the first time I've been able to communicate directly with a leader in government -- with our government. I've never been involved with a campaign the way I've been involved with this one and Obama has made it possible." McDade explained that her cousin and her cousin's husband, lifelong Republicans, are supporting Obama this year. "They own a small business in York," she said, "an electronics company that employs about thirty people." After studying Obama's tax plan, they figured they will do better if Obama is President because he offers tax breaks to companies that create jobs here, in the United States. Also, "One of their highest costs," she said, "is the cost of providing health care benefits for their employees. Under Obama's plan, they'll receive tax relief on their employee's benefits, too; so they're voting Democratic for the first time."
McDade, who canvassed for Obama during the primary, said she was surprised by some of the racist comments she heard from neighbors who said they wouldn't vote for Obama because he is African American, but she said that attitude has changed. "They are not talking race anymore," she explained, "They're talking issues. Barack has done that -- by talking about the economy and issues that matter to them Barack has change how they look at him." Biden, a northeastern Pennsylvania native who spoke in Luzerne County recently, has also helped, and the county is leaning in Obama's direction.
Twenty-three-year old Chris G. of King of Prussia, another traditionally Republican suburb of Philadelphia, was among the undecided voters in the crowd. "I'm here to help figure out what's the best decision for me," Chris said. He explained that his father told him Obama will raise taxes on people in their income bracket, but that he, personally, thinks the Republicans have wasted "millions on the war and the economy is bad." Echoing his father, Chris said. "Even if Obama wins, the economy is so bad that he won't be able to fix it in one term, and he'll be voted out after four years, and then another Republican will be elected anyway." When I commented that no one expects Obama to change things over night, but that Obama might make changes that set the country in the right direction so that the public gives him another four years to continue his programs, Chris didn't answer. Then, borrowing a line from someone else, I asked him, "If Andy Reid (coach of the Philadelphia Eagles) had eight losing seasons, would you keep him as coach? Well, the Republicans have had eight losing seasons."
I approached one man on the Parkway because his t-shirt was covered with a bevy of Obama buttons and I thought he might have something interesting to say. As it turned out, the button-festooned gentleman was Mark Harrison, 43, President of Pennsylvania Veterans for Obama. Harrison who lives Harrisburg is originally from Bethlehem, Lehigh County, where he father was a steelworker with Bethlehem Steel. His father, he said, now drives a bus. Both Harrison and his father served in the US 82nd Airborne.
"Obama," Harrison told me, "has the integrity to be the next President and Commander-in-Chief. Integrity means trust and character. Trusting the man next to you is a matter of life and death on the battlefield so we understand the importance of trust. We trust Barack Obama because he has shown his support for veterans -- for our wounded vets, vets suffering from Post Traumatic Stress and traumatic brain injuries -- he has demonstrated through his actions that he cares about us, like supporting a GI Bill so vets can afford college. Obama is honoring his grandfather who served in World War II and his grandmother who worked in a factory during the war by helping veterans today."
In contrast, Harrison said, John McCain hasn't supported bills that benefit veterans. "Rather than help, John McCain" he said, "has used his POW status to make it hard for other POWs and the families of POWs and MIAs to gain access to their records."
On a platform high above the crowd, Springsteen, sat on a stool strumming his guitar, with his harmonica around his neck, and performed six songs including "Thunder Road" and his theme, "Promised Land," before closing with "This Land is Your Land." He paused in the middle of the concert to address the audience in words that sounded like Springsteen song lyrics. "I've spent most of my time measuring the distance between the American dream and the American reality," he said, "And I believe Senator Obama has measured that distance in his life and work. As President, he will work to restore our citizens' faith in the meaning of that dream."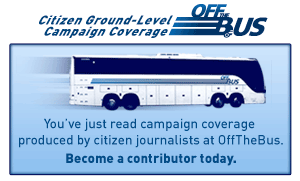 FOLLOW HUFFPOST