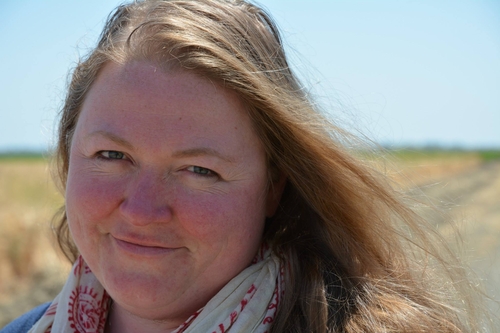 [In this image there is a blue sky and blurred light brown field in the background. There is a white woman with a chubby face and she is grinning with a closed mouth. She has strawberry blonde straight hair. She has a white scarf with red designs on it around her neck. Photo by Jerre B. Fine.]
Oh my goodness, I just spent 30 days taking pictures of my nearly naked 311 pound body and posting them on the Internet. I just spent two hours a day for 30 days learning what my body looks like in its entirety while inviting the belief that it is beautiful exactly as it is. Holy crap! I took pictures of my nearly naked body in very public spaces while operating from the belief that I am powerful and beautiful. Sweet baby Jesus, I asked for support from friends, family and strangers to help me through the process of dismantling a core belief that I am lacking desirability because of the size of my body. Praise all things holy and sinful, you know what I figured out? I am indeed desirous, powerful, beautiful and capable of stepping into brilliance, completely rooted in love and possibility!
As a part of my regular art process, I walk through my neighborhood at night, listening to music, dancing in the streets and writing love poems in chalk EVERYWHERE! One night, just over a month ago, I was stewing in series of quotes and phrases, "I Dare U 2 Be," "Be Brilliant," "Be Brave," "Remember the Magic," "Tackle the Mother Fucking Shit Out of Love" (side note, Cheryl Strayed wrote the best definition of love I have ever encountered, read Tiny Beautiful Things and you will see). As I was walking I thought about my body and what it would look like to dare being brilliant, brave, magical and in love with my body. At first I wrote "be Vulnerable" across my stomach, then I realized seeing myself as beautiful is one of my greatest vulnerabilities so I wrote "BE BEAUTIFUL" across my stomach, snapped a photo, shared it and declared via social media that for 30 days I would redefine beauty. I decided to call the project the "BE BEAUTIFUL Project." The project was largely influenced by The Body is Not an Apology's 30 day RUHCUS PROJECT.
In doing the BE BEAUTIFUL project, I dated my body for 30 days. I took it to all my favorite places, put it in juxtaposition with some of my favorite pieces of art. Every day I took time to recognize how beautifully fierce, and gracious my body really is. When it was in joy I met it there; when it was in sadness I honored its sadness; when it was sassy I bore witness to its sass. Each date commemorated with a photo of my body and the words "BE BEAUTIFUL" written on it. With every photo I found something new and inviting about the house I've been living in for 34 years, the one I never paid mind to. It was not easy at all, but love is not easy and learning to practice self love has been worth every ounce of the struggle. Challenging an internalized belief that I am lacking desirability because of the size of my body is a necessary service to my work, my community and myself.
Over the past few months I have been blessed to be part of a body politic think tank at Yerba Buena Center for the Arts in San Francisco. As a group we are engaging the question "what sits on the other side of my body's shame and joy?" That is a hard question to answer. For me, in order to understand what sits on the other side of body shame and body joy, I have to engage my internalized body shame and invite the possibilities of body joy. Given that I have been a woman of size my entire life raised in poor, suburban, white, American culture my core belief systems are steeped in shame and invisibility. What better way to challenge those internalized beliefs than to examine images of my body on a social network setting -- a place completely at the intersection of my given family, people I grew up with, people who only know me in the context of art, and my current chosen family.
The first picture I shared I was wearing a bright orange tight fitted slip, in black letters I wrote, "BE BEAUTIFUL" across my belly.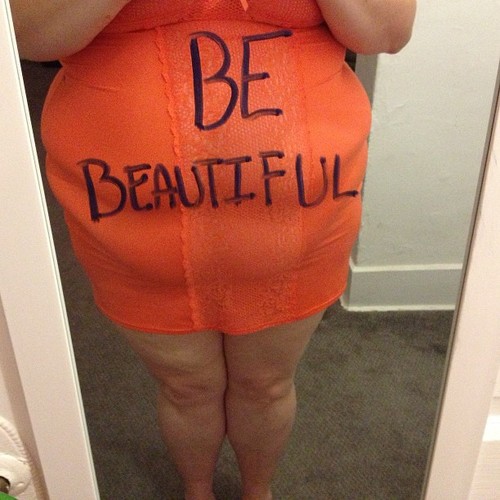 [In this image: there is grey carpet on the floor. There is portion of a white wall on the right and a the border of a white mirror. In the mirror's reflection is a large woman's body from the waist down. Her elbows are up at her side. She is wearing a tight fitted orange slip that stops mid thigh with a flat lace orange panel on the front of the dress. She has fair white legs. She is standing.]
I wanted to vomit when I shared the image on my social media page. I was so scared of all the horrible things people would say in response to the picture. Contrary to the voices in my head, nearly all the responses I received were in love and support, all except one. A woman I do not know said, "I hate it when anyone wears skin tight clothing. There are so few people who can wear this kind of outfit." I was crushed. I waited, terrified, to see if anyone would respond. Then my badass, foxy, fat friend Sara McChristian responded with "anyone can wear this kind of outfit -- if it's comfy then wear it -- if it makes you feel good then wear it -- if you don't like it don't wear it -- but the notion of "so few" is invalid -- pull it over your head or zip it up -- put on some sexy shoes -- accessorize -- and rock on with your bad self." All I could think was, "AMEN, thank you! Holy crap thank you, now I can keep going. I am not alone. I am not alone." Thankfully, there weren't too many more hater bumps in the 30 days. The few times there were all I had to do was ask people for support and knowing it was there made it possible for me to keep going.
My history and upbringing have made it hard for me to ask for help and support but it has been necessary in this journey and no time more than during my final picture. In early August, I was coming home from San Francisco to the East Bay on the subway and was harassed to the point of having to sneak off the train in order to get away from a frighteningly aggressive man. I have not experienced that type of harassment much in my life. One of the occasional privileges that come with being a larger bodied white woman is that I am often seen as a mama, best friend, or invisible. Which is to say, I am generally not sexualized. In shooting the final photo for the project I wanted to reclaim the subway as a safe space so I reached out and asked my community to join me for my final shoot on the train. I also asked my best friend and platonic life partner, Sonya Renee Taylor, to help me get ready. Sonya challenged me to engage a body ritual prior to the shoot. In the ritual she said a prayer for each part of my body -- all the places I held shame around over this 30-day journey. She then wrote the word "beautiful" in bold black letters on each part. I wept, laughed, felt incredibly seen and awkward all the same time. It was grounding and powerful to exist in that vulnerability with someone. When I arrived at the train station I was so thankful to see such a broad spectrum of people come in support of my reclaiming. My friend Airial Clark took the picture, while a crew of badass friends stood in front of me keeping watch. Having them there made it possible for me to boldly stand in my lacy panties and bra with "beautiful" written all over my body. I felt seen, protected, powerful, vulnerable, and affirmed. It was a necessary completion and I am forever grateful.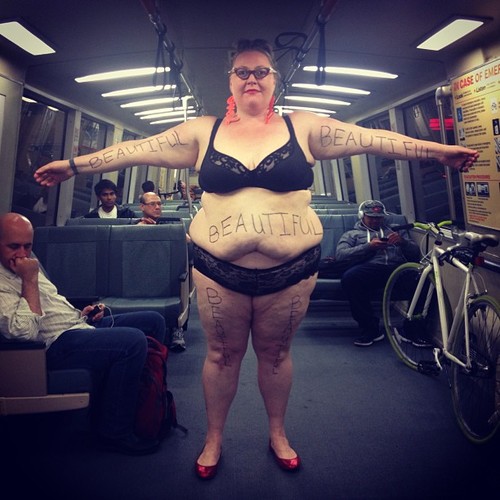 [In this image: A large white woman is standing on a subway train with her arms outstretched. "Beautiful" is written in black marker across both of her arms, across her belly and down her thighs. Her hair is pulled up in a bun. She is wearing brown and silver framed glasses and large orange earrings. She is wearing a black bra and lacy black panties. She has on red shiny ballet slipper shoes. There is a man sitting on a subway seat to the left. His hand is near his face and he is looking away. There are several men in the background and a bicycle to the left.]
The active practice of loving myself exactly as I am is radical self love. It is loving all 311 pounds of my glorious body out loud in public. It is engaging, challenging and dismantling the story that I am lacking desirability because of the size of my body. Doing this work in community with people who not only helped create that belief, but with the people who have spent years loving me as my most powerful self, feels revolutionary. My hope is that this project serves as an invitation for everyone to investigate their perceptions of beauty, in themselves and others. Most importantly, spending two hours a day for 30 days invested In seeing the parts of my body that have been made invisible and shamed as actually beautiful has made it possible for me to see others in full visibility and love. I am whole, perfect, and complete exactly as I am and exactly as I am not which is to say: I am absolutely beautiful and so are you.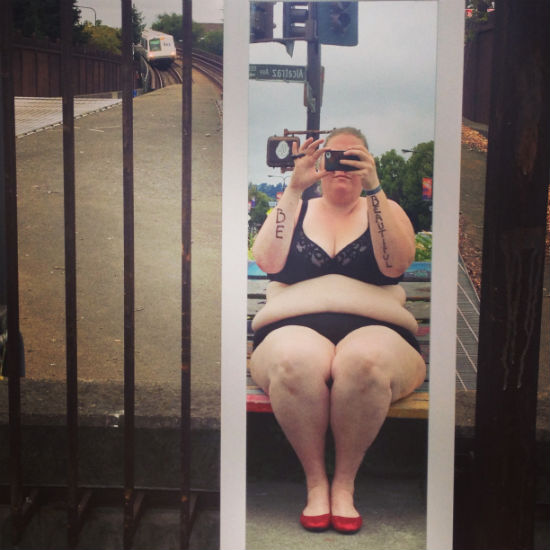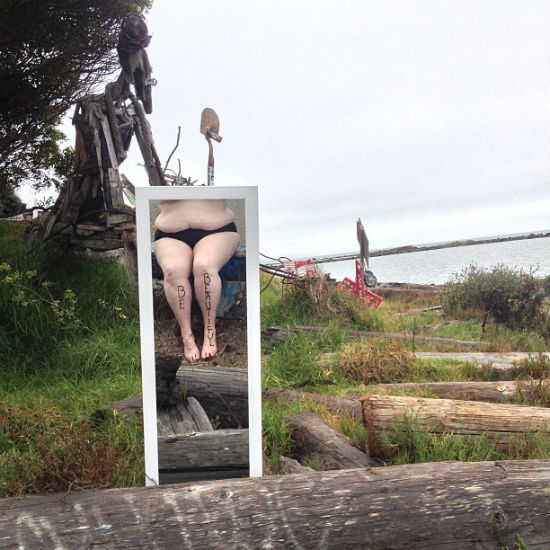 To see the full 30 day project visit me at my website or Facebook fan page and check out my tumblr.

This post originally appeared on The Body Is Not an Apology.
ALSO ON HUFFPOST:
Meet Our Body Image Heroes
The Golden-Globe winner told HuffPost Live how her father shaped her perspective on beauty: Beauty was very much on my mind. I had a father that would -- we would look up at billboards and he would say, "That's one version of beauty. You're another version of beauty. And she's a version of beauty. And that girl? She's another version of beauty." He always said that beauty came from within, and as much as you're younger and you're [sarcastically] like, "Yeah, beauty comes from within" -- no, beauty does come from within. I've met some of the most beautiful people, and sadly their heart is just not smiling, and that destroys it all. And then other people that aesthetically aren't considered as beautiful are the most gorgeous people I've ever seen in my life.

After the media focused on her alleged weight gain in September 2012, Gaga hit back at critics by baring her body in photographs, sharing her struggles with an eating disorder, and inviting her fans to join her in a "body revolution."

Adele says she tries not to worry about her body image and doesn't want to be a "skinny minnie." "The first thing to do is be happy with yourself and appreciate your body -- only then should you try to change things about yourself."

The actress took to Twitter to say, "I'm not trying to be hot. I'm just trying to be a good actress and entertain people."

In a powerful 2012 piece for Jezebel, the comedian responded to people who criticized her appearance: I grew up hard and am still hard and I don't care. I did not choose this face or this body and I have learned to live with it and love it and celebrate it and adorn it with tremendous drawings from the greatest artists in the world and I feel good and powerful like a nation that has never been free and now after many hard won victories is finally fucking free. I am beautiful and I am finally fucking free.

After the March 2012 frenzy around Judd's "puffy face," the actress fought back in The Daily Beast, calling the media out for making women's bodies "a source of speculation, ridicule, and invalidation, as if they belong to others."

The "Orange Is The New Black" actress wrote a powerful essay for Glamour about her struggles with self-esteem and journey to body love. She's now dedicated to making sure all body types are seen on-screen: "Ideally, I want to see all beauties, all shapes, all sizes, all skin tones, all backgrounds represented in my profession. Now that I am blessed to be that reflection I was once looking for, I'm making a promise to speak out for that little girl that I used to be."

Tate's essay about body image and motherhood not only broke the Internet; it has sparked a movement of "moms who stay in the picture."

The fitness blogger and personal trainer posted a poignant video in response to online commenters' criticism of her physique. "In this video, you will experience what it feels like to be constantly bombarded with outrageous negativity," Ho wrote in a blog post introducing the video. "You will see what it looks like to have your self-esteem stripped away. You will read real comments left by real people. You will see me struggle with my own appearance."

The "Precious" actress had the most incredible comeback to cruel comments about her weight.

On her informed, thoughtful blog "The Beheld," Autumn writes about beauty, body image, appearance and her two -- that's right, two -- mirror fasts.

Gruys went on a year-long mirror fast during which she did not study her reflection in mirrors or other reflective surfaces, or look at photographs of herself.

"I am always in support of someone who is willing and comfortable in their own skin enough to embrace it," the singer said in a recent interview.

At the 2012 New Yorker Festival, the magazine's TV critic, Emily Nussbaum, asked Lena Dunham, producer, creator and star of the hit HBO show "Girls," why Dunham is naked in so many scenes. Dunham responded, "I realized that what was missing in movies for me was the presence of bodies I understood." She said she plans to live until she is 105 and show her thighs every day.

Chung responded to critics who suggested that her slight frame made her a bad role model for young women, saying: "Just because I exist in this shape doesn't mean that I'm, like, advocating it."

The NYU student started the amazing Body Love Blog, where she posted this picture of herself and wrote an open letter to those who feel entitled to shame others for the size or look of their bodies.

This 5-foot-tall, 200-pound singer spoke openly about her weight to The Advocate, saying, "I feel sorry ... for people who've had skinny privilege and then have it taken away from them. I have had a lifetime to adjust to seeing how people treat women who aren't their idea of beautiful and therefore aren't their idea of useful, and I had to find ways to become useful to myself."

In 2013 interview with Parade, Kaling said that she was tired of being discussing her appearance: "I always get asked, 'Where do you get your confidence?' I think people are well meaning, but it's pretty insulting. Because what it means to me is, 'You, Mindy Kaling, have all the trappings of a very marginalized person. You're not skinny, you're not white, you're a woman. Why on earth would you feel like you're worth anything?'"
Follow Denise Jolly on Twitter: www.twitter.com/djolly6