In 1987, I went to Shanghai to live with American friends that were teaching at the local University. I wore raspberry pink Reeboks for this adventure. Granted they were bright when I purchased them at Venice Beach, but in China the shoes actually glowed against the rickshaws, dirt roads and rice fields. When I left, I gave those used Reeboks to our neighbor Mrs. Wu, because she admired them so many times and I owed her for my cooking lessons. When Mrs.Wu found out I was a chef, she decided she had to teach me to cook her favorite dishes.
I really had no say in the matter.
In her tiny apartment outfitted with a only a wok, sink and teakettle, Mrs. Wu turned out banquets. Chinese banquets. The food was precisely prepped and delicious platter after platter. Pork dishes, whole fish, bao, or noodles, Mrs. Wu could cook everything.
I was truly amazed. Neither of us were fluent in the other's language, but that did not interfere with my lessons. She cooked and I watched. Then we ate, we laughed, and I drank horrible Chinese wine (tasted more like sweet vermouth).
I really had no say in the matter.
It was almost the American New Year and I looked everywhere in Shanghai for a turkey. Not one to be found. That afternoon at class I said, " Mrs. Wu, what can I cook for American New Year? She replied, " No turkey. Make pot stickers."
I really had no say in the matter.

When my darling blog mistress, Mandy, was planning for her own New Year's Eve and wanted to make something "different" for a celebration that grown ups and kids alike would ravish, I suggested pot stickers. Rather than prepare an entire meal, we talked about her making pot stickers, in honor of Mrs. Wu. Mandy would round out the rest of the meal with gourmet Chinese take out (ok, it was Panda Express). Mandy's nephews' love their orange chicken, which we are pretty sure contains neither orange or chicken.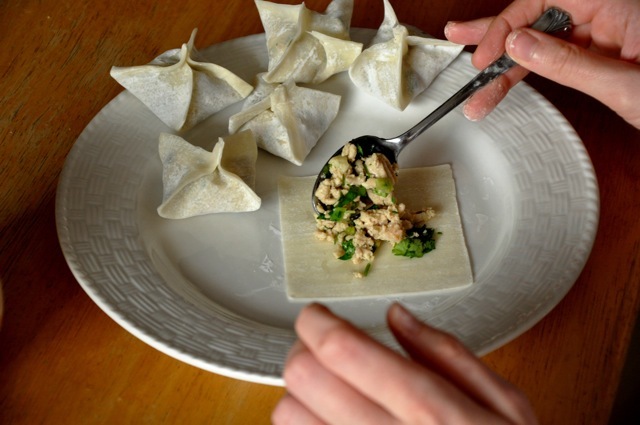 Mrs. Wu's original recipe called for shrimp, but when I wrote the recipe for my latest cookbook, I tell readers that ground chicken is an acceptable substitute. Since Mandy is allergic to shrimp, the choice was obvious.

To plan ahead, the chicken (or shrimp) mixture could be made the day before and refrigerated until you're ready to bundle!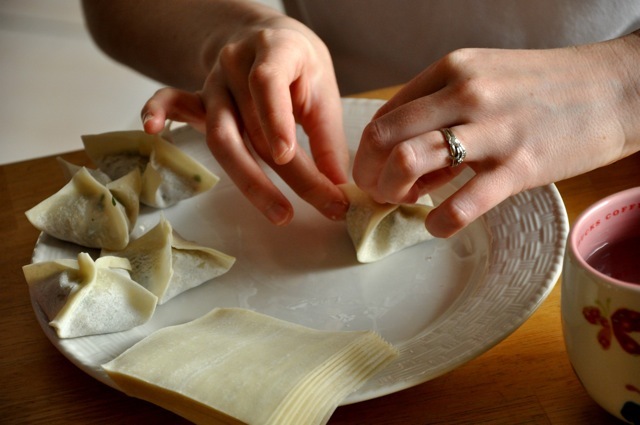 This recipe appears from The Entertaining Encyclopedia, courtesy Robert Rose Publishing.
Ginger Chicken (or Shrimp) Pot Stickers with Hot Mustard Dipping Sauce
8 oz boneless chicken breast, cooked and roughly chopped
2 green onions, finely chopped
1 clove garlic, minced
1 egg white
2 Tbsp chopped cilantro
1 tsp grated ginger root
1/2 tsp salt
1/4 tsp black pepper
Pinch cayenne pepper
1 package wonton wrappers
2/3 cup hot mustard dipping sauce
In a bowl, combine chicken green onions, garlic, egg white, cilantro, ginger, salt, black pepper and cayenne.
Place wonton wrappers on a clean work surface. Place a heaping teaspoon of chicken mixture in the center of each wrapper. Lightly dampen inside edges of wrapper with water and gather up and over the filling into a little bundle, squeezing edges together lightly.
In a deep, heavy saucepan, heat 3 inches of oil over medium heat until it registers 375 degrees on thermometer. Working in batches, fry pot stickers until golden brown, about 3 minutes. Using tongs or a slotted spoon, remove pot stickers to a plate lined with paper towels to drain.
Serve with Hot Mustard Dipping Sauce.
Hot Mustard Dipping Sauce
1/4 cup Dijon mustard
1/4 cup sour cream
2 Tbsp soy sauce
1 tsp hot pepper sauce
Salt and pepper to taste
Whisk all ingredients, except salt and pepper, together. Season to taste.
Silly enough, I am returning to Shanghai this year, and will be cooking as a "celebrity chef" on Holland America Cruise Line. I'm hoping to visit Mrs. Wu.
SUBSCRIBE TO & FOLLOW LIFESTYLE
HuffPost Lifestyle is a daily newsletter that will make you happier and healthier — one email at a time. Learn more