I got a call a few weeks ago from my good friend and former college roommate, Pablo Torres from Durham, NC. He said he and his girlfriend, Gabrielle Trapenberg, were planning to ride their bicycles from New York City to DC (a 300-mile journey) as part of the 2009 Climate Ride! Covering the distance over just five days, they will ride with hundreds of others to raise public awareness and put pressure on federal lawmakers to act to address climate change.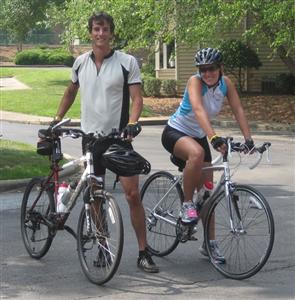 The Climate Ride initiative started last September with over 100 riders. This year, the ridership has more than doubled and is perfectly timed (September 26-30) to push the Senate to pass a climate bill like the House's recent bill, the American Clean Energy & Security Act.
Pablo and Gabrielle are the two riders representing North Carolina, and I have no doubt they will represent my native state well. Pablo has been a great athlete since his childhood in Costa Rica. We played many fun soccer games throughout college and afterward. And they both just finished an impressive triathlon last weekend!
While the Climate Ride is focused on getting federal leaders to act, the ride also raises funds for three climate advocacy groups: Focus the Nation, Rails-to-Trails Conservancy, and Clean Air-Cool Planet. Each rider pays $100 to register for the ride and then aims to raise $2,400 for the cause among friends, family, and fellow climate stewards. Pablo and Gabrielle have raised 70% of their goal, but could use your help to finish it off by September 15th.
To learn more and make a tax-deductible donation, go to their ride website, Latinos por el Planeta, here. And if you like dance parties or auctions, Pablo and Gabrielle are holding an '80s vs. '90s dance party and a silent auction in Chapel Hill and Durham, NC, in the coming weeks (see details here).
It's great these hundreds of cyclists are translating their love for biking and concern for our Earth's climate into such a strong statement for political action. Along the route, expert speakers will educate and inspire local communities about global warming and what we can all do to be part of the solution. Then, at the steps of the U.S. Capitol, riders will call on federal leaders to act this Fall so that our country becomes a model in emissions reduction and a center for millions of clean energy jobs that drive a green economic recovery.
Though the current ride from New York City to DC is mainly for experienced cyclists like Pablo and Gabrielle, the East Coast Greenway Alliance plans to make the route accessible to all within a few years :)
Onwards in the Sustainable Energy Transition and good luck to Pablo and Gabrielle!