What a conference! Powershift not only built community among 12,000 active students and allies bringing them under one roof. The gathering also inspired and empowered these young people and their colleagues to make a lasting impact from the campus to the federal policy level. One of the projects that benefited greatly from Powershift 2009 was the emerging Solar College Initiative.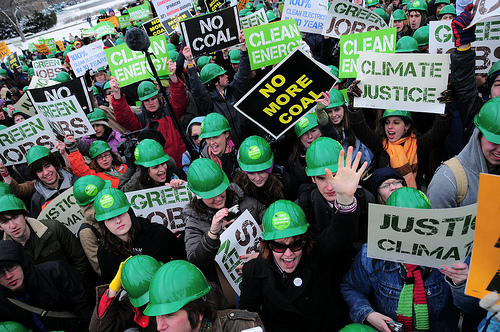 Powershift rally photo by Shadia Fayne Wood
Solar College Initiative (SCI) is a project that Sustainable Energy Transition is launching in conjunction with ally solar professionals throughout the country. We have been working for the last couple of months to lay the groundwork for an institution that simplifies and maximizes the deployment of solar power on campuses across America. And two Powershift panels on Sunday morning that featured the effort became the birth of SCI's student arm.
The first panel was on the full array of clean energy options for campus and society -- from solar, wind and geothermal to efficiency and smart grids. The second panel featured Project Director Jacob Travis along with panelists Jigar Shah (co-founder of Sun Edison) and Charlie Hemmeline (Solar Energies Technology Program at the Department of Energy) who spoke to hundreds of students interested in putting solar on their campuses. Both panels fired up their audiences and got a total of more than 200 students from almost 150 campuses to sign-up to be a part of the Solar College Initiative.
These students plan to put solar on their campuses all over the country, from Florida to Maine to Hawaii. So now Solar College Initiative has a base of great student activists to work from as we develop our list of 20 pilot campuses to engage beginning this Spring and then fine-tune our operations to engage 100+ campuses in the Fall.
For all the students that signed up, thank you and we will be in touch with you this week to learn about your efforts to this point. Once we receive a campus progress report, we will develop a strategy to best employ our resources to help you in the process of solar deployment. And then we can set up our Campus Teams of students, staff/faculty, and alumni and get to work.
For people that didn't have a chance to sign-up, feel free to contact me to connect your campus.
And, again -- to the organizers of Powershift 2009 and everyone that's been involved in the Energy Action Coalition from the beginning:
Congratulations on another historic gathering poised to push our country and its thousands of campuses into global climate leadership!
Onwards in the Sustainable Energy Transition-