I've been to dozens of student conferences over the last decade, but nothing on this scale. Powershift 2009 has over 10,000 students and youth filling spaces throughout the huge Washington Convention Center. The energy for change is truly contagious and inspiring!
Students are tenaciously committed to a clean energy revolution, and they are hopeful they can make it happen. With the size and power of this gathering, their hope is warranted. The speakers have been heavy-hitters with a lot to share, and the participants are just as full of insight.
I sat in on a Cleantech and Energy Policy workshop this morning where students asked experienced professionals from Google and the Global Environment Fund tough questions that dug deep into the crucial issues the energy and climate movement face. The level of awareness/consciousness among students shows how effective the Energy Action Coalition's efforts have been.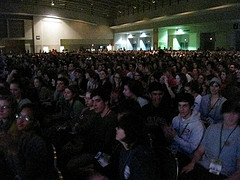 Friday night photo by 1sky.org
Students are empowered, enlightened, and have now developed relationships with their federal leadership. The weekend's supportive speakers include Interior Secretary Ken Salazar, EPA head Lisa Jackson, and House Speaker Nancy Pelosi. The Coalition has worked hard to deserve their attention, and I'm excited to see how big a fire they can light under our electeds to ensure their spoken support translates into climate results.
I know I'm not alone in being impressed by the organization and size of this conference. From a recent alumnus of this flowering student organizing world to the 50 organizations that make up the growing Energy Action Coalition:
You are grabbing the torch with both hands and making your mark on history! And that is exactly what our Earth's climate needs. I'm excited to see what the next couple of days will bring.
Onwards in the Sustainable Energy Transition-
Follow Dennis Markatos on Twitter: www.twitter.com/ECgreenway