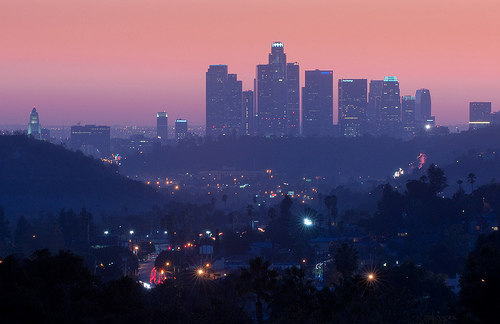 As the State of New Mexico leads the new wave of "invest local" innovation, the City of Los Angeles is preparing for a hearing next week on its own version of policy-driven changes in banking strategy.
Back on February 3, 2009, LA Councilmember Richard Alarcon made a motion in the Budget and Finance committee of the City Council directing the City Attorney's Office (CAO) and Chief Legislative Analyst (CLA) to report to the Council regarding divesting the City's deposits in banks and other financial institutions that are determined not to be cooperating with the city's concerns. At the time, these concerns were about a perceived looming home loans foreclosure crisis. Since then, an array of loan modification programs have been instituted in the US, although it remains to be seen what the ultimate efficacy of these forbearance programs will be.
The process started by Councilmember Alarcon has morphed into a proposal that the City embark on its own local version of a Community Reinvestment Act (CRA), similar to the federal program administered by the FDIC, but with a sting that punishes banks that do not focus on the needs of the City.
This resulted in a December 14 report from the Los Angeles CLA to what is now the Jobs & Business Development Committee of the LA City Council. In it the CLA goes through the motions of outlining how the City might adopt a change in the Standard Provision for City Contracts patterned after a 2006 ordinance, passed by the City of Philadelphia, that incorporates a system of points and penalties affecting eligibility for the City's banking contracts to a bank's federal CRA rating. Those ratings attempt to measure how responsive a bank is to the community. The ratings can be anything from "Outstanding" to "Substantial Non-Compliance." The ratings, along with a list of other standard disqualifying criteria, would be used to help aim future banking contract awards. Okay, that's the dry part. But what did the report really say?
From my reading, the CLA report's main message to the City Council was as follows. The CLA explains that the program may be impractical because it is unclear that the City can on its own create a local version of the federal CRA examination matrix process. The CLA goes on to note that seven of the eleven banks currently used by the City possessed "Outstanding" federal CRA ratings, including the two banks holding the largest share of LA's deposits -- Wachovia and Bank of America. The CLA report does not detail how much of the City of Los Angeles' $6.5 billion dollar investment portfolio has been placed at each of these eleven institutions, what the nature of these investments are, or what the safety and soundness status of the investment portfolio and the quality/performance of the presently contracted custodians are. The report does note that in addition to the City's portfolio there is an additional $22.4 billion in investment assets controlled by pension funds for city employees and fire and police. The City also has some influence on these funds.
The question on my mind is whether or not the CLA's concerns can be mitigated to the point that the policy desires of the City Council can be realized. If not, it's not just the City of Los Angeles that will find it difficult to move forward on "investing local." The impediment affects all such initiatives.
A quick gander at the FDIC's CRA ratings and examination tables reveals that there are some concerns to be had. CRA performance ratings are done on a rotating basis, and most ratings are not up to date. Like most caseload-driven examination systems, the FDIC only reviews a few institutions per month. Indeed, some CRA ratings are several years old. Furthermore, the ratings are for the institution as whole. This means a mega-bank like BofA receives one rating encapsulating its vast presence -- not a rating to test if local branches are better or worse investment choices for a regional government's funds versus the local banks. These smaller local banks tend to rate "Satisfactory" most of the time because they never have the opportunity to implement national "feel good" programs that up their scores. Clearly then, blind reliance on federal CRAs would tend to put the locals at a disadvantage in a RFP points system that rewards "Outstanding" ratings for community work done elsewhere. It's not unusual to run across these "it doesn't scale down" situations when attempting to adapt nationally focused tools built on federal laws to regional applications. The bottom line is that there are difficulties for any state, county or local government attempting to base asset placement decisions on what is clearly an imperfect benchmark (CRA matrix scores).
Something better is needed. It would be ideal to have a way to look at the local performance of banks in the community of concern -- whether that's a city, county or state. What's needed is a way to determine which institutions really are operating in a manner consistent with the fundamental community reinvestment practices necessary to sustain and grow the local economy. Yes, I do think it can be done. It wouldn't be a total journey into an analytical abyss. And the best part is that I think the resulting methodology would be applicable to any locale wishing to more actively manage its banking and investing support structure.
Several years ago, I got asked to ponder how to more effectively use branch level data on banks -- and to additionally ponder if there were better ways to collect data at this level of granularity to support policy and analysis needs. Turns out it's a great way to take the entire country's banking system and focus it down to see what all the banks are up to in a local area. You can drill down to individual zip codes. Any one of you who has used the Move Your Money zip code tool for locating a bank close to you has seen that this is no theoretical "maybe."
a tool donated by Institutional Risk Analytics
Behind that tool there are large databases with more numerical information on banks than any sane person should ever dive into. That's okay. It's my job to do the insane number crunching and turn it into letter grades. The result is that financial analysis for real people is more akin to looking at menus in restaurant windows. But among these numbers and equations are answers to community-relevant questions, like how much deposits there are, how much lending is going on in the area, what health condition those loans are in, how operationally stressed each bank is, and other vital touch points. What I've discovered is that for the smaller institutions in a region, it turns out all you need to do is evaluate them as a whole. They're pretty locally focused to begin with. For the big national operations, this industry is so highly computerized that they already have the internal IT capacity capable of producing branch by branch performance data. There's more than enough here for a city, county or state to say it's a reasonable request that region-specific reporting be part of a future banking and custodian contract RFP requirement, and to specify that quarterly reporting be required for awardees.
Aha! So perhaps there ways to set up the kind of benchmarking the City of Los Angeles needs to make some sound Move Your Money "invest local" decisions after all. Hmm, maybe the City of Philadelphia might want to revisit Section 19-201 of their Code, too?
SUBSCRIBE TO & FOLLOW THE MORNING EMAIL
The Morning Email helps you start your workday with everything you need to know: breaking news, entertainment and a dash of fun. Learn more