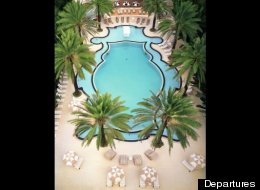 Baz Luhrmann's film adaption of F. Scott Fitzgerald's The Great Gatsby has ignited a revival of interest in all things Art Deco. The architecture and decor of many hotels around the world reflect this highly coveted, elegant style. Historically, its influence was felt not only in Europe -- the name Art Deco derives from a decorative arts exposition held in Paris in 1925 -- and the United States, but, unexpectedly, in countries as far-flung as India and China.
According to Michael Kinerk, a writer and chairman emeritus of the Miami Design Preservation League, which created Miami Beach's legendary Art Deco district in 1976, there were three periods of Art Deco: ornate, highly stylized French; Machine Age skyscraper style; and streamlined moderne. The exteriors and interiors of Art Deco hotels reflect all three. More exotic examples include the Umaid Bhawan Palace, built in the desert capital of Jodhpur, India, by a maharaja, and the Fairmont Peace Hotel on the Bund, a stretch of 1930s Art Deco buildings along Shanghai's Huangpu River.
Interestingly, in recent years some hotels have actually adopted and adapted Art Deco concepts for their own design. One, the Peninsula in Shanghai, which opened in 2009, was inspired by its Art Deco neighbors on the Bund, while another, the Art Deco Hotel Montana, has an interior in a recently renovated grand palace hotel that opened in 1910 on a hill above Lake Lucerne in Switzerland.
Louis Hedgecock, a managing partner at BBG-BBGM, who oversaw his firm's architectural work at the Peninsula Shanghai, believes Art Deco's continuing allure comes from people "feeling so much that it's an expression of a time of glamour, refinement and excitement. If you look at the interior of rooms in Art Deco buildings, they have a gorgeous sense of proportion and scale."
Whatever the style's appeal, check out some of its glorious manifestations at hotels in destinations across the globe.
--Jane Levere
See More on Departures:
Ralph Lauren's Ode to Art Deco
See More Stunning Art Deco Hotels Here A palace hotel built more than a hundred years ago on a hill above Lake Lucerne, the Art Deco Hotel Montana has been refurbished in recent years by architects Pia Schmid, Guido Henzmann and Peter Hummel, who interpreted the 1920s Art Deco style in a fresh, contemporary way. The hotel's director wanted them to make the palace space a refined design hotel—via a reinterpretation of Art Deco—while maintaining its original charm. Decor in the lobby, guest rooms, restaurant and bars features geometric patterns, bright and dark color contrasts and juxtaposed materials like velvet, wood, steel and glass. Rooms start at $194; Adligenswilerstrasse 22; 41-41/419-0000; hotel-montana.ch.

See More Stunning Art Deco Hotels Here Opened in the Mayfair district in 1856, Claridge's invited architect Basil Ionides to redesign its restaurant and some suites in the late 1920s; his engraved glass screens still adorn the restaurant today. Architect Oswald Milne designed a new main entrance for the hotel, and in the 1930s he added an extension to its east side and a suite of Art Deco reception and guest rooms. In the mid-1990s designer Thierry Despont made over Claridge's foyer area in a modern interpretation of the style, inspired by archival photographs. He also designed the restaurant, Gordon Ramsay at Claridge's, while David Collins created the new Claridge's Bar, both modern Art Deco. Rooms start at $795; Brook St., Mayfair; 44-20/7629-8860; claridges.co.uk.

See More Stunning Art Deco Hotels Here This London landmark—its exterior, promenade, terrace, grill and bar are all historically protected—was built in 1931 on a site occupied by British nobility in the 18th and 19th centuries. Its consultant designer was Oliver Ford, who did the decoration of the Queen Mother's residences at the Royal Lodge, Windsor, and Clarence House in St. James. Refurbished in recent years, the Dorchester now has a spa whose design combines Art Deco refinement and a contemporary edge; its Ballroom Suite, reopened in 2011, contains Ford's restored, 1930s Art Deco interiors. Rooms start at $760; Park Ln., Mayfair; 44-20/7629-8888; thedorchester.com.

See More Stunning Art Deco Hotels Here The Fairmont Peace is divided into two buildings, the North Building, known as Sassoon House (after its owner, businessman Sir Victor Sassoon), and the South Building, which dates back to the 1850s and was renovated in the early 20th century. Opened in 1929, the North Building took three years to build and was described by promotional materials at the time as "the most modern hotel in the Far East." (Located on the Bund, Shanghai's riverfront Art Deco district, it featuers a distinctive copper-sheathed roof, white Italian marble floors and Lalique glass artwork.) Refurbished and restored in 2007, the hotel today is managed by Fairmont Hotels and Resorts and contains the Jazz Bar, a Shanghai institution since the 1930s, and the Presidential Suite, which occupies Sassoon's former home in the tenth-floor penthouse of the North Building. Rooms start at $357; 20 Nanjing Rd. E.; 86-21/6321-6888; fairmont.com.

See More Stunning Art Deco Hotels Here Opened in the 1930s, the Imperial was designed as one of the finest monuments of the master plan that British architect Edwin Lutyens had for New Delhi, declared the capital city of India by King George V in 1911. The hotel's architecture is a unique blend of Victorian, old colonial and Art Deco styles. Pandit Nehru, Mahatma Gandhi and Lord Mountbatten met here to discuss the partition of India and creation of Pakistan while the Nehru family maintained a permanent suite at the hotel. Two dozen king palms lead up to its porch; inside is an art collection described by Fortune magazine as "one of the most arresting public displays of colonial images and memorabilia in all of Asia." Rooms start at $186; Janpath; 91-11/2334-1234; theimperialindia.com.

See More Stunning Art Deco Hotels Here The design brief of the Peninsula Shanghai, which opened in 2009, was dictated by the Art Deco style of its neighbors on the Bund, a riverfront district. Rather than slavishly imitating these buildings, the hotel pays tribute to the style with a modern, simplified interpretation that uses many Art Deco materials and motifs. The Peninsula's Bund façade rises ten stories, then steps back; the exterior is clad in the same granite as many other buildings on the Bund. Guest-room interiors feature exotic woods, imported stone, black lacquer, carved glass and polished chrome, as well as the Peninsula's trademark, state-of-the-art technology. The hotel's restaurants and bars pay tribute to Shanghai's role as a center of style and commerce in the 1930s. Tea dances, for example, that revive 1920s glamour are held regularly in the lobby lounge, while the Compass Bar contains shipping memorabilia. Rooms start at $406; No. 32 The Bund, 32 Zhongshan Dong Yi Rd.; 86-21/2327-2888; peninsula.com.

See More Stunning Art Deco Hotels Here Opened in 1942, this hotel was one of the last masterpieces of legendary Art Deco architect L. Murray Dixon. Its iconic pool was the setting of several movies made in the 1950s starring actress and competitive swimmer Esther Williams; more recently, the pool has hosted posh parties during Art Basel Miami Beach. Other original Art Deco touches here include porthole windows on the hotel's north façade and wood paneling in the lobby. The Raleigh was purchased last year by the operator of SLS Hotels and Tristar Capital, which are said to be investing millions of dollars in a renovation and possible expansion. Rooms start at $360; 1775 Collins Ave.; 305-534-6300; raleighhotel.com.

See More Stunning Art Deco Hotels Here This golden-yellow-sandstone, 347-room palace was built on 26 acres above the desert capital of Jodphur between 1928 and 1943, commissioned by Maharaja Umaid Singh. Designed by architect Henry Lanchester, it blends Eastern and Western architectural influences: Its 105-foot-high cupola was inspired by the Renaissance, its towers by Rajput tradition and its interiors are all Art Deco, with gilt furniture and elegant artwork like murals by Polish artist Stefan Norblin. Jodphur's royal family continues to occupy part of the palace, while Taj Hotels, Resorts & Palaces has run the luxury property that occupies a section of its premises since 2005. Rooms start at $445; Jodhpur; 91-291/251-0101; tajhotels.com.

See More Stunning Art Deco Hotels Here This legendary hotel—occupying an entire city block of Manhattan, bounded by Park and Lexington avenues and 49th and 50th streets—is actually the Waldorf's second home. Its first, opened in 1893 at the corner of Fifth Avenue and 33rd Street, closed in 1929. The current Waldorf opened on October 1, 1931, as the tallest and largest hotel in the world at the time. Among its notable Art Deco features are Nina Saemundsson's Spirit of Achievement statue above the main entrance on Park Avenue—a nickel-and-bronze female figure meant to symbolize human ambition, achievement, progress and innovation—and The Wheel of Life mosaic in the center of the floor of the Park Avenue foyer by Louis Rigal, a French artist who participated in the 1925 Paris exposition from which Art Deco derived its name. Rooms start at $259; 301 Park Ave.; 212-355-3000; waldorfnewyork.com.
Follow Departures Magazine on Twitter: www.twitter.com/departuresmag