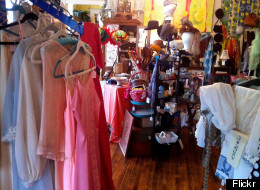 With all things retro back in style, shopping vintage has reclaimed its place in the sartorial pecking order. Emerging from the shadow of massive malls and contemporary flagship stores, a handful of off-the-beaten-path vintage shops are attracting the globe's chicest stylemakers, who hunt for exclusive items from eras past.
"Women wear vintage to express individuality," says shopkeeper Angela Petraline of Dorothea's Vintage Closet, a second-hand shop in Iowa. The Midwestern boutique attracts a growing circle of both rural devotees and urbanites, including New York socialite Helen Rockefeller, who regularly frequents Des Moines for the well-priced designer selection. According to Petraline, although designer labels are coveted, but no-name pieces hold just as much clout for their craftsmanship and cut. "The beauty about vintage is the rarity and exclusivity," adds Fiona Stuart of Rellik, in London's Notting Hill neighborhood. "There may be only one available in the world to buy."
Even modern style icons have retro fever. Kate Moss and Sienna Miller have long rhapsodized about the virtues of vintage, and who can forget the '90s Valentino gown Julia Roberts wore when she received her Erin Brockovich Oscar-- a style coup d'état in 2001. "Vintage clothing has a lot of history and sometimes allows for a stronger statement than the must-have of the season," says stylist Danielle Nachmani, who works with such starlets as Mary-Kate and Ashley Olsen and Rosie Huntington-Whitley. Nachmani adds, "For me, the pieces I love most tend to be found in overlooked, offbeat areas."
As vintage mania sweeps through the Western World, we've uncovered ten destinations that are guarding some of the best-kept gems. From a legendary dealer of Hermès on the outskirts of Paris to a fashionista mecca in the Balearic Islands, one finds oases of style in the unlikeliest of places. But if the thought of conquering a cluttered shop packed to the brim with lived-in luxuries is daunting, don't fret. We've sifted the racks for you and uncovered what to skip and what to grab. Now the only question that remains is: Do you have a good dry cleaner?
More From Departures:
-Best New Shopping Sites
-World's Most Thrilling Drives
-High-Tech Travel Gadgets
World's Top Vintage Stores
Fringe Factor: Co-owner Annette Norman routinely travels to old oil boomtowns in Mississippi, Oklahoma and East Texas for pricey second-hand fashion. "These hubs still have a lot of old money, which makes for interesting clothing acquisitions," says Norman, who runs the shop with her cousin Diedra Sutton. What to Grab: John Galanos, Mary McFadden and Diane Von Furstenberg—plus a dizzying array of Braniff Airlines Pucci fabric and local emerging designers like cowboy bootmaker Felipe Ramirez. Holy Grail: A 1972 Judith Leiber Ayers reptile day bag with matching comb and mirror set ($1,800). What to Skip: Anything '80s punk, as it's overflowing at the nearest Hot Topic. 414 N. Bishop Ave.; 214-943-6643; zolaseverydayvintage.com.

Fringe Factor: Acclaimed vintage shop Didier Ludot may attract luxe label seekers to the Right Bank, but this famed stand at the Serpette Market has lured industry insiders for over 25 years for its antique luggage and accessories, proving a worthy trek to Clignancourt. What to Grab: Louis Vuitton Damier trunks circa 1888, 1940s Hermes Piano and Plume bags, 1960s Kelly bags and a variety of special order items such as a limited-edition pink Goyard trunk created for the 50th anniversary of the Barbie Doll. Insider Tip: "A Birkin can mean a waiting list of five years," says co-owner Helen Zizul, who runs the shop with her husband, Alain. "But we have ladies who buy several Hermès bags a year, and they pass their nearly new ones on to us." Holy Grail: A green crocodile Birkin ($35,700). Stand 15, Allée 3-Marché Serpette; 33-1-40-12-64-03; lemondeduvoyage.com. To see more top vintage stores, click here.

Fringe Factor: After being set up in a strip mall 18 years ago, Dottie and Neil Simpson's sprawling 14,000-square-foot Floridian powerhouse is now packed with 35 dealers of mid-century furniture, vintage clothing, Chinese antiques, retro records and antique jewelry. What to Grab: Chanel, Gucci, Armani, Schiaparelli and St. John. As Simpson puts it, "Naples is a melting pot. There's something for everyone." Most Requested: A wide range of fur, including stoles, car coats and full-length capes in mink and ocelot. (Mad Men costume designer Janie Bryant, a regular customer, recently picked up a 1980s Neiman Marcus red box style.) Holy Grail: A 1940s 3-karat solitaire diamond ring ($12,000). 950 Central Ave.; 239-434-7684; treasureislandnaples.com. To see more top vintage stores, click here.

Fringe Factor: Since July 2002, Andrew Duckmanton and Nicola Sault have stocked their Aussie shop with pieces from the U.K., U.S. and parts of Russia and the Czech Republic. "Our philosophy is to provide our customer with unique vintage that hasn't graced the shores of Australia in its original lifetime," says Sault, who runs a second outpost in Bondi Beach. What to Grab: Celia Birtwell, Frank Usher, Ossie Clark and Moschino. (The pair is also launching a namesake resort collection available online in 2012.) Insider Tip: Request the in-house tailor, who tweaks your finds to ensure the perfect fit. Holy Grail: Anything '70s, including an Yves Saint Laurent peasant skirt ($249) and a white cotton pirate shirt from World's End Collection by Malcolm McLaren and Vivienne Westwood ($498). 263 Crown St., Surry Hills; 61-2/9356-3322; grandmatakesatrip.com.au. To see more top vintage stores, click here.

Fringe Factor: Since 1983, owner Steven Schrenzel has forgone European auctions for local dealers in the Midwest and Canada. "We buy huge bundles by the truckload and do the sorting ourselves," says Schrenzel, who keeps overstock in a 4,000-square-foot warehouse. What to Grab: Betsey Johnson and Perry Ellis sourced from Texas, Montana and South Carolina. Everything is priced under $75 so, as Schrenzel puts it, "anything designer is gone within a week." What to Skip: Contemporary capsule collections such as Isaac Mizrahi for Target. (Diffusion lines means diluted couture.) Most Requested: Anything '80s Ralph Lauren and '90s Calvin Klein. Schrenzel also stocks '60s-era items for bands such as the Pixies and Edward Sharpe and the Magnetic Zeros, who come through on tour. 414 W. Franklin St.; 919-942-2304; timeaftertimevintageclothing.com. For more top vintage stores, click here.

Fringe Factor: In 2000, Tisha Collette opened her carefully edited consignment store amid preppy chain shops on Main Street. "I thought there was a huge void for an upscale consignment experience," says Collette. She also runs a larger outpost in Sag Harbor and has plans to open in Manhattan next year. What to Grab: Chanel, YSL, Pucci, Alaia and Geoffery Beene. "The hardest piece to come by is anything that has a waiting list," says Collette. Holy Grails: A goatskin Hermès Birkin 35 ($13,000), a stainless-steel Jubilee Rolex ($4,300) and a two-toned Cartier Tank watch ($5,500). 78 Main St.; 631-725-9300; colletteconsignment.com. For more top vintage stores, click here.

Fringe Factor: "I buy local as much as possible," says owner Angela Petraline, who routinely sorts through family estates and digs through neighborhood attics. "There is a sense of pride in the Midwest among women who have saved gowns from galas, weddings and funerals." What to Grab: Nineteen-twenties Egyptian Revival looks, 1940s printed jersey rayons and collectibles from Thierry Mugler, Bill Blass, Missoni and Lanvin. Holy Grails: A Halston painted silk caftan ($3,500) and 1970s Stephen Burrows disco gown ($1,245). 1733 Grand Ave.; 515-991-3516; dorotheasclosetvintage.com. To see the rest of our picks for top vintage stores, click here.
-Best New Shopping Sites
-World's Most Thrilling Drives
-High-Tech Travel Gadgets
Follow Departures Magazine on Twitter: www.twitter.com/departuresmag