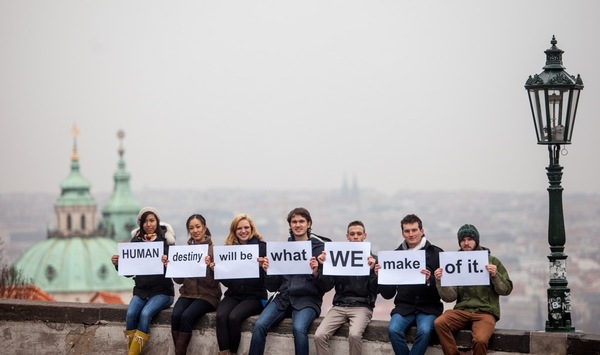 On April 5, 2009, a newly-inaugurated President Obama stood before thousands of people in Hradčany Square and announced to the people of Prague -- to people everywhere -- his commitment to seek the peace and security of a world without nuclear weapons. Four years later, one of the most remarkable social movements in history is making that vision a reality.
This isn't your grandma's anti-nuke campaign. Powered by a visionary group of 300 leaders and experts who support a bold, step-by-step plan to eliminate all nuclear weapons by 2030, the relentless creativity and energy of young people and half a million citizens worldwide, the Global Zero movement represents a credible challenge to the 20th century idea of basing national security on the threat of mass destruction.
Today, on the fourth anniversary of that seminal speech in Prague, young people everywhere are giving the President's historic words a powerful, international grassroots voice. Throughout the day and all around the globe, the world's first post-Cold War generation -- from Lincoln to London, Leiden to Lahore -- is turning out for Demand Zero Day to support the campaign through public displays of the Prague speech. The message is loud and clear and -- through a globally coordinated social media campaign -- impossible to ignore.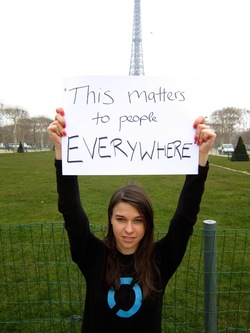 These young people are showing up, future-focused, noisy and committed to changing the world, because 20 years after the end of Cold War there are more than 17,000 nuclear weapons on Earth -- at a staggering cost of $1 trillion per decade globally. They know that the fragile system of arms control that holds these weapons in check will crumble. Nuclear arsenals will spread and the bloated budgets that sustain them will swell. Terrorists will succeed in their decades-long quest to buy or steal the bomb. And the day will come when -- whether by mistake, miscalculation or madness -- these weapons will be used.
Unless we eliminate them. All of them. And we can.

This is a global problem that requires a global solution grounded in bold, 21st-century thinking. We've got a step-by-step plan that gets us to zero by 2030. It's backed by leaders and experts worldwide. And to put it into action we're combining media outreach, cutting-edge online tools and actions, campus mobilization and grassroots initiatives, policy development and direct dialogue with senior government officials worldwide.
We're on a major roll right now and poised for a breakthrough.
Since the first of the year, President Obama has decided to seek a 50% cut in U.S.-Russian arsenals; Global Zero founding member Senator Chuck Hagel was confirmed as U.S. Secretary of Defense; the European Parliament passed an official declaration endorsing the Global Zero Action Plan; more than 75 former prime ministers, foreign ministers, defense ministers and military commanders sent a letter to President Obama urging him to bring leading nuclear powers into the first international negotiations in history to eliminate nuclear weapons; and the media has begun to characterize the Global Zero position as squarely in the mainstream -- and its opponents as increasingly outside it.
This is an idea whose time has come. Join us as we call on President Obama to set the world's course to zero.
Generations from now, the world will look back and recall that the greatest advances in the human condition -- from the end of slavery to the fall of the Berlin Wall to marriage equality -- were driven by young people's refusal to heed the voices that insisted the world cannot change.
They will say the same of nuclear weapons.