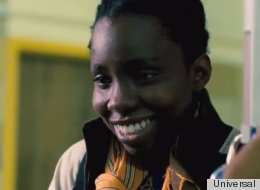 At first it was just an observation: The media feature more diverse representations of lesbian love, and I thought they were underrated compared with representations of gay love. And although gay white men account for most media images of the LGBT community, lesbian interracial couples and couples of color have achieved mainstream representation, and they've been better portrayed than their gay counterparts. Perhaps because I thought I wasn't as well-versed in lesbian cinema as I am in gay cinema, I didn't realize just how many movies and TV series I'd seen featuring in-depth and diverse portrayals of lesbian romance.
As humans we have a tendency to care most about people who look like us and come from the same backgrounds or social groups as us. It's human nature, and I'm no different. Growing up, I tended to care about images of black people. Now that I'm out and proud, I have a tendency to care about images of gay men, especially gay men of color, but I'm gaining knowledge of multiculturalism, and I see the relationships between groups from different cultures and different struggles and triumphs. Within the LGBT community, I see how lesbian images have been more progressive, even in critically acclaimed cinema like The Women of Brewster Place (1989), Set It Off (1996) and Frida (2002). They've related to the multiculturalism of the world through love and relationships.
With the new ABC Family drama The Fosters, which features an interracial lesbian couple raising a multi-ethnic group of children, premiering this summer, and given that we're currently observing Women's History Month, I thought to put together a slideshow highlighting 10 beautiful, diverse media representations of lesbian interracial couples and couples of color, each one unique. Although the slideshow features some cat fights and intense lovemaking, these portrayals of lesbian relationships are mainly about passion and true love.
10 Notable Media Representations Of Lesbian Interracial Couples And Couples Of Color
Cheryl Dunye plays Cheryl, a young, black lesbian working in a video store and directing a documentary that follows the life of a black actress from the 1930s who was limited to stereotypical roles and was known as "The Watermelon Woman." Cheryl discovers that the actress' name was Fae Richards and that she was a lesbian who had had an affair with her white female director. Like her subject, Cheryl begins a relationship with a white woman, Diana, played by Guinevere Turner. The Watermelon Woman was the first film known to have been directed by a black lesbian. It is both ironic in its storytelling and groundbreaking in its subject matter.

Fire is another groundbreaking film, following two Indian women who are trying to live by the traditional standards of their country but are bored with their marriages and their relationships and begin to act on their desires for one another. The film premiered at the 1996 Toronto International Film Festival and is considered one of the first mainstream Indian films about homosexuality. However, its 1998 release in India brought controversy and started a metaphorical "fire" over freedom of speech and homosexuality.

Queer as Folk is mainly about gay white men, but the main cast includes a lesbian couple whose relationship develops over the course of the show's five seasons. Both are white, but Melanie (Michelle Clunie) is Jewish, whereas Lindsay (Thea Gill) comes from a rich, upper-class Protestant family, and their differences play a huge part in their relationship over time. They go through living together, each birthing and raising two kids, marriage, infidelity, a breakup and an intense makeup that can be seen here (NSFW).

The L Word was a trailblazer in its portrayal of lesbian relationships and love, just as Queer as Folk was for gay relationships. One of its main cast members is Jennifer Beals, who plays Bette Porter, a biracial lesbian who seems to be really into her long-term partner Tina (Laurel Holloman) in this NSFW clip. It's a Showtime series, so of course there's intense lovemaking.

Rent has it all: a Bohemian version of Alphabet City, poignant yet fun music, love, friendship, gays, drag queens, young artists, drug addiction, HIV/AIDS, death and an interracial lesbian couple. Joanne (Tracie Thoms) is an African-American Ivy League lawyer, and Maureen (Idina Menzel) is a flirtatious, white performance artist. See their differences? They tell each other to take it or leave it. Eventually they take it, realizing that it's what makes them beautiful.

This tale follows Tala (Lisa Ray), a lesbian Jordanian of Palestinian descent who is preparing for marriage in London -- that is, until she meets Leyla (Sheetal Sheth), a British woman of Indian descent, and they fall in love with one another. The two actresses also starred in another lesbian-themed film, The World Unseen, by the same director, Shamim Sarif.

This quirky comedy is fun to watch. Anora Fleece's (Laura Harring) fantasy man becomes a fantasy woman when her new neighbor, Imogene Cochran (Jill Marie Jones), arrives in town. The two become friends and then fall in love with each other. Anora's abusive, racist husband Cheb (Oded Fehr) catches them kissing, and Anora shoots him. Now Imogene, Anora and her kids must travel to the home of Imogene's boss, Kathy K (Ruthie Austin), to "put Cheb to peace." Talk about a dark comedy... with a love story.

Although Pariah is mainly a coming-of-age tale about a young, black lesbian discovering and expressing her identity, there's a young-love story featured in the film as well. In this clip, Alike (Adepero Oduye) and her love interest Bina (Aasha Davis) make puppy love look so cute, portraying black-on-black lesbianism in a way not yet seen.

Grey's Anatomy is known for taking dramatic twists and turns. It's also known for its diverse cast. Dr. Callie Torres (Sara Ramirez) is a Hispanic, bisexual orthopedic surgeon, and Dr. Arizona Robbins (Jessica Capshaw) is a white, lesbian pediatric surgeon. Their relationship takes a dramatic turn in Season 9, when Arizona loses her leg in a plane crash, and in turn, Callie loses her mind dealing with the post-traumatic stress. Check out the clip to watch how their relationship unravels and comes back together. This is what I call depth to interracial LGBT relationships.

Glee is not all about Kurt and Blaine's relationship; there's "Brittana" as well. In Season 2 Santana (Naya Rivera) starts to come to terms with the fact that she's a lesbian, and her beautiful friendship with bisexual Brittany (Heather Morris) begins to evolve. The two fall head-over-heels in love during Season 3, but in Season 4 Santana goes off to college and Brittany goes on a "Britney"-like downturn. Watch how their long-distance relationship comes to a heart-wrenching end.
Follow Deron Dalton on Twitter: www.twitter.com/DeronDalton