When Edelman Public Relations marked a new era of the "citizen consumer" last week with the rollout of its much anticipated GoodPurpose Study 2010 to a room of socially minded capitalists (yours truly included), I thought to myself that the day ushering in the realization of Jeff Swartz's (CEO of Timberland) vision for commerce and justice had officially arrived. The floodgates have been thrown open again for the pundits and the proponents, the unshakeable and the undecided, the contrarians and the convinced, to debate whether consumers fully embrace the "fifth P" (Purpose) of the "marketing mix" by engaging with companies on an entirely different level -- one that has deeper meaning and impact than Product, Price, Place or Promotion.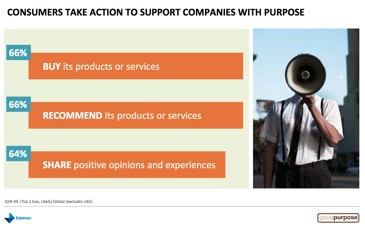 For many, the feelings are still raw since Arnaan Karzi launched an assault on CSR with The Case Against Corporate Social Responsibility (Wall Street Journal, August 23, 2010), though CSRwire and Fenton Communications sponsored a debate following the WSJ story that brought valuable perspective to the topic. Nevertheless, we're seeing a new round of pontification thanks to back-to-back announcements of Edelman's study and the PR Week/Barkley Cause Survey.
The New York Times wrote "Support for Do-Good Ads (and Skepticism Too);" USA Today wrote "Carol Cone to corporate America: 'Cause marketing is dead (as we know it)';" and The Huffington Post published a piece by Edelman's Mark Mitchson entitled "Give Purpose a Chance, It's a Plan for All Seasons."
It's one thing to opine about research which draws the conclusion that social purpose ranks higher as a purchase motivator than brand loyalty, product design and innovation. It's another thing to witness real-world initiatives unfolding that substantiate (or debunk) Edelman's claims.
One innovative social-purpose initiative, the GIVE Health Blogivation, coming out of P&G provides a revealing window into consumers' willingness to roll up their sleeves and work alongside companies who are tackling the world's problems head-on (disclosure: P&G is a client of Changents). Long before Edelman elevated Purpose into the marketing lexicon, Harvard's Rosabeth Moss Kanter in her book SuperCorp carefully studied P&G's commitment to connect with consumers through its evolving purpose-inspired growth strategy. She stated "P&G leaders are convinced that its values and culture are central to its survival, and in recent years, to its profitable growth."

This year the company took a bold stand on its values and has begun experimenting with new ways to embrace and power consumers' willingness to actually promote brands that they believe genuinely stand up in support of good causes. According to Edelman, a whopping 66 percent of consumers worldwide count themselves among the willing.

Interestingly, for a company that spends an estimated $4.6 billion a year on advertising (source: Marketing Vox), P&G decided to take a refreshingly organic approach to activating the GIVE Health program by building a network of "citizen bloggers" to engage consumers. In this particular experiment, P&G is helping bloggers act as "change agents" to help address the global water crisis. By unifying bloggers to work as a team toward a common goal -- donate 100,000 days of clean drinking water -- P&G is embracing them with a shared sense of Purpose.
Through a simple widget, bloggers who are accepted into the GIVE Health network are harnessing their influence to rally readers to put P&G on the line to make a day of clean drinking water available through word of mouse. Using PUR water filtration technology developed by P&G and the Centers for Disease Control and under the direction of P&G's Children's Safe Drinking Water (CSDW) Program, each click on a widget placed in a blog generates a day of water for someone in need from the Americas to Africa through a donation to CSDW. The bloggers, their readers and the company all play a part in creating quantifiable impact.
Sure, P&G could (and is) making millions of liters of clean drinking water available for free around the world regardless of this initiative. It's also true that bloggers supporting causes is not new -- just look at the ultra successful Blog Action Day initiative under the leadership of Change.org.
What's important here is that a company is unifying bloggers into a purpose-inspired network to reach tens of thousands of "citizen consumers" through a program that is explicitly and transparently corporate-backed.
With more than 150 new bloggers welcomed as members of the GIVE Health team since the program launched last week and dozens more applications to join in the queue, the initiative provides an immediate, real-world demonstration which seems to support Edelman's research that "79% of Americans think it is OK for brands to support good causes and make money at the same time."
The GIVE Health initiative may become one of the most tangible examples of a socially responsible corporation living up to its commitment to do what author John Rooks calls "More than Promote." With this in mind P&G is hoping to earn the support of BlogHer, She's Connected, Bloganthropy, Global Voices, Twitter Moms, and Care2's blogging team among others in light of their propensity to utilize their platforms and reach to drive real impact.

In observing the program come to life, it is striking how inspiration drives blogger participation and levels the playing field. From top ranked sites like Hip2Save (Alexa 22,000) to smaller sites like Random Walk Down Mommy Street (Alexa 4 million), bloggers' comments in the applications point to the rise of a "citizen blogger" which parallels characteristics of the "citizen consumer." Here are just a few examples that struck chord with me.
My blog is mostly filled with posts related to saving money by using coupons. I feel strongly that when one saves so much money they can then give. This program is simple to do, but powerful. I know many of my readers would feel the same way. I'd be honored if you picked me to join in this cause. (Happy Clippings).
I love to help out causes like this in any way, and since I have an influence over my readers and their families, I would love to spread the word! My blog is all about finding great deals, and I often talk about giving back since we get many items for free after coupons.(DEALicious Finds)
My daughter took two coins to school yesterday for a local Give Water campaign and asked me why people didn't have clean drinking water. It made me think of the conversation I had with a Give Health scientist at BlogHer in August. I realized, that not just for blogging sake, but as an example to my daughter, I want to be a Changent and give water to those who need it.(Garza Girls)
Two years living in rural South Africa, where the lucky pulled their water from a bore hole and the unlucky walked miles away to gather theirs from a questionable open source, I began to realize the luxury of potable water. And as my eyes and my habits adjusted to village life, I began to understand the luxuries of adequate food, competent care, and available medications. Ultimately, everything comes back to health. The ability of a baby to grow, a father to work, a sister to study, all of those things rely on a healthy body. And so if a few words penned by me can be a part of the solution, packaged in with the vision and efforts of governments, NGOs, private sector, and people -- people attempting to exceed survival, people wanting the chance to thrive -- then I offer my ink and look forward to witnessing progress. (The Happy Homeless)
Enough said.
SUBSCRIBE TO & FOLLOW MUST READS
The internet's best stories, and interviews with the people who tell them. Learn more