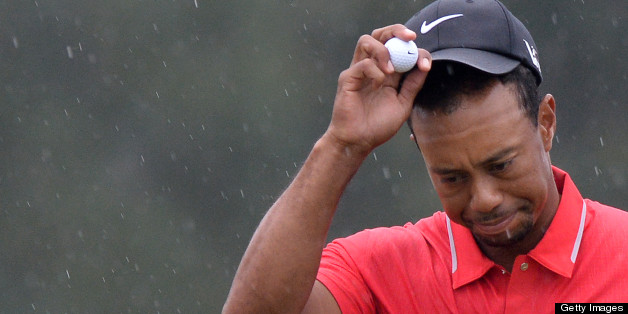 Getty Images
After Tiger Woods reclaimed the ranking of world's top golfer, Nike captured the moment with an ad unveiling a crouching Tiger stalking a putt with the slogan: "Winning takes care of everything." It's a slick ad with a false slogan.

Winning certainly cannot fix the bad consequences of adultery, tearing one's family apart, and setting a bad example for young fans around the world -- points the critics immediately drove home in response to the ad. En route to cashing in on the buzz, Nike downplayed the criticism. It said the ad was merely a slogan that motivated Tiger to get back to world's number one golfer. And Tiger confirmed that it captured something he has been saying since he first turned pro and long before his ill-fated encounter with a fire hydrant in 2009.

The controversial ad appeared when Jews were celebrating Passover and Christians were looking ahead to Easter. Many critics must have had "bearing the cross" on their mind rather than Bob Marley's redemption song. But as the old saying goes, "we have all sinned and fallen short of the glory of God." Will Tiger ever overcome his fall from public grace and be judged solely by his accomplishments on the golf course?

The comedy of errors at the Masters does not give us much hope. But it also shows that Tiger and Nike were mistaken: winning does not take care of everything. It cannot fix the problem of moralizing golf analysts, critics, and players holding Tiger to a different -- and entirely unattainable -- standard. These critics, who confused the ethics of personal morality with the ethics of professional morality, hit us with this dubious argument: If Tiger is "really" a man of honor and integrity, and he wants to preserve the principle of fair play -- a cornerstone of the game of golf -- he should "do the right thing" and withdraw from the tournament even if he is not "technically" required to do.

In the long history of professional golf, Tiger Woods is second only to Sam Snead in all time wins and Jack Nicklaus in majors. He is most likely to surpass both if he stays healthy, he doesn't take on more fire hydrants, he doesn't change his swing or his swing coach, and if he keeps Steve Striker close to the practice putting green.

Tiger's long list of records and accomplishments on the golf course are too numerous to list and unlikely to be surpassed for generations to come. Following in the footsteps of some of the greatest sportsman of all time, #42 Jackie Robinson, Muhummad Ali, Pelé, and Michael Jordan, Tiger is a winner. And for good reason he was the favorite to win another green jacket at Augusta.
Tiger has been winning again -- already clocking three wins this year. And some of us are happy to see him winning off the golf course too -- reconciling with ex-wife Elin Nordegren, spending quality time with his kids, getting back in good health, playing a round of golf with POTUS, and even going steady with a new girlfriend Lindsey Vonn and beating the paparazzi to sharing the photos with the world. Then, right before our eyes, he proved to be too good for his own good on day three of the Masters when the 87 yard spot-on wedge shot, the flagstick, the water, the drop, the anonymous caller, the post-round interview and the morning after penalty set-up the controversy heard round the world.
After deliberating and weighing all the evidence, the powers that be ruled that Tiger would be penalized two strokes but would not be disqualified from the golf tournament. Tiger thought that this was fair and so did many of us. Yet some critics, including a prominent Golf Channel analyst, called for him to withdraw even though the venerable rules of golf and the Augusta National Rules Committee did not require that he do so -- a point that Frank Nobilo made with commendable clarity. But the critic made this a matter of honor, integrity, and equity. And, ironically, he called upon Tiger to do what Bobby Jones -- the great amateur golfer, designer of Augusta National Golf Club, and co-founder of the Masters -- would most certainly have done.

Who really knows what Bobby Jones would have done in this unusual situation? But what we do know is that Jones founded an ultra-exclusive golf club that required all the caddies to be black and that excluded black members until 1990 and women until last year when Condoleezza Rice and Darla Moore were invited to don green jackets. So honor, integrity, and equity are certainly not the first things that come to mind when considering this aspect of the Jones legacy.

By cheating on his wife, Tiger proved that despite his greatness on the golf course he is human -- all too human. And like all of us who have sinned, he will have to bear that cross on his own. Winning cannot fix our moral imperfections and their consequences. And, unfortunately, it certainly cannot silence the critics who questioned Tiger's honor and integrity on the golf course, and asked that he be more like Bobby Jones while conveniently overlooking the dark history of inequity and exclusion at the Masters tournament and at Augusta National Golf Club.
The world's number 1 golfer must play on. After history has spoken winning will take care of any doubt there might be that Tiger Woods is the best golfer to have ever played the game.
This Blogger's Books and Other Items from...
FOLLOW HUFFPOST