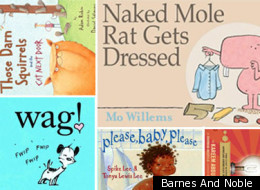 I love children's books. I adore the feel of chunky board books, designed to withstand brand-new teeth and chubby uncoordinated baby hands. I have stacks of picture books filled with photographs of apples, balls and cats and bold illustrations meant to capture a toddler or preschooler's imagination. I could sit for hours listening to a new reader sound out his or her first chapter books.
Although I enjoy the charming sweet confections that comprise most people's experience with children's literature, my favorites, as some of you may know, are the curious, quirky, unique and unexpected books that balance adult humor and outrageous creativity. Mixed in with the classics, my bookshelves hold stories of depressed cutlery, abandoned orphans, disturbing three-toed boys, child-eating reptiles, and the occasional sarcastic historical figure. I think children's stories should be irreverent, challenging, laugh-out-loud funny and beautiful, which is why I agree with every line of "The Picture Book Proclamation," especially its plea to avoid the bland and conventional in children's publishing.
It's not always easy to find these books. Sometimes, if you're lucky, your local bookstore might have one sitting on the shelf, cover forward, just waiting for you to take it home. I'm a sucker for good packaging, and with the books I like, you often can judge a book by its cover. But in case you're still searching, I want to help. This month, in honor of February's relatively random holidays, I've gathered a few of my favorites -- stories of romantics, presidents, inventors and rodents of all shapes and sizes. Just don't expect rose petals and chocolates.
Clarion Books | $11.55 | Amazon.com Groundhogs, squirrels, prairie dogs, it's all the same to me. In honor of the contributions Punxatawney Phil has made to our nation (and there's a lot to be said for giving everyone something to talk about on February 2nd), here's a story about vengeful rodents, a cat and some humans in need of serious therapy.

Hyperion Book CH | $11.55 | Amazon.com I've recommended this one before, but it seems important to have more than one book about small nibbling mammals. Given that our protagonist Wilbur lives underground, there's little chance of him seeing his shadow, but his struggle to alter his nudist rat colony is a classic study in rebellion (and khaki pants).

Atheneum Books for Young Readers | $10.39 | Amazon.com I think it's wrong to limit Valentine's Day to the living -- zombies have feelings too. Especially Mortimor, the hapless hero of this odd little love story. The illustrations capture the mortification and awkwardness of those early crushes, while giving us a window in the long-hidden love life of the undead.

Little, Brown Books for Young Readers | $6.40 | Amazon.com This one is sweeter than my usual fare, but it is Valentine's Day after all. And it's hard to argue with an overly eager cat named Mooch, a preternaturally happy dog named Earl, and a lot of "fwipping." These two friends explain why a dog's tail wags, and show us that all we really need is... well, you know the rest.

Hyperion Books CH | $11.55 | Amazon.com What better way to celebrate President's Day than to dispel any illusions you might have about our founding fathers? Checking in on our colonial heroes during their childhoods, you'll discover that George Washington was a delinquent with an unhealthy attachment to his axe and Thomas Jefferson was a teacher's worst nightmare. Ben Franklin, John Hancock and Paul Revere suffer from similar flaws. In an election year, it's never too early to learn the truth about politics, whether you can vote or not.

Simon & Schuster Books for Young Readers | $6.99 | Amazon.com Sly references to "She's Gotta Have It" aside, the illustrations in this book are reason enough to add it to your collection. Every parent will relate to the subtle and not-so-subtle nods to the exhaustion of parenting, while kids will revel in the vast amounts of trouble this one little baby can get into.

Candlewick | $10.52 | Amazon.com Forget about basketball, Kareem Abdul-Jabbar has written an incredibly cool book for slightly older kids that catalogues little-known contributions of African-American inventors (ranging from the Super Soaker to cell phone technology). Just in time for Black History Month, we are introduced to Herbie, his incredibly snarky sister Ella, and an eccentric handyman as they learn about these forgotten or overlooked innovators. I don't know about the rest of you, but he had me at "Super Soaker."

Owlet Paperbacks | $7.99 | Amazon.com Bet you didn't know that February was National Children's Dental Health Month, did you? Well, it is, and I envision an uprising of dentists everywhere if I didn't pay tribute to our pearly whites. It seems unfair that teeth, in addition to having to spend their entire lives inside our mouths, also have to go to school, but apparently they do. Might as well take advantage of their misery to encourage your little ones to brush and floss.
Follow Devon Corneal on Twitter: www.twitter.com/dcorneal