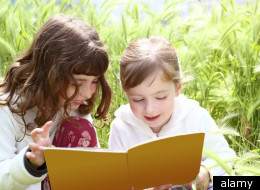 I don't know about you, but I'm in a good mood lately. The sun is shining, winter is almost over, and even though March went out like a lion, spring is in the air. So choosing books this month was easy -- I picked the books that make me happy. These are stories that I can read until my eyes pop out of my head, with moments that make me laugh out loud, and messages that make me smile before I've opened the cover. A few even make me cry -- but in a good way. Whether they're funny or touching, there is a little bit of bliss in all of these stories. The fact that your kids will love them too doesn't hurt.
Candlewick | $10.87 | Amazon.com E.S. Redmond, where have you been all my life? How did you come up with the most marvelous first page of a children's book that I may have ever read? Minerva von Vyle was a mischievous child who was coddled and spoiled and allowed to run wild. She was peevish and pushy and got her own way by throwing hysterical fits every day. Minerva is a slightly older and darker Eloise but, luckily for Minerva, she is about to meet a nanny who knows just how to handle her. With gorgeous illustrations and a wickedly funny story in verse, this has jumped to the top of my favorite books list. As a testament to its perfection, my four-year old son has already memorized his favorite pages and it's in heavy rotation during bedtime. Minerva would be pleased.

Knopf Books for Young Readers | $10.97 | Amazon.com If you've ever wondered what would happen if you could reach up and grab a cloud, then you'll be charmed by the Cloud Spinner. When a boy learns to spin cloth of white and gold from the clouds, you know there's bound to be a greedy king who will try to take advantage. When he refuses to heed the boy's warning that "Enough is enough and not one stitch more," it's up to the boy and a princess to put things right.

Candlewick | $11.55 | Amazon.com I think the Queen's Diamond Jubilee is rubbing off on me, because this month I am loving books about royalty. Chris Van Dusen's latest picture book about an egotistical ruler who gets put in his place by a lovely, but no-nonsense villager is hysterical and a must-read for anyone who has a low tolerance for Napoleon complexes. Long ago, when people spoke with words like "thou" and "thee," there lived a king named Hugo who was only three foot three. And though this mini monarch stood no higher than an elf, his ego was enormous - he thought highly of himself. Don't worry, like in all good fairy tales, everything turns out fine in the end.

Bloomsbury USA Childrens | $12.40 | Amazon.com And speaking of the end, who couldn't use another book about butts? This book asks the important questions, like, "Why do we have butts? Perchance, a place to put our underpants?" If you've got a boy, a preschooler, or a kid with a sense of humor that revolves around potty talk, you won't regret adding this to your shelf.

Candlewick Press | $10.87 | Amazon.com Although usually known for his illustrations, Jon Klassen also has a keen and subtle sense of humor, which shines through in this simple tale about a bear in search of his hat. Understated, almost sparse, it will still make you laugh out loud. I don't want to give away the ending, but let's just say that a small animal shouldn't steal a bear's hat. Things will not end well.

Candlewick | $10.97 | Amazon.com Combine an abandoned bus, a little girl with table soccer skills, a close knit urban neighborhood, a junkyard owner with a soft heart, and a pair of nesting sparrows, and you have the lovely "A Bus Called Heaven." If you've ever wanted to teach your children about the importance of community, and what can be accomplished with a little determination and a lot of creativity, this one's for you.

Hyperion Book CH | $10.97 | Amazon.com In a departure from his usual fare, Mo Willems has penned a touching book about friendship. When City Dog meets Country Frog, they get off to a rocky start. "What are you doing?" asked City Dog. "Waiting for a friend, replied Country Frog with a smile. "But you'll do." The two unlikely friends spend the next months playing dog and frog games until Autumn comes and Country Frog realizes that not all friendships can last forever. As Country Frog waits in vain for his old friend, you might cry a little, but it's worth every tear.
Follow Devon Corneal on Twitter: www.twitter.com/dcorneal