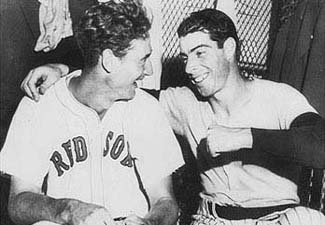 style="float: left; margin:10px"> It was like lightning striking. Over 70 years ago, Major League Baseball's All-Star Game saw one of the most electrifying home runs ever hit, during one of the most remarkable seasons ever played. It was July 8, 1941, and two of baseball's biggest stars, the Red Sox's Ted Williams and the Yankees' Joe DiMaggio, both in the midst of chasing milestones, took a break from their ballclubs' storied rivalry to play on the same team on their way into legend.
Williams, known as The Splendid Splinter, took a .405 batting average into the All-Star Game. He had been hitting over .400, with the exception of one game, since May 25. Meanwhile DiMaggio, The Yankee Clipper, had started a streak of his own, having hit safely in every game since May 15. He had already tied Wee Willie Keeler's 1897 Major League record for single season consecutive-game hits at 44 on July 1 against Williams's own team in Boston. With The Streak now at 48 games, it only remained to see how far he could go.
But the reigning American League MVP that season was the Detroit Tigers' Hank Greenberg. The first player to be called Hammerin' Hank was also known as The Jewish Babe Ruth for his 58 home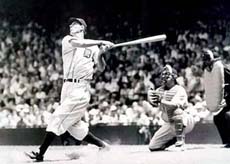 style="float: right; margin:10px">run season of 1938. Greenberg, who had faced anti- Semitism, would say each homer felt like "a knock against Hitler." While America debated during the season of '41 whether to enter the war in Europe, Greenberg reported for duty on May 7. Asked about having to forgo baseball's biggest salary, Greenberg simply replied, "My country comes first." So, when the All-Stars converged on Detroit's Briggs Stadium, it would be without the home crowd's biggest star in the lineup.
Instead, the two players vying for headlines all season now found themselves batting back-to-back for the American League, with DiMaggio hitting third and Williams batting cleanup. But the National League would not make it easy. The score would rock back and forth with both Williams and DiMaggio figuring prominently throughout:
Williams was the first All-Star to reach base, with a walk in the second inning. He was also the first to drive in a run, with a double in the fourth, after a pop fly by DiMaggio moved the runner into scoring position. The N. L. tied the game in the sixth. In the bottom of the inning, DiMaggio walked and, after Williams flied out, scored, giving the A. L. a 2 - 1 lead. But a fielding error by Williams in the seventh allowed a runner to reach base, who then scored on Pittsburgh Pirate Arky Vaughan's home run. Another upper-deck two-run blast in the eighth by Vaughan put the N. L. ahead, 5 - 2. It was the first time one player had hit two home runs in an All-Star Game. But the stars were not done aligning.
With one out in the A. L. eighth, DiMaggio finally doubled, giving the crowd the hit they had longed to see. While it did not officially count as part of The Streak, it contributed to its legend, leaving the consecutive-games story unmarred by even an exhibition's interruption. But the crowd's cheers were soon silenced as Williams struck out. It would take Dom DiMaggio, Joe's brother and Williams's teammate on the Red Sox, now batting behind Williams, to drive him in, making the score 5 - 3. The A. L. was still two runs behind and, in the dugout, Williams was fuming.


style="float: right; margin:10px">
When the inning ended, Williams returned to the field and asked an umpire where the pitch that had struck him out had been. Upset about going down in the clutch, he was determined not to let it happen again. "There's only one way to become a hitter," Williams would say years later. "Go up to the plate and get mad. Get mad at yourself and mad at the pitcher." But, although Cubs pitcher Claude Passeau remained in the game for the N.L., it seemed unlikely Williams would get another chance to face him as five batters preceded him in the bottom of the ninth.
Passeau wasted no time dampening the A. L.'s last hopes by retiring the first batter he faced on a pop up. Then Ken Keltner of the Cleveland Indians pinch hit for a single. After another single and a walk, the crowd was sitting on edge as DiMaggio was suddenly up again with Williams on deck. The cheers turned to a collective gasp as DiMaggio hit into what looked like a game-ending double-play. As the N. L. tried to turn two, they got the forceout at second base, but the throw to first went wide, leaving DiMaggio safe as Keltner scored. With the A. L. now trailing only 5 - 4, runners on the corners, and two out in the bottom of the ninth, Williams would get his chance after all.
Williams fouled the first pitch off for a strike. On deck, Dom DiMaggio was ready. He assumed Passeau would walk Williams to get to him, creating forceout opportunities at all the bases, and so it appeared as the next two pitches were balls. But Williams was patient. With the count two balls and a strike, he remembered the eighth inning, got his pitch, got mad, and swung.
There are some moments in baseball so rare and magical, that they have become the stuff of lore. So indelibly etched into the national consciousness are they, everyone remembers seeing them before the advent of television, and even people who weren't born yet claim to have been there.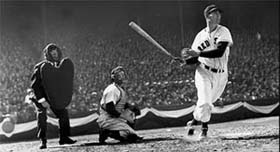 style="float: left; margin:10px"> Such was the moment Ted Williams hit the 1941 All-Star Game-winning home run. When his bat met the ball, the thrill that coursed through him was so strong, he later confessed, "I was so happy, I laughed out loud." As the ball continued its ascent over right-center field, Williams himself spontaneously clapped, exhilarated by his own heroics.
He wasn't the only one as the crowd erupted in thunderous applause. Among them was none other than Hank Greenberg. The Army had granted him a two-day leave to allow him to see the All-Star Game. The Tigers offered him a seat in the owner's box, but the superstar outfielder declined it, opting instead to sit with his fans in the stands. It was from that vantage point that Greenberg saw Williams's homer soar over his head until it hit the stadium's back rim which he knew so well.
Meanwhile, down below, Williams was celebrating the first walk-off home run in All-Star Game history as, with a child's exuberance, he leaped around the bases, literally skipping his way home where Joe DiMaggio, the winning run of his three RBIs, was waiting.
A photograph of Williams and DiMaggio, taken in the locker room after the game, shows them sitting together with DiMaggio's arm around Williams as he delivers a playful punch to his shoulder, the uncontained joy of shared victory on their faces. The image puts to shame current All-Stars who seemingly must be compelled to play the Midsummer Classic with the carrot of winning World Series home-field advantage. There's no way the two iconic players pictured there would have wanted that advantage decided by anything less than a full season's superiority.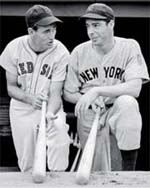 style="float: right; margin:10px">
Their pride was that big, as was their obvious mutual respect: DiMaggio called Williams "the best pure hitter I ever saw," while Williams dubbed DiMaggio "the greatest all around player I ever saw." But, as the season resumed, stars who had played alongside the best players of their leagues returned their allegiances to their teams.
DiMaggio continued his consecutive-game hitting streak for an unfathomable 56 games, a record many consider insurmountable. It would come to an end on July 17 against the Cleveland Indians. Ironically, it was third baseman Ken Keltner, the runner DiMaggio had driven in during the All-Star Game's ninth, who would rob DiMaggio of what looked like two certain base hits, with a pair of dazzling backhanded defensive gems. The next day, DiMaggio just picked up where he left off, starting another sixteen-game hitting streak, ultimately leading the Yankees to a World Series Championship over the Brooklyn Dodgers.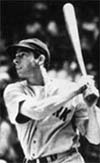 style="float: left; margin:10px">
DiMaggio would be awarded the American League MVP that year over Williams, who finished second. Williams had entered September 28, the last day of the season, hitting .39955 which would have rounded up to .400. When offered the chance to sit out the final double-header in order to protect his average, Williams opted to play saying, "If I can't hit .400 all the way, I don't deserve it." He would go 6-for-8 against the Philadelphia Athletics with his final hit that day, a double to right-center field, mirroring his All-Star Game home run. He finished the season with a batting average of .406.
At the time, though celebrated, hitting .400 wasn't as rare as a consecutive-game hit streak. Even Keeler had hit .424 in 1897, when he actually hit safely in 45 consecutive games (counting the last game of the previous season). His "Hit 'em where they ain't" quip would become a baseball mantra. In baseball's modern era (from 1900 on), thirteen players joined the .400 Hitters Club, with the last to do it only eleven years prior to Williams. Nobody could have guessed that, in the seventy years since Williams, no one would repeat the feat.
The closest challenger would be San Diego Padre Tony Gwynn, who hit .394 in the strike-shortened season of 1994. Like Williams, Gwynn was the consummate hitter of his era. So it was no surprise when, at the 1998 All-Star Game, Gwynn was asked which player he most hoped to talk to, he replied without hesitation "Greg Maddux," that game's starter and a precision-pitching all-time great. Gwynn had learned a lot from Williams.
After Gwynn helped Williams throw out the ceremonial first pitch in his memorable appearance before the 1999 All-Star Game in Boston, Williams recalled: "I always liked the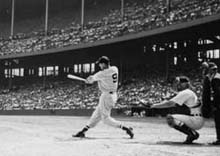 style="float: right; margin:10px"> All-Star Game because I got to see all the pitchers. I wanted to see the best pitchers and the best pitchers with the best records were there." It gave him a chance to observe them with an eye towards making adjustments, as he did after speaking to the '41 All-Star Game umpire after the eighth. That umpire, Babe Pinelli, would make his final appearance behind home plate in 1956 as New York Yankee Don Larsen threw the only perfect game in World Series history.

History would also honor Ted's textbook swing. In 2002, the MVP award for the All-Star Game -- which had not existed during Williams's playing days -- was renamed The Ted Williams MVP Award. It was a tribute to his eighteen All-Star Game appearances, but it was the magical Midsummer Classic home run of '41 which Williams called "the biggest thrill of my life."
Between the .400 Hitters Club and The Streak, the celestial stardust from that last peaceful season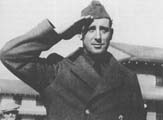 style="float: left; margin:10px"> touched everyone, including Greenberg who, on May 6, slugged two home runs against the Yankees in his final game before joining the Army. He would not play in the majors again until July 1, 1945 when, as if in some cosmic act of symmetry, he again hit two home runs in his first game back. The Hebrew Hammer would go on to belt a pennant-clinching grand slam in the last game of that season and catapult the Tigers to a World Series crown. But first, Greenberg would rise to the rank of Captain in the Air Force, not knowing if his days in baseball -- or life -- would be ended.
Eventually, Williams and DiMaggio would join Greenberg, teaming up again on the same side in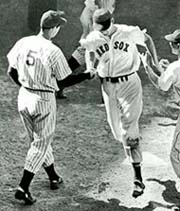 style="float: right; margin:10px">World War II. All three stars, along with so many others, would lose too many of their prime playing years to that war. The numbers they could have amassed during that time stagger the imagination.
But, as of July 1941, Pearl Harbor was still five months away and, for one brief moment, the cheers that emanated from Detroit reverberated throughout the nation. As Teddy Ballgame crossed home plate to make the final All-Star Game winning score 7 - 5, he was greeted by Joltin' Joe. The two gods of baseball, whose individual season achievements would stand as triumphs of consistency, briefly clasped hands in a handshake for the ages. It was like lightning striking. It strikes rarely.

style="float: left; margin:10px">
For more Superheroes of Baseball, go here. For a celebration of America's Pastime, go here. To learn about baseball skills and strategy, go here. For more on Don Larsen's 1956 World Series perfect game, go here. To read about the artistry of pitcher Greg Maddux, go here. For more classic baseball, go here. For more on the author, visit www.devramaza.com.
Photos courtesy of AP: Ted Williams and Joe DiMaggio celebrate their All-Star Game victory; Hank Greenberg in grand slam form; Ted Williams at bat; Williams homers; All-Stars Williams and DiMaggio in the dugout; DiMaggio gets his record 56th consecutive-game hit; Williams's textbook swing; Greenberg in the Air Force; Williams, greeted by DiMaggio, scores his All-Star Game-winning home run; Greenberg with the Tigers; DiMaggio promotes The Streak.

style="float: left; margin:10px">
What's the most difficult record to break in baseball? Which player has the best shot to hit .400? Should the All-Star Game decide World Series home-field advantage? Tell us in Comments.
SUBSCRIBE TO & FOLLOW THE MORNING EMAIL
The Morning Email helps you start your workday with everything you need to know: breaking news, entertainment and a dash of fun. Learn more