Catherine Opie is one of today's most renowned and revered fine arts photographers in the world. Just four years ago, at the outrageously young age of 46, Opie's entire body of work was installed and celebrated in a mammoth, four-story show at the famous Guggenheim Museum in NYC. Opie photographs are in a whirlwind of constant shows, both domestic and abroad. An inspiring scope of subject matter, along with dazzling artistry in terms of color, paper, technique, background, etc, have all led Opie to be considered one of the leading artists of our time.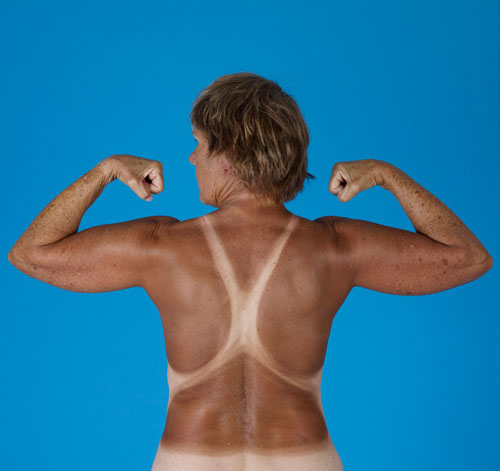 Cathy is also one of my dearest friends.
Once head of photography at Yale, now UCLA, Cathy lives around the corner from me here in Los Angeles and she embraced my Xtreme Dream endeavor from the first day through every stroke of the quest.
Cathy flew down to Key West to be at the end of what should have been the crowning moment, the swim up to the Florida shore, from Cuba, but instead found me severely stung by jellyfish. She took some typically amazing photographs of those stings... and took some stunning photos of my 60-to-62 year-old body throughout the two years.
An artist featured many, many times, both her work and her person, in the New York Times Magazine, Cathy sent them a few of her end-of-Dream photos and they were, as is everybody who has a chance to print an Opie oeuvre, "wowed."
The Magazine hence sent one of their top writers, Liz Weil, to shadow me for a couple of days, to produce a story to go along with the art of Catherine Opie. The article appeared Sunday, Dec, 4, and I will admit to you that I am undeniably thrilled, not only to have photos of my efforts depicted by such a world-class artist, but to appear in such a prestigious magazine in a collaboration with my sweet and loyal friend.
The photograph here is not one of those for the NY Times, but just an example of what Cathy Opie does. If you don't know her work yet, start following her. You will be enraptured.
SUBSCRIBE TO & FOLLOW CULTURE SHIFT
Every Friday, HuffPost's Culture Shift newsletter helps you figure out which books you should read, art you should check out, movies you should watch and music should listen to. Learn more