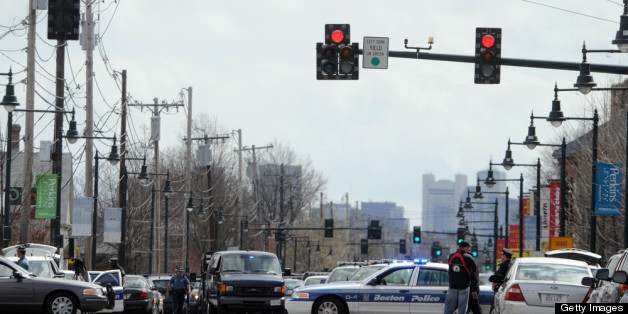 My husband Ronnie and I live in Watertown, in a complex of about 80 units, about two blocks from where Tamerlan Tsarnaev was shot last night. Our neighborhood is locked down very tight. Helicopters are above and have been circling, and no one is on the street. People are heeding the police warnings and are staying inside. We're getting most of our information on TV, other than listening to the helicopters. Everybody is contacting everybody else. The doors and windows are shut.

My son called at about 5:30 this morning. He'd heard that there was a lot of activity in Watertown. He asked if we were safe and we reassured him we were. So we've been up since early this morning.

When the bombings happened on Monday, my husband and I were in Florida vacationing. And the minute I heard about the marathon tragedy, I thought of our neighborhood. We got home Tuesday evening and resumed activity like everybody else, until this morning. So, we're watching the television very closely. A couple of hours ago we saw a house around the corner from us surrounded by police. And we saw a whole slew of police come, and swarm the house, literally 200 yards from our complex.

I spent nine years at MIT, in the administration, so we feel very bad about the loss of their officer. It's heartbreaking. I work at Tufts now, and I also went to Cambridge Rindge and Latin. All the universities in the area are closed for the security of the students. And the staff members are all home. We were getting messages from the university early this morning, that the T was shut down, to stay home, to stay safe. Boston is a community of a lot of different people, but at this time of year the students are of prime concern to everyone. I'm sad to see that kids are affected, that they're not at school today learning and growing and doing positive things. I'm sad that we have to worry about terrorism in our communities and our neighborhoods.
HuffPost Readers: Were you or someone you know in the area affected by the bombings or the manhunt? If you have any information to share, or want to tell us what you experienced, email openreporting@huffingtonpost.com. Include a phone number if you're willing to be interviewed. Let us know if you wish to remain anonymous.
PHOTO GALLERIES
Notes From The Lockdown