Walking into a neighborhood grocery store, I saw a sculpture of heartbreaking beauty: a giant jellyfish made of plastic bottle tentacles and a body of jumbled plastic bags and debris. All that material had been gathered from an Oregon beach, where like most beaches, there is a steady, reliable supply of plastic pollution washing ashore.

The jellyfish towered over me and cast its reach over the produce and deli sections.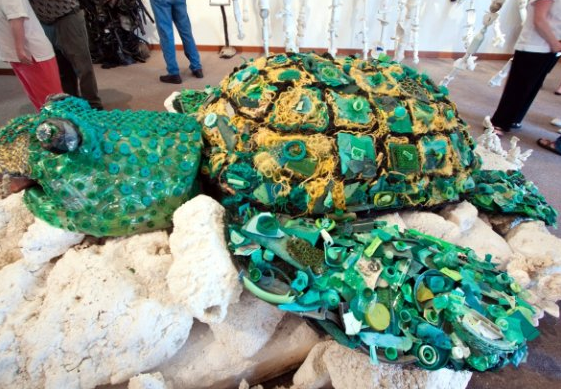 How very clever. It was displayed in a place where customers can choose: Buy bottled water when tap water is as clean or cleaner? Choose a plastic bag or bring your own? Bundle a bunch of oranges or apples in a plastic produce bag or simply put them in the shopping cart as is?

How very clever, as well, to turn bits of plastic debris into works of beauty and whimsy, to turn the big problem of ocean pollution into oversized figures of eye-catching art.
The jellyfish and the many other creatures are the brainchild of Oregon artist Angela Haseltine Pozzi, who heads the Washed Ashore project. Its purpose is "to awaken the senses of people around the world to the global tragedy of plastic pollution in the ocean," as the project's Facebook and Twitter profiles say.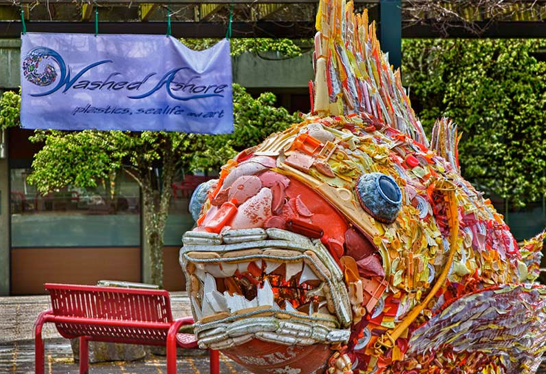 Among the other sculptures she and her team of volunteers have created: A super cute sea turtle, made of a garbage can lid, flip flops, netting and other kinds of plastic that routinely kill real sea turtles; Avery, a giant seabird that could symbolize all the birds killed by ingesting tiny bits of plastic that tragically look like food; and Henry, a multi-colored plastic fish with formidable jaws.

Throughout our oceans, pollution from petroleum-based plastic has become a major scourge; too much of what we throw away doesn't really disappear or end up safely recycled, but shows up at our doorstep in different form. As a blockbuster State of the Oceans report just warned us, our various assaults on the oceans -- from pollution to climate change to overfishing -- is spurring a shocking decline that will affect all life on earth.
It's our collective problem and at Washed Ashore, the whole community is invited to be part of the process of turning ugliness into beauty.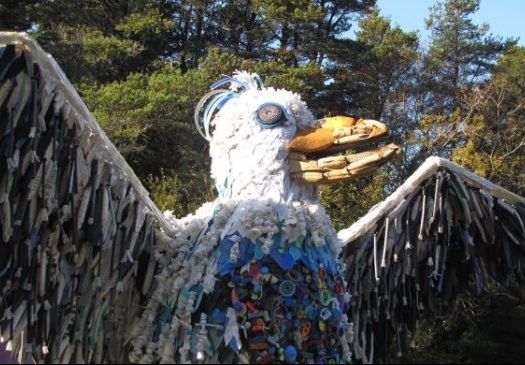 The Washed Ashore project gets its thousands of pounds of plastic debris from volunteers and community groups that gather the garbage from ocean beaches.
The most plentiful category: plastic bottles. "We have a constant supply," Angela told me.
Then each week, volunteers of all ages and abilities gather to assemble the sculptures. Finally, the project takes its show on the road, offering a traveling exhibit that has been displayed at an aquarium, colleges and the Bioneers conference. Later this month, it will appear at the Marine Mammal Center in Sausalito, California.
I stumbled on the giant jellyfish at a Whole Foods in Portland, as part of one store's Earth Day exhibit that was extended into May. I couldn't help daydreaming, perhaps inspired by the whimsy of the project itself: Wouldn't it be wonderful for more stores to sponsor and display the Washed Ashore sculptures? Wouldn't it be wonderful for other communities to copy the Washed Ashore concept in their areas?
Certainly, part of the Washed Ashore vision is for others to /www.washedashore.org/contact.php" target="_hplink">replicate the project, share it, gather their own "local" beach garbage and create their own "local" art, and for all of us to turn the plastic pollution problem into a series of solutions, starting with our own personal use of plastic in our lives.
"The sculptures are becoming ambassadors of the sea," Angela says, "The arts have the power to transform people and their interactions with the world. Instead of drowning in despair about the disappearance of coral reefs, or the pollution in the ocean, I am using what the ocean is throwing back at us to create an artistic response."
Do the Washed Ashore sculptures change how you see or use plastic in your life? Share your response here.
SUBSCRIBE TO & FOLLOW THE MORNING EMAIL
The Morning Email helps you start your workday with everything you need to know: breaking news, entertainment and a dash of fun. Learn more