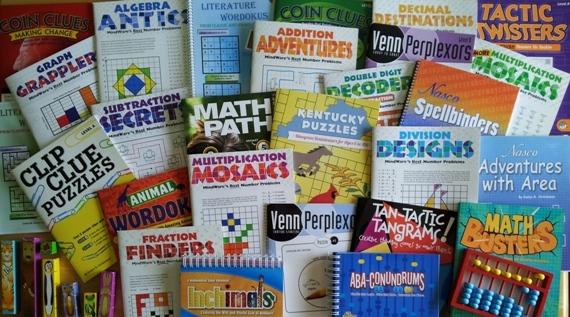 Evelyn B. Christensen, Ed.D., is a pro when it comes to creating educational puzzle books, especially when numbers are involved.
Puzzles are an excellent way to bolster creative thinking and logic skills and are available in various forms. The major puzzle categories include the use of numbers, words, pictures, or shapes.
Evelyn, a 1971 Agnes Scott College alumna, earned her undergraduate degree in Mathematics along with a teaching certification for grades 7-12. She also graduated from the University of Kentucky with an MA, Mathematics, and Ed.D., Curriculum and Instruction (Mathematics).
After a career teaching mathematics (plus general elementary school subjects), today she is an award-winning author of over fifty puzzle books and math games. With something for both young and old, her books have sold over half a million copies. Her top five best selling publications are: Multiplication Mosaics, Addition Adventures, Division Designs, Subtraction Secrets, and Inchimals. Two of Evelyn's publications have received awards: Inchimals won a Teachers' Choice Award, a Creative Child Award, and a NAPPA Award while Aba-Conundrums won a Parents' Choice Award and a Creative Child Award.
I asked Evelyn for the secret of authorial success.
"To be a successful author, you obviously need writing communication skills. You also need creativity, along with a large dose of self-motivation, since you'll usually be working on your own. Writing books with a STEM focus often requires good research skills. You need to be able to follow guidelines set by your editor and to meet deadlines. Finally, you'll want lots of perseverance and the ability to stay positive in the face of rejection, because being published requires you to submit your work or ideas to publishers, usually lots of them, until you find one who wants to publish your manuscript or wants to give you an assignment to write a book or article for them.
Almost any STEM major can provide the background for being an educational author. No specific degree level is required. In some cases, teaching certification is helpful.
For most authors, their writing is a supplemental career to their 'day job,' so a typical day includes the day job (mine was teaching) and then authoring activities fit into evenings and weekends. My authoring time is typically divided among writing, researching, revising, finding markets for my work, promoting my books, and networking with other authors. Networking is important, because fellow authors are frequently a source of feedback on my work, tips on potential markets, and help with promoting my books. I try to give back to the writing community by publishing a free, bimonthly ezine, Writing for Children's Magazines, and by maintaining a list of Educational Markets for Children's Writers on my author website (http://evelynchristensen.com). Full-time educational authors usually are employed by a publisher or seek assignments from publishers. The latter involves sending resumes and writing samples to many educational publishers, hoping your background will match a book they want to publish."
Her teaching career entailed teaching mathematics to students of all ages, including elementary, middle, high school, and college. Her attraction to teaching started early, and playing "teacher" was her favorite pastime when she was young. However, teaching mathematics was a decision she made in college.
"Although I had always done well in math, I actually was not interested in a math career until I got to college. Fortunately, my freshman year math professor at Agnes Scott, Miss Leslie Gaylord, knew how to make the subject come alive.
Math, as it was taught in my younger years, was rather boring, but my childhood laid the foundation for my later love of the subject. I have five siblings and grew up in a small town where extra-curricular activities were rare. That left plenty of time for games and puzzles. My father had also studied engineering before he decided to become a minister. That engineer's mind of his was great at challenging us kids to wonder about the hows and whys and puzzles of all kinds of things. Mom was the wordsmith. She taught Latin and loved puzzles, too."
Dr. Christensen's teaching approach involves presenting mathematics in a fun and interesting way. This approach resulted in a life-long career that brought her love of teaching and mathematics from effective educator to award-winning educational book author.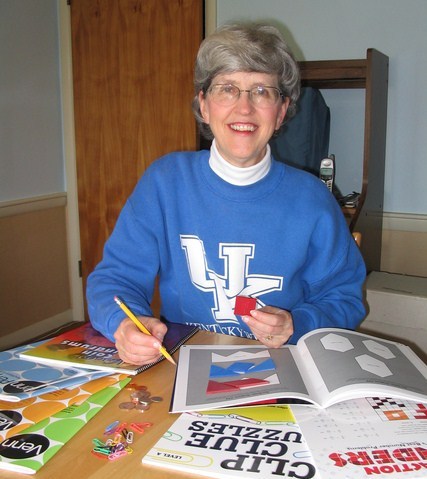 In my next post, I'll blog about another Mathematics alumna, this time from Spelman College, Alexis M. Scott, and her duel career as a System Security Engineering Manager and Mathematics Education Entrepreneur.
Follow Diane on Twitter @HerSTEMCareer where she celebrates and champions STEM women from around the world. To learn more about women's colleges, visit Diane's blog, Advantages of a Women's College, where a complete listing of all women's colleges in the United States is provided.
Photo Caption: Evelyn B. Christensen, Ed.D.
SUBSCRIBE TO & FOLLOW LIFESTYLE
HuffPost Lifestyle is a daily newsletter that will make you happier and healthier — one email at a time. Learn more