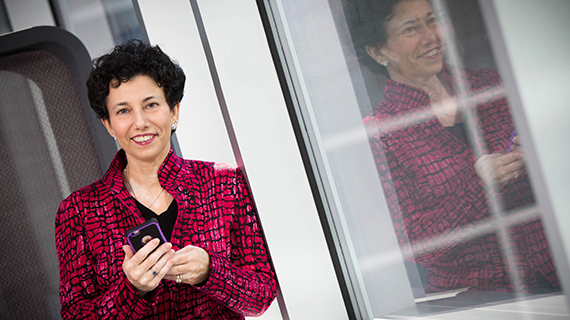 Karen M. Davis, Vice President, Research Computing, RTI International
Photo Credit: John West/Photographer, RTI International
More and more frequently, recent college graduates are interested in employment with companies providing products or services for improving planet earth. Karen Davis is employed by such an organization and heads up the company's research computing function. Her employer, RTI International (www.rti.org), is an independent non-profit institute, based in Research Triangle Park, NC that provides contract research and technical services to clients around the world, including the US Federal Government. Its mission: "To improve the human condition by turning knowledge into practice."
As Vice President, Research Computing, Karen leads a team of approximately 150 individuals. She employs her technical knowledge and management skills overseeing a team responsible for developing systems, websites, and mobile apps for clients. I enjoyed learning about the mobile apps her group developed and included the following three:
1. Personal Health Intervention Toolkit (PHIT) is an advanced cross-platform software framework targeted at personal self-help research on mobile devices. Following the subjective and objective measurement, assessment, and plan methodology for health assessment and intervention recommendations, the PHIT platform lets researchers quickly build mobile health research Android and iOS apps. Two applications include using PHIT for pediatric cardiology studies and military PTSD projects.
2. Coconut is a next generation mobile data collection and protocol guiding tool. Coconut was designed for users with limited technology experience needing to implement a sometimes complex health protocol. Deployments to date include guiding malaria surveillance in Tanzania, midwife visits in the Philippines and nurses at mobile STI clinics in Zimbabwe.
3. Tangerine® is electronic data collection software designed for use on mobile computers, including tablet computers and Android smartphones. Its primary use is to enable recording of students' responses in oral early grade reading and mathematics skills assessments, specifically Early Grade Reading Assessment (EGRA) and Early Grade Mathematics Assessment (EGMA), and interview responses from students, teachers and principals on home and school context information Tangerine was field tested in Kenya.

Delivering on the firm's mission is one of the reasons Karen enjoys her position, but it's not the only reason. Karen also enjoys being in a position to mentor her staff, receiving great satisfaction in seeing them develop new skills sets and capabilities. It's also rewarding for her to partner with clients--she's in a position to work on interesting projects involving technology and systems, while ensuring clients receive effective solutions.
Academically, Karen's background includes a bachelor's degree with majors in mathematics and English and a master's degree in Management with a concentration in Information Systems.
Karen's career began after she graduated from Cedar Crest College in 1977--although it's interesting to note that Karen almost did not major in mathematics because of poor council received in high school. While she was a whiz in algebra, geometry wasn't as kind. Because of this, her high school geometry teacher unfortunately advised her not to pursue the study of mathematics "under any circumstances."
It was not until Karen connected with a calculus college professor that her confidence in mathematics remerged. This professor, Mrs. Jane King, encouraged Karen to take additional classes and to become a double major.
Having gone to a small women's college, I had a great opportunity to work closely with the math department professors and get all the individual attention that I needed.
Going into college, I had decided on being an English major, though I did take calculus in my first year. That class was taught by an excellent professor, and all of a sudden, math concepts made a lot of sense to me; following my first year of college, that same professor advised me that, although it was fine to be an English major, having a math degree would add career options.
"In her words, employers know that 'people with math degrees can think logically.' So, I ended up majoring in both English and math. Keep in mind that when I went to college, there were few computer science programs, and almost no programming classes taught, except in heavy-duty engineering schools.
After graduation, Karen started her career with a local employer, the second-largest steel producer and shipbuilder in the United States, Bethlehem Steel Corporation, located near to Cedar Crest College in Bethlehem, PA. Unfortunately Bethlehem Steel is no longer in operation. Fortunately for Karen, Bethlehem Steel afforded her an engineering opportunity because of her proficiency in mathematics, hiring her as an Industrial Engineer. And this launched her amazing technology-driven career.
After Bethlehem Steel, I went to work with Ford Motor Company in Dearborn, MI and then in Albany, NY, again as an industrial engineer. I had the opportunity to work with automotive manufacturing plants, as well as utilize computers in my work. This was really the first time I had an opportunity to work with computers at work. Next, I moved to Kendall Company, which was a subsidiary of Colgate-Palmolive. I started as an industrial engineer, but had the opportunity to be a quality engineer, a cost accountant, and ultimately to transition to working in computer systems. Ultimately, I became responsible for the data processing in all of Kendall's manufacturing plants.
Next, having worked in industries that were almost all male, I decided to move to the computer industry, as it seemed to be more progressive, and there were some women employees. My next employer was Data General, initially in MA, and then in Research Triangle Park, NC. I had multiple roles there including Quality Manager, ISO9001 Program Manager, and Director of Multidimensional Database engineering. Over 14 years, I had the opportunity to manage people as well as work on hardware engineering, quality assurance, systems and software development, database application systems, and client support.
Following Data General, I worked for a very small software company and then moved to RTI International, where I have been for almost 17 years. I've had a great opportunity to work on Business Information Systems, with an internal company focus, and then move to my current position which focuses on systems for clients.
And there you have it--yet another amazing woman's college STEM alumna. For Karen, majoring in a STEM subject provided her with an endless supply of career options and opportunities steeped in technology. And it's important to keep in mind that since Karen graduated from college, there are more opportunities available to women. It's the best time ever to be a STEM woman, and it keeps getting better!
So, join us and other STEM leaders from around the globe as we encourage young women to study science, technology, engineering, and mathematics. Follow your STEM interest, and watch how your career unfolds into a never-ending adventure.
And if you find yourself in the position Karen did when her high school geometry teacher told her not to consider studying mathematics, consider Karen's pearls of wisdom, "Don't assume you cannot do something, just because someone else tells you that you cannot! If you care about it, go for it!"
SUBSCRIBE TO & FOLLOW LIFESTYLE
HuffPost Lifestyle is a daily newsletter that will make you happier and healthier — one email at a time. Learn more