DETROIT -- Remember Kwame Kilpatrick, the Detroit mayor who faces perjury, misconduct, and obstruction of justice charges? The hip-hop politico who just days ago tried to sell our half of the Detroit-Windsor Tunnel to Canada? The married father of three whose steamy text messages to his chief of staff lit up the internet earlier this year?
Good news comedy lovers: Mayor Kilpatrick wants to hang out with Barack and Michelle Obama at the Democratic National Convention in Denver.
Kilpatrick, a one-time rising star in American urban politics who brought youth and vitality to the struggling Motor City, now wears a court-ordered, electronic ankle tether -- an accessory widely viewed as a fashion "don't"-- at least for sitting government leaders.
"Mayor Kilpatrick will just distract from the historic nomination of Senator Barack Obama," said the presumptive nominee's campaign staff, who stopped short of saying Kilpatrick shouldn't go.
On the other hand, the embattled mayor IS a credentialed superdelegate and entitled to be there.
Call it a split decision? Judges?
"Kwame should not go to the convention. The charges against him are mounting. The DNC has important business to accomplish and having him there would divert this work unnecessarily," historian Nancy Goldstein, Ann Arbor, Mich., told OffTheBus.
"Put Hizzoner front and center! Heck, if Hillary and Bill each have their own nights, why not give Kwame a night of his own, too? If you're playing to lose, Dems, lose big," sports writer and radio commentator John U. Bacon, Detroit, Mich., told OffTheBus.
Mary Jakary, a paralegal who lives in Livonia, Mich., said "Kwame should not have the privilege of attending. He has let the citizens of Detroit down so many times, who at the DNC would want all that negative press?"
"Kwame should not go. This race is too damn close. Besides, Detroit needs all the help it can get from the next President. It's sad this guy is even contemplating attending the convention. He's spending more time concocting a way to attend than thinking about how he's running Detroit into the ground," said Scott Massey, a Detroit electrical engineer.
"Road trip? Sure, why not," said writer Chris Sloat, of Bloomfield Hills, Mich. "Who knows what kind of trouble he can get into in Denver? At least he'll be somebody else's problem for a week."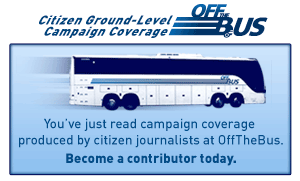 Follow Diane Tucker on Twitter: www.twitter.com/dianetucker