WASHINGTON, D.C. -- "That must be one heckuva book," I said to the Kramerbooks clerk handing me Eckart Tolle's The Power of Now. From the moment Newsweek reporter Jonathan Darman broke the news that Rielle Hunter considers "The Power of Now" her seminal book, I've been dying to read it.
Self-help books don't help me. But Hunter calls this one transformative. Who am I to argue? She transformed herself from Manhattan barfly to presidential-campaign video-documentarian in a matter of weeks. From obscurity, she rose to become the most Googled Rielle Hunter on the planet. By comparison, I've been making videos for 15 years yet Google didn't recognize me until I blogged for HuffPo last Tuesday.
The book's publisher, New World Library, describes "The Power of Now" as one of those rare tomes with the power to create an experience in readers, one that can radically change their lives for the better. (Really? For the better? Do you agree, John Edwards?) Publicity director Monique Muhlenkamp told OffTheBus the book has enjoyed "a slight increase in demand at wholesalers across the country since the Newsweek story broke."
But enough chit chat. Let's see what's in the table of contents: Nothing Exists Outside the Now -- Rising Above Thought -- Finding the Life Underneath your Life Situation -- The Insanity of Psychological Time -- Wherever You Are, Be There Totally -- Your Link with the Unmanifested -- Freeing Yourself From Your Mind

"The good news is that you CAN free yourself from your mind," says Tolle. In addition, he advises all of us to "step out of the time dimension as much as possible in everyday life." (Excuse me? How can I step out of the time dimension when I'm always on deadline?)
Rielle Hunter met John Edwards in a bar -- a "pitch meeting" that resulted in Edwards paying her $114,000 to document his every move for campaign videos. New York Times op-ed columnist Gail Collins says that back in happier times, Hunter called the experience "life-altering."
It's been life-altering for the Edwards campaign, too.
John Mackenzie told OffTheBus he expects politicans to have skeletons in their closets, but they should be up front about it. "The Edwards affair doesn't affect my opinion of politicians in general, since it seems to be typical behavior. But I agree with people who say dishonesty makes them question a candidate's integrity."
Given Hunter's astonishing career trajectory after reading "The Power of Now," I'm glad the dirty details about L'Affaire Edwards were exposed before she could transform herself into First Lady of the United States.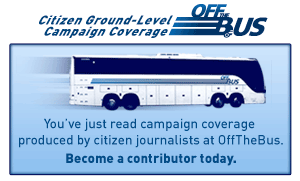 SUBSCRIBE TO & FOLLOW THE MORNING EMAIL
The Morning Email helps you start your workday with everything you need to know: breaking news, entertainment and a dash of fun. Learn more