Last week in Manhattan, veteran journalist Tom Brokaw presented the 2009 Human Rights Award to Gabriel Gonzalez, a young activist who opposes the inhumane treatment of Colombian prisoners. The thoughtful young man then flew home to Colombia, where he is charged with being a terrorist and faces seven years in prison.
Call it one heck of an identity crisis for Gonzalez, or better yet, call it "same old, same old" in Colombia, where the difference between "hero" and "rebel guerrilla" can be a matter of opinion, and all too often a matter of life and death. Last year, 11 human rights workers were murdered in Colombia. So far this year, at least nine have been killed, despite increased government protection.
I spoke with Gonzalez just hours before he returned to Colombia to face the music.
What is the nature of your relationship with Colombia's leftist guerrillas?
Gabriel Gonzalez: I don't have any relationship whatsoever with the FARC or any other illegal group in Colombia. In my human rights work, I help prisoners promote their right to due process and legal representation -- legitimate and important work. However, some of these prisoners have been detained because they were suspected of being FARC members.
Is that why you were prosecuted?
No, the government accused me of being the commander of a FARC rebel militia force in Pamplona, the town I grew up in. I spent 15 months in jail -- in detention -- before the judge declared I was innocent because the court found no evidence of the FARC in Pamplona. Obviously it was impossible for me to be the leader of a group that didn't exist.
Then why were you sentenced to seven years in prison?
The Inspector General appealed the judge's decision, which was strange because the Inspector's job is to uphold the rights of defendants. Another court convicted me in absentia to seven years in prison, without a new trial or any new evidence. Human Rights First is helping me appeal this decision to the Supreme Court of Justice in Colombia. We still don't know if they'll take the case.
Do you believe you were set up?
Not long before the legal proceedings against me, I learned that paramilitaries were planning to assassinate me. It came as a terrible shock. Despite their death threats I continued my work, which included exposing human rights violations committed by public officials. I received a lot of attention from the national media. One might assume that since death threats didn't silence me, the baseless criminal charges were an attempt to silence me.
Do you expect you'll be treated fairly by the Supreme Court?
The Supreme Court in Colombia is a strong institution with very good jurisprudence. I certainly hope the court maintains its independence and doesn't succumb to political interests, because this is an emblematic case. Coached witnesses, biased prosecutors -- the same old patterns appear over and over again in human rights cases. It's time for the government to take concrete steps to address this problem, not in a case-by-case manner, but in a way that reforms institutions.
Does President Uribe deserve a third term?
But human rights violations have been occurring for decades in Colombia.
That's true. The solution depends less on one man, and more on a coherent state policy. For this we need the assistance of the international community.
So you think President Obama should do more to condemn human rights violations?
Plan Colombia isn't working. The U.S. is spending millions of dollars fighting drug trafficking in Colombia, without commensurate results. President Obama should focus on human rights, because ultimately it's the best way to combat problems like drug trafficking. Poor rural farmers must be allowed to cultivate their own land, sell their own products, and earn a livable wage. Instead, the farmers' political leaders are prosecuted on trumped-up charges. No wonder rural farmers grow coca or join the FARC, simply to earn money for food.
I thought the FARC were withering away.
They've suffered enormous blows. But we aren't sure whether they've become extremely weak, or are trying to regroup. What's certain is that Uribe said he would get rid of the FARC in four years. It's been eight years and the FARC is still here, which means less attention has been paid to education, jobs, and health care. Most of the international community thinks the main problem in Colombia is the war between the government and extremist groups, but that's not the case. The war is a consequence of the underlying problem.
Do you mean drugs, or poverty?
Lack of opportunity, lack of jobs, a dysfunctional health care system, a weak educational system -- together these problems generate social unrest. The government needs to sit down with civil society and listen to our proposals for a peace process, our ideas to improve Colombia's economic structure. As long as the government refuses to have an open dialogue with its people, it will never find viable solutions.
Should a U.S. free trade agreement with Colombia have human rights' strings attached?
A free trade agreement would give enormous benefits to Colombia. This would be the best time, and the best way, to achieve systematic reform of human rights.
You're returning to Colombia in a few hours. Do you fear for your life?
Sadly, everyone who works to promote human rights in Colombia fears for their life.
Someone has to. I can't close my eyes and pretend nothing is happening. It's an ethical imperative for me, and for Colombia as a nation.
Your parents must be very worried.
When I was detained in jail for 15 months, it was a terrible time for them. But they're proud that I'm putting into action the principles they taught me as a child.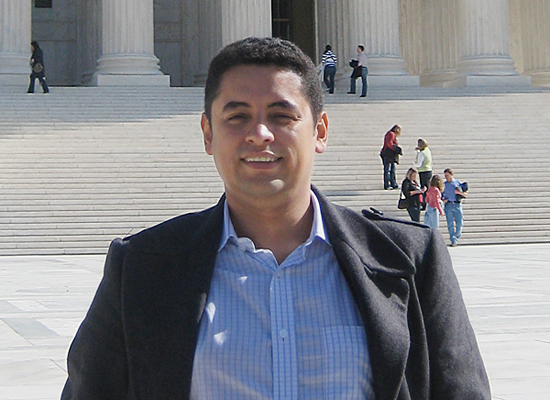 Gabriel Gonzalez at the Supreme Court Building in Washington, D.C. (Oct. 2009)
Photo: Andrew Hudson
SUBSCRIBE TO & FOLLOW WORLD POST