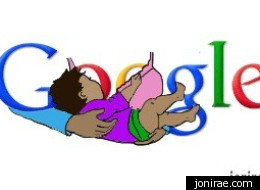 Google has unrivaled power to make waves on the Internet. From Gmail to Google search, YouTube to Blogger, Google products reach eyes all over the globe.
Wouldn't it be amazing if Google used its global influence to help us normalize breastfeeding? Of course the real normalization of nursing happens every time a mother breastfeeds a child. But nursing is also normalized each time we see it on TV, in books, on Facebook, and yes, on Google and the Internet as a whole. Sadly, nursing pairs still face discrimination and criticism. Each little step we make to celebrate and normalize breastfeeding can help.
Hygiea recently shared that the California Breastfeeding Coalition had an idea to petition Google to dedicate one of the Google Doodles to breastfeeding during World Breastfeeding Week.
I started brainstorming several ideas of what that Doodle might look like -- we could turn Google's oo's into breasts, and a simple outline of mama/baby would go above and below the word. We could turn the little "g" into the blue and white international breastfeeding symbol. We could transform the bottom of the "g" into a baby's head and have a mama nursing incorporated into the background.
Along with the Doodle ideas, I was inspired to come up with a list of several more ways Google could help us normalize breastfeeding. The beautiful artwork in this post is courtesy of my very talented friend, Joni Rae of Tales of a Kitchen Witch, who made the Doodle and the Pegwoman below. Thanks also go to my husband, Tom Ford, who created the fake Google street view, Calendar, and Gmail images.
You can help us get Google's attention by sending them an email -- there is an example email at the bottom of this post.
So, Google, what do you say? Will you help?
9 Ways Google Can Help Us Normalize Breastfeeding
With approximately 88 billion searches per month on Google.com, a Google Doodle during World Breastfeeding Week (August 1-7, 2012) could literally be viewed by millions of people. Breastfeeding needs to be seen in order to become normalized. It needs to be such a common sight that it barely registers for people. Obviously Google can't do this alone, but it can help us out by featuring a beautiful breastfeeding baby on its search engine.

Many states specifically protect the rights of breastfeeding pairs. For example, the Connecticut law states that no person may restrict or limit the right of a mother to breastfeed her child. (Conn. Gen. Stat. Ann. ß53-34b.) Other states, like Arkansas, simply exempt breastfeeding from public indecency statutes. (A.C.A. ß 5-14-112.) And there are three states that do not protect breastfeeding pairs at all - West Virginia, Nebraska, and Idaho. Google can figure out what state we reside in when we are searching Google.com. Let's ask Google to include a note on the top or side of every search result that lists the searcher's breastfeeding state law. If there is no law, or if the law simply exempts nursing pairs from public indecency laws, Google could add a note that says "lobby your legislators to create a state law protecting nursing pairs," with a link to a site that will connect the searcher to his/her representatives. With 34,000 searches per second on Google.com, we could inform a lot of people about the rights of nursing pairs.

There are so many wonderful organizations and communities dedicated to supporting and normalizing breastfeeding: NursingFreedom.org, La Leche League, Kellymom, Best for Babes, Human Milk for Human Babies, Natural Parents Network, Code Name: Mama's "Joys of Breastfeeding Past Infancy" series, The Leaky B@@B, and more. One of the main reasons women stop (or never start) breastfeeding is due to a lack of support. We can reach out to breastfeeding mothers who might otherwise feel isolated by advertising on Google and YouTube -- the 2nd and 3rd most visited websites (just behind Facebook). Google can help us increase the visibility of supportive breastfeeding networks by promoting them on Google-owned sites.

From making babies healthier to decreasing a mother's risk of disease, there is a reason that breastmilk is the biological norm. There are at least 101 reasons to breastfeed, and many wonderful uses for breastmilk even outside of nourishing a baby. Instead of the usual sponsored ads in your Gmail inbox, Google could feature one of the many reasons to breastfeed, with a link to one of the supportive breastfeeding organizations and communities.

Google Calendar users can choose to have federal holidays listed in their normal view. How cool would it be to have World Breastfeeding Week highlighted in the holidays? It might prompt some users to help support the events planned in their area or online.

Google continues to update its street view images, so why not incorporate images of breastfeeding pairs? I'm sure Google could find willing participants in many cities, like Jennifer of True Confessions of a Real Mommy, shown here nursing at Huntington Beach, California.

"The primary purpose of the 'WHO-CODE' is to protect mothers and babies from the highly effective, aggressive and predatory marketing of substitutes for breastfeeding (i.e. infant formula, bottles, artificial nipples)." Google can help us promote breastfeeding and deter formula marketing by refusing to accept advertising contracts from companies that do not comply with the WHO Code.

Google Maps is the most popular "travel website," ranked over Mapquest and Expedia. Maybe that is because visiting Google Maps can be fun. Who doesn't love the little Pegman on Google Maps?! Pegman has dressed up as Santa, a panda, an astronaut, and more. Why not replace Pegman with Pegwoman for awhile? She'll proudly nurse in public all over the two dimensional globe.

Rather than plugging the next hit movie, feature breastfeeding videos on YouTube's front page during World Breastfeeding Week. Let some of YouTube's 800 million monthly viewers see the biological norm in nourishing our little ones.

The large G in Google is the International Breastfeeding Symbol.
How You Can Help!
Would you love to see Google help us normalize breastfeeding? To get these ideas on Google's radar, send an email to proposals@google.com. Here is a sample email adapted from one at Hygeia:
Dear Google,
We, the breastfeeding support and promotion community, would be delighted to have Google help us normalize breastfeeding throughout the world. World Breastfeeding Week takes place from August 1-7, 2012, and Dionna at Code Name: Mama has brainstormed several ways Google can join the celebration:
(INCLUDE A FEW OF THE IDEAS BELOW, AND/OR ADD YOUR OWN IDEAS!)
Feature a Google Doodle Honoring Breastfeeding - Be sure to check out the suggested Doodle created by Joni Rae from Tales of a Kitchen Witch!
Include the Searcher's State Law on Breastfeeding on Every Search Result
Offer Free Advertising Space to Breastfeeding Organizations
List One of the Many Reasons to Breastfeed in Gmail's Sponsored Links
Add World Breastfeeding Week to the Holidays on Google Calendar
Put a Breastfeeding Pair in Street Views
Reject Advertising from Companies That Aren't Who Code Compliant
Turn the Google Map Pegman into a Breastfeeding Pegwoman
Feature a Breastfeeding Video on the Front Page of YouTube
World Breastfeeding Week is celebrated every year in over 176 countries around the world, and this year marks the 20th anniversary. We would love to have Google be a vital part of this milestone.
Thank you for considering this proposal.
Sincerely,
YOUR NAME
Follow Dionna Ford on Twitter: www.twitter.com/CodeNameMama