So Leona Lewis made history today by becoming the first British female artist to debut at No. 1 on the US charts. Her single "Bleeding Love" is good, but these tunes never sell wholly on their own merit. An elaborate marketing team of publicists and managers is always working behind the scenes to engineer every pop success. So when the team behind Leona chose to ditch the UK video of "Bleeding Love" and create a different US version, they must have done so for a reason.
But what could that reason be? In the UK version, Leona is in the hallway of a building, singing about the love lives of its inhabitants. At intervals the camera zooms in through the window of an apartment to show us the drama within, and then it pulls back to show all the wounded creatures in each apartment in a collage of failed relationships. The video is edgy, with one woman literally tearing out her hair in desperation while another nearly drowns herself in a bathtub because her date doesn't show up on time. Elsewhere, a blond is panda-eyed and wailing over a boyfriend who's cheated on her. Said cheating boyfriend has a nasty shock when he discovers that the girl he's been cheating on the blond with is two timing him (twist!).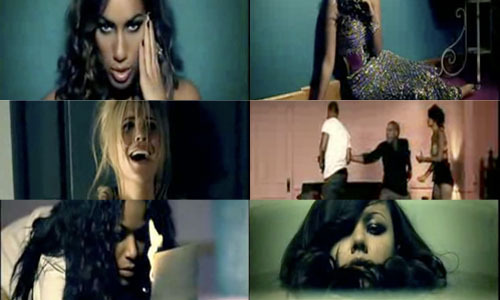 More importantly, all the couples are interracial. I can't recall any other video released in the last couple of years that has provided such a tableau of interracial dating. Lewis herself is proudly biracial, her skin lightly bronzed and her hair faintly glimmering gold. She's also exceedingly fashion forward, dressed in the very same metallic Dolce & Gabanna dress fellow Brit Naomi Campbell wore last year when she finished her gig picking up trash at the New York Department of Sanitation.
In the US version Lewis is far preppier. She trades her S&M gown for a silver trenchcoat and looks for all the world like a JC Penny commercial. The montage of mixed race relationships is gone, traded in for a far more traditional tale of Leona and her lover breaking up because of conflicting schedules. Where's the drama in that?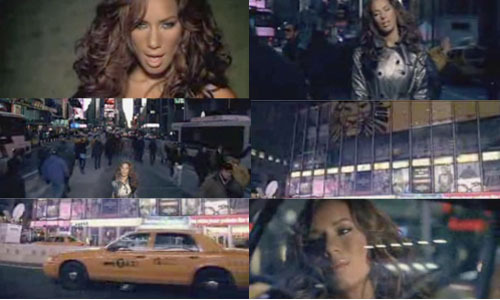 The video is also exceedingly cheap. For most of the time it feels like someone's just holding up a handycam to Lewis as she sits in the back of a cab making its way through Times Square. Perhaps Lewis' publicists were so wary about introducing a Brit to the American market that they thought that the best way to handle the situation would be to drown her out in a deluge of American consumerism. And what better way to do so than to put her in Times Square with all the familiar neon advertisements for Kodak and "The Lion King" flashing in background.
But this is the country that invented the genre: where would music videos be without MTV? And what about the Madonnas and "Baby One More Times"s? Is Lewis's UK video really too dangerous for US audiences?