New York welcomed me back with frigid temperatures and snow on the ground. Though I spent the past few days beachside, it's not like South Beach treated me much better. It was pretty chilly and windy down at the annual South Beach Wine & Food Festival. In fact, the only heat was that of the hot chefs that brought their A-game to Burger Bash hosted by Rachael Ray. As a novice judge at this event, I was ill-prepared for the gluttony. I started the day with a breakfast for champions--hard-boiled eggs and multi-grain toast later followed by a light lunch...all to save room for the 27 gourmet burgers that had my name on them.
Upon my arrival, I watched Daniel Boulud deep in thought as he mechanically prepared his burgers. He barely lifted his head to give me a smile. His opposite,
After Stephanie Izard flashed a smile at me and Spike Mendelsohn let me sample his
cotton candy milkshake (very tasty, by the way, but like a vanilla milkshake with some cotton candy essence), Carla and I headed back to conspire with our judging compatriots: Art Smith (chef &
restaurateur), Kate Krader (Restaurant Editor, Food and Wine), and Ryan D'Agastino (Food Editor, Esquire.)
We tasted our way through 27 burgers. Some burnt, others dry, a few raw and one that hit the spot with the perfect combination of flavors and juiciness. I enjoyed it to so much that I jumped off my Allen Brothers judging stool in my new 4.5 inch Manolos and dragged them through the thick sand to immediately give all of the other judges my culinary feedback. Clearly, their superior palates agreed and there was no argument to be had. While we hailed Michael Schwartz of Michael's Genuine as our winner of the Allen Brothers Grill Award, the crowd favored Michael Symon's Fat Doug burger from his B Spot restaurant for the people's choice award. Tip: lean ground beef might be healthier, but it can be dry. Choose fattier meats such as ground chuck. The good news is that some of the fat melts as the patties cook. Trick: for a juicier lean burger, fold sautéed onions, mushrooms or a little calcium-rich cheese into the beef before forming the patties.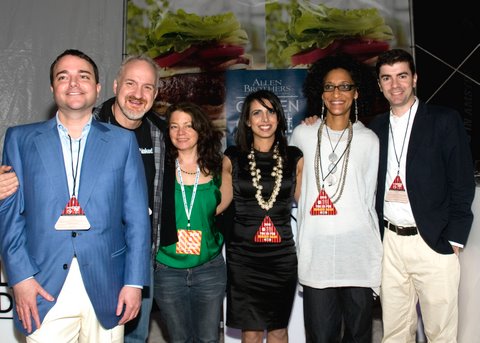 Having broken the day's calorie bank, I hit the dance floor with Art Smith, Kate Lee, Lockhart Steel, Jen Baum and Joshua David Stein to jam to some bar mitzvah music 80s-style. Neon outfits and rubber bracelets optional. Just when I got tired, I reminded myself that although I didn't eat 68 hot dogs like
SUBSCRIBE TO & FOLLOW LIFESTYLE
HuffPost Lifestyle is a daily newsletter that will make you happier and healthier — one email at a time. Learn more