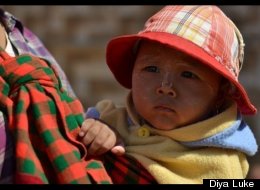 I left Myanmar will a camera full of images from the golden hued temples of Bagan, the tranquil floating villages of Inle Lake and the expansive Irrawaddy River. However, what is etched in my memory is Myanmar's people.
Despite all that has happened in Myanmar's history, its people generally remain one of the most welcoming and serene. If I lived in a country that had been so pillaged by foreigners and challenged by its own government, I doubt I would have the humanity to continue to receive outsiders with the open trust with which visitors are welcomed in Myanmar.
Wherever we went, be it the buzzing streets of Yangon or a remote monastery in the Shan mountains, the people of Myanmar were curious about us. They were most fascinated by what was on our DSLR camera. They giggled at pictures of themselves and observed in amazement at sights from their country they had never seen. People wanted to know what life is like in other parts of the world. Very importantly, they wanted to know what the world thought of Myanmar.
The change in the air in Myanmar is almost palpable. Pictures of Aung San Suu Kyi plaster the streets of Yangon and a visitor only has to utter her name for a crowd of fans to openly cry her accolades. Old Russian and second hand Japanese cars are making way for more diverse foreign imports. People are starting to have a choice and many told us they also have a voice for the first time. This is a series of pictures taken of people we encountered on our two week journey through Myanmar.
The local solution for sunscreen is thanaka, the powdered bark of a tree. I suspect that mothers take particular artistic liberty in applying clown like thanaka patterns to their children's faces.

This strong lady carried our 40-pound bag up the steep hill to the Golden Rock in Kyaktyo. This picture was taken as she was asking for payment in the most gentlest of manners.

Young nuns enjoy the freedom of their once a week alms rounds in Mandalay. Monasteries and nunneries serve as centers for education and social welfare. Young novices, sometimes from disadvantaged families, are brought to the monasteries and nunneries to be cared for, fed and educated. Once they reach adulthood, they can determine whether or not they want to remain in their orders.

A leg rower paddles his way through Inle Lake. The Intha tribe has mastered the technique of rowing with one leg wrapped around the oar, giving them the height needed to navigate the reed-filled shallow waters. The houses, schools, post office and markets of Inle Lake are stilted over the water, thus giving the illusion of floating villages.

School children greet our boat in Inle Lake. All children in government schools wear a standard uniform of white tops and green bottoms until they reach fifth grade.

A group of women haul firewood from fields near Kalaw. A third of Myanmar's population works in agriculture.

In the late afternoons, the streets of Mandalay swarm with cyclists on their way home. Some carry groceries and others nestle their babies in the front basket. All have wide smiles as they head home from work. Flat and wide streets made cycling around Mandalay easy.