Hill tribe trekking is an activity of much contention in Northern Thailand. Hill tribes migrated to Thailand from conflict areas such as Myanmar and Laos, but have largely maintained the same customs and agrarian lifestyles for generations. They offer outsiders a glimpse into a bygone way of life. However, many tours are accused of staging villages for tourists by putting on nightly cultural performances and selling hill tribe handicrafts that some suspect are factory bought. Many travelers note that interaction with tribe members during these tours are superficial at best.
Well into our month in Chiang Mai, Thailand, we were introduced to a Karen tribe gentlemen who is active in Thailand's slow food movement. We told him we were interested in trekking through the hill tribe villages in northern Thailand. He connected us with his brother, who became our trekking guide. A friend from a neighboring village was our driver and home stay host. Due to this connection, we were able to spend time going through hill tribe villages in a less disruptive manner than we may have had we been on a pre-packaged tour.
Our trek was in the National Park of Doi Inthanon, Thailand's highest peak. The only people allowed to reside in the park are the 5,000 or so hill tribe people that have lived there for over 200 years. The Karen tribe originally came from Mongolia, through Tibet, and most recently Burman, before settling in the hills of Thailand. Our guide, Ser, does a couple of treks a month to help with his tuition to study tourism at a Chiang Mai university. Like most Karen, Ser wants to maintain his way of life but understands that tourism will be a threat to his village if youth like him don't empower themselves to guide it in the right direction. Therefore, he takes a couple of tours a month to generate some income, but maintains the low volume so as not to disrupt village life.
The villages of Doi Inthanon have had electricity for four years, but apart form some agricultural machinery, it's not really used. Pots are still heated over fires, villagers sleep at sunset and rise at dawn to tend to livestock and crop. The Karen believe every being, including vegetation, has a spirit. In many ways it is this belief that continues to keep the hill tribes tied to their traditions and away from our modern world. The elderly and the young have maintained many of their old customs down to their traditional clothing, which is weaved within the village.
This is an elderly Karen lady land a group of Hmong tribe youth waiting for a school bus.
When we reached Ser's village, Mae Klang Luang, he treated us to cups of homegrown, roasted and brewed coffee. Even the water was from the local spring.
The end of our first day hike brought us to the village of Nong Lumn, home to our driver, Chai, and where we spent the night. This year, his family has hosted only three other private tours. Similar to Ser, Chai wasn't keen on turning home stay into a meaningful source of income. He liked having a few people a year to do "cultural exchange" as he said.
Our stay in Nong Lumn gave us appreciation for a slower paced life. The first question Chai's mother asked us was "Which village are you from?" Chai's compound consists of four wooden buildings on stilts. One houses the kitchen and eating area. Another stores grain and shelters the pig and chickens. The third is where Chai, his daughter and wife sleep. The bathroom is a shack with a porcelain bowl and a large bucket of water.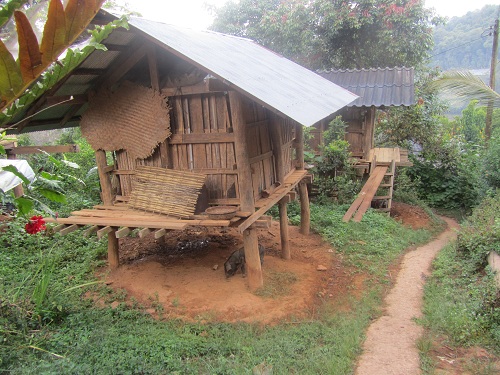 The furnishings in rooms are mats and blankets. The only decorations are faded stickers on the wall, evidence that a young girl is growing up there. The kitchen likely has had the same workings as it did when Chai's mother was born.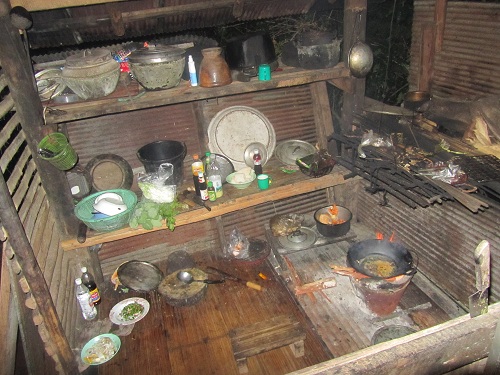 Outside is a constantly burning pile of logs where a kettle bubbles away for tea, coffee, cleaning and kitchen needs. The village is a pattern of similar compounds. We spent a day and night with Chai's family, chatting with villagers who ambled in and joined us for cups of herbal tea around the fire. When I asked what herbs were used, all Chai's mother said was "It will make you strong. Drink it." It got us to Thailand's highest summit the next day.
The Karen's connection to nature and living testament to slow food was represented in the picnic lunch Chai's mother packed for us to enjoy by a waterfall. The rice was grown in Chai's paddy field, the egg came from their chicken, and the pork and vegetables were locally sourced. It was neatly bundled in banana leaves and tied with bamboo string, both from the family's yard.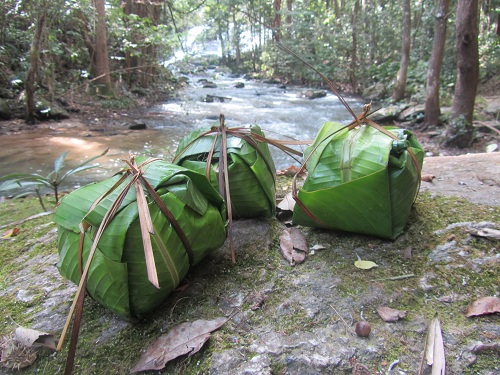 As much as I appreciate nature, I don't have the profound appreciation for it that the Karen do. I don't want to give up my modern conveniences. However, it was good to be reminded of how little we really need to be happy. I can't even remember what was in the 40-plus boxes we put in storage in New York City. Maybe it doesn't matter.