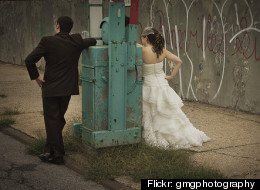 Your wedding dress is from Stone Fox, you're getting married in the back of a bookstore, and your bearded groomsmen will be sporting Supergas kicks with their suits. Yes, you are "indie" of heart and you're looking for the perfect soundscape to compliment your vintage birdcage veil.

Just like the surge in popularity of the non-traditional wedding, more left-of-center music is finding its way into the wedding-sphere, and the right song selections can not only make all of your guests happy, but add a personal and fresh touch. There are lots of great tracks that (gasp!) are about love and are happy, could never be considered cheesy or mainstream, and (this is a big one...) your guests will actually know them. Wedding dreams can come true!
A giddy explosion of melodic expression, this high energy song is a versatile indie-rock song for a dance set or the chorus makes a great introduction loop.

A slow and soulful song that is a nice addition to a dinner or cocktail hour playlist.

With a plucky guitar sound and a cheery melody, this song sounds like what true love feels like.

Perfect for the couple who wants an ironic song with a healthy dose of humor that everyone knows from the hipster cult-classic HBO series.

This quirky song has a retro feel that older guests will love, but your friends will know it is just as modern and fresh as it gets.

With contagious energy, the male-female vocals combo and the romantic message is a match made in heaven for a wedding first dance, introduction or dance song.

The melody of this soul-deep love song is an earworm that guests will be happy to hum long after your wedding is over.

With a soulful beat, this sexy, happy song is great for wherever in the wedding soundtrack you feel it fits best.

Everyone knows and loves this high-energy indie song with a big-fun chorus that will keep the dance floor going.

A light-hearted love song works great for upbeat dinner music or cocktail hour.
Front page photo by Flickr user gmgphotography.